Reliance Jio has done it. The youngest telecom operator of India did not waste any time to reincarnate the Summer Surprise Offer with the new Dhan Dhana Dhan Offer. Right from its induction, Jio has been offering free to near free plans to its users. Such is its fame right now, telco giants like Airtel, Idea and Vodafone are practically terrified. Lately, the three of them launched brand new tariff plans to compete with the Jio Dhan Dhana Dhan Offer. Here we will talk about those in details and let you understand which is the best and why.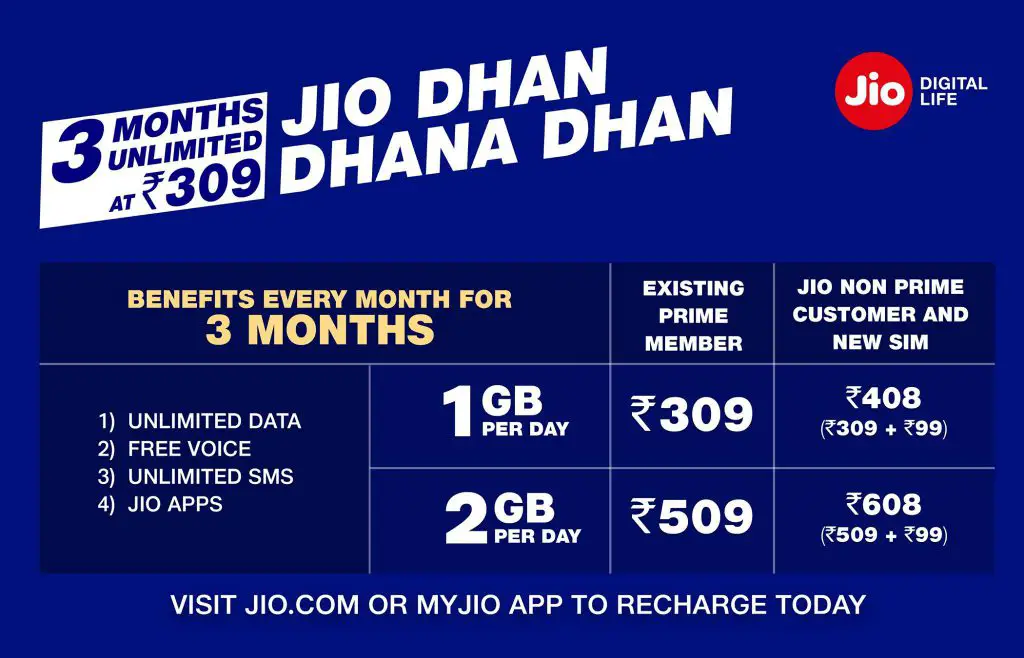 First, let's start with a short intro about the Jio Dhan Dhana Dhan Offer. Reliance Jio has launched this after the Summer Surprise Offer was scrapped due to TRAI intervention. Under the new offer, you need to pay at least Rs. 309 to get unlimited 4G data, calls, SMS and subscription to premium Jio applications for a period of 84 days. If you are not a member of Jio Prime, then you will have to pay an additional Rs. 99 to become one.
There are two plans under the Jio Dhan Dhana Dhan Offer. The Rs. 309 pack will get you 1 GB of high-speed 4G data per day, while the Rs. 509 one will make it 2 GB each day. After finishing this quota, you may buy either buy a booster pack to browse at the speed of 128 Kb/s. Now let's see what Airtel and Vodafone have to offer.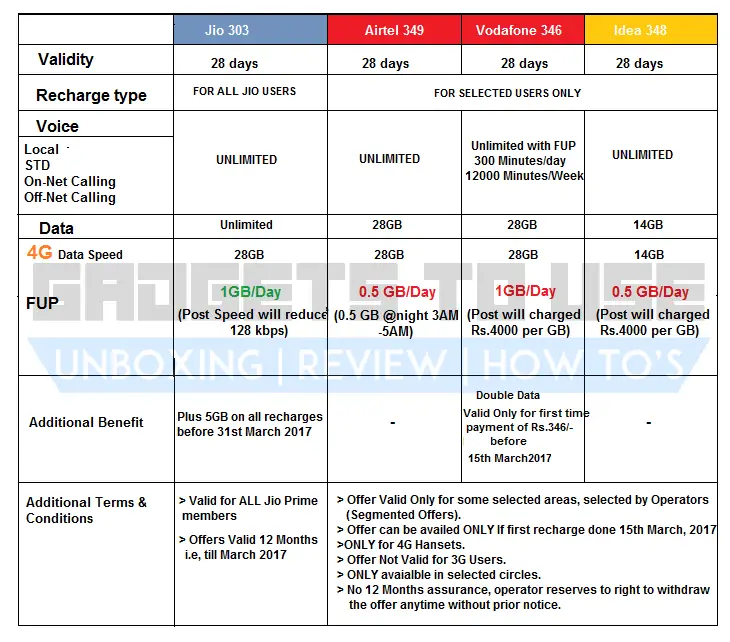 Jio Dhan Dhana Dhan Offer Vs New Airtel Offer
Frightened of the Jio Dhan Dhana Dhan Offer, Airtel hastily launched a couple of its own long duration plans today. The cheapest plan costs Rs. 244 and offers unlimited Airtel to Airtel calls and 1 GB of high-speed 4G data per day for as long as 70 days. The next plan is priced at Rs. 399. This comes with free unlimited calls to any network across India as well as 1 GB of 4G internet a day. Validity is the same 70 days.
Do note that these offers are not applicable for every Airtel user. You are eligible only if you receive the offer SMS. Moreover, it is applicable exclusively for existing subscribers who own a 4G SIM as well as a 4G handset. However, if you are willing to buy a new Airtel SIM, you can pay Rs. 499 and get all the benefits of the Rs. 399 package.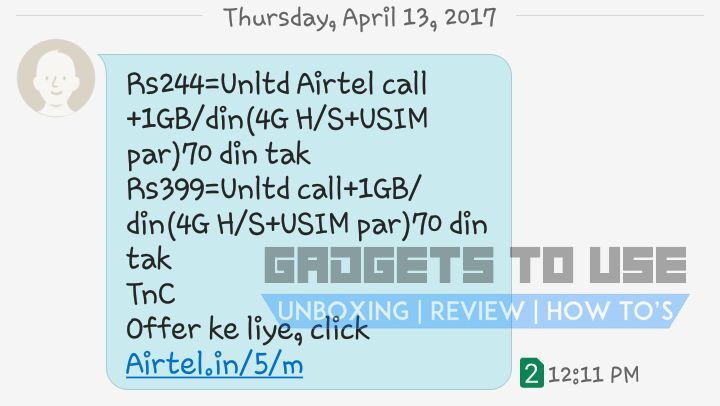 Now let's compare this with Reliance Jio. The Dhan Dhana Dhan Offer features 14 days' extra validity along with 14 GB extra data for just Rs. 408 (Rs. 309 + Rs. 99). Also note that Jio offers unlimited internet using Fair Usage Policy, whereas Airtel is going to charge you a whopping Rs. 4000 extra for every additional GB data you consume. Do I still need to tell you which is the better one?
Jio Dhan Dhana Dhan Offer Vs Vodafone
Unlike Airtel, Vodafone hasn't launched any new plan. It just reinitiated one of its old packages. For Rs. 347, the popular telecom operator is offering 56 GB of data and unlimited calling for 56 days. You will only be able to use up to 1 GB per day while extra usage is chargeable.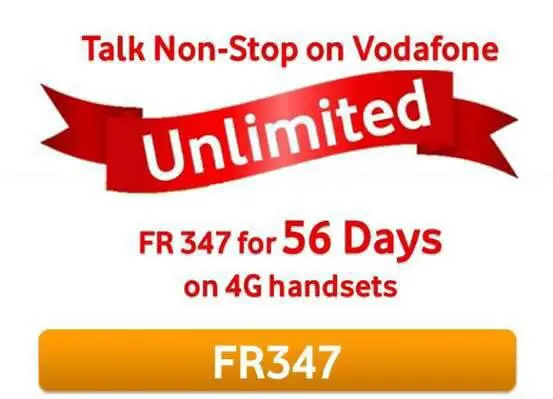 While Vodafone's offer is certainly a good one, it does not stand a chance before the Jio Dhan Dhana Dhan Offer. The latter beats it in almost every aspect.
Jio Dhan Dhana Dhan Offer Vs Idea
Idea has announced a new recharge offer for Rs. 348 days. Under this offer, users will get unlimited voice calling and 14 GB of 4G data. You can use only 0.5 GB 4G data per day so the 14 GB data will last you for 27 days. If you use more than 0.5 GB data per day, you will be charged for it. Idea will charge you Rs. 4,000 extra per GB.
Idea's offer isn't as good when compared to Jio's Dhan Dhana Dhan offer. Idea is charging more than Jio and giving half the data.
Conclusion: Which Is the Best?
So, as you see, Reliance Jio is still pretty much undefeated. Its Dhan Dhana Dhan Offer easily beats others by a noticeable margin. The best part of Jio is that it gives us truly unlimited usage with no restriction on weekly call duration or roaming. Meanwhile, both Airtel, Vodafone and Idea has some weekly restriction on outgoing calls. They also exclude roaming calls from their offer plans. Lastly, Jio has the promise to continue its offers for at least a year for its Prime customers, while there is no assurance of continuation from Airtel, Vodafone and Idea.