India's fastest growing LTE network, Reliance Jio is continuously setting new benchmarks. According to the recent reports of Telecom Regulatory Authority of India (TRAI), Jio recorded an average download speed of 18.48 Mbps in the month of March. TRAI also added that it is the highest average speed till date provided by any operator so far. Hence Reliance Jio has successfully owned the crown for India's fastest network for now.
According to the reports, Jio's average download speed has gone up by 2Mbps this month. The average download speed of Jio recorded in the month of February was 16.487Mbps. However Bharti Airtel went down from 10.439Mbps recorded in February to 9.136 Mbps this month. Vodafone and Idea are the slowest in this race by providing 9.003 Mbps and 8.885 Mbps respectively.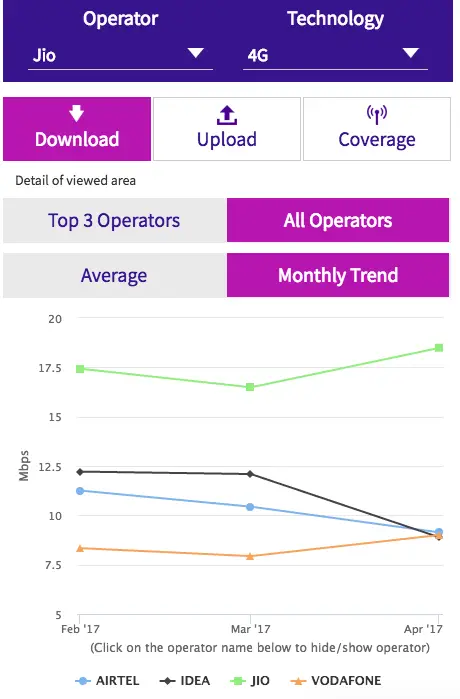 However figures and ranking are completely different when it comes to average uploading speed of these networks. Here, Vodafone leads the chart with an average uploading speed of 6.42 Mbps followed by Idea with 6.08Mbps. Interestingly Airtel and Jio are the last with uploading speed of 4.221 Mbps and 4.227 Mbps respectively.
It's very clear that when it comes to downloading speed, Jio leads the list but is on the last in terms of uploading speed. However TRAI's results have put Reliance Jio on top for 2017 as far as download speeds are concerned. When it comes to 3G networks, Vodafone India is on top with an average downloading speed of 3.7Mbps. Airtel is just behind it with a speed of 3.4Mbps speed. Idea and BSNL are at the bottom with a speed of approximately 2 Mbps.
TRAI collected and computed data of the download speeds with the help of its MySpeed application on real-time basis. Total of over one million tests have been done across the country in March. However while TRAI claims Jio to be the fastest network, Open Signal and Ookla claim Airtel to be the fastest.