Excitel broadband is well known for providing truly unlimited internet at up to 100 Mbps transfer speed. After triumphing in Delhi NCR, the popular fiber optics-based broadband operator has now landed in Hyderabad. As a part of the new launch offer, Excitel is giving out some freebies like Rs. 200 discount on monthly tariff and free cable installation for Hyderabadi subscribers.
With its 100 Mbps genuinely unlimited plan costing under Rs. 1000, Excitel broadband is one of the most affordable internet service providers in India. It is one of the few competitors to the upcoming Reliance JioFiber broadband. Excitel has been very well accepted in Delhi NCR for its blazing fast speeds, and that too without any data limits.
Coming to the tariff details for Hyderabad, it is pretty much same as that of Delhi NCR. Basically, there are three different plans as mentioned below.
50 Mbps Unlimited for Rs. 695
75 Mbps Unlimited for Rs. 845
100 Mbps Unlimited for Rs. 995
All these packages offer truly unlimited data with no limits whatsoever. Do note that you need to pay an additional 15.5 percent government taxes on and above the prices. Excitel broadband also charges for new installation.
However, the new entrant in Hyderabad is offering some launch offers exclusively for the city. Under it, the monthly tariff plans will get Rs. 200 rebate and the installation charges shall also be waived for new customers. For Hyderabad, the new monthly packages are: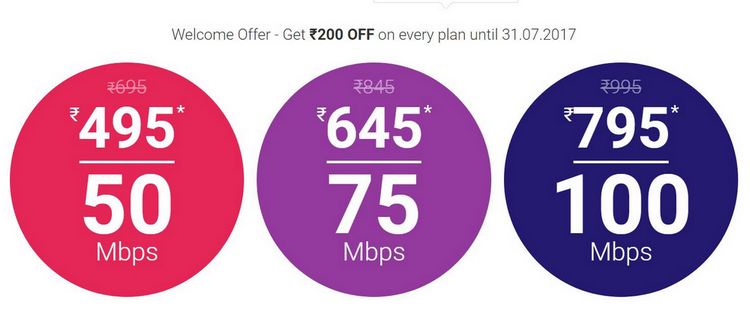 50 Mbps Unlimited for Rs. 495
75 Mbps Unlimited for Rs. 645
100 Mbps Unlimited for Rs. 795
After adding the taxes, the amount comes out to be Rs. 571, Rs. 745, and Rs. 918 respectively. These are extremely affordable considering you can consume as much data you wish without any speed throttling.