Paytm has confirmed that it will be bringing its payment bank soon. Now, we have a confirmed date of its launch, which is May 23. The company has finally received the license for Paytm Payment Bank from RBI and is now gearing up to launch it on May 23. Renu Satti is designated as the CEO of Paytm Payments Bank.
The aim of the Paytm Payments Bank is to cater to the requirements of the unserved and underserved communities of India and connect them to the main economy.
Here are some of the key points to consider for Paytm Payments Bank
For the users who are using Paytm wallet right now, the Paytm Payments Bank will be integrated into the same.

The Paytm Bank will be operated in the same capacity as the KYC Wallet

If you want to improve the limit then you need notify Paytm before 23 May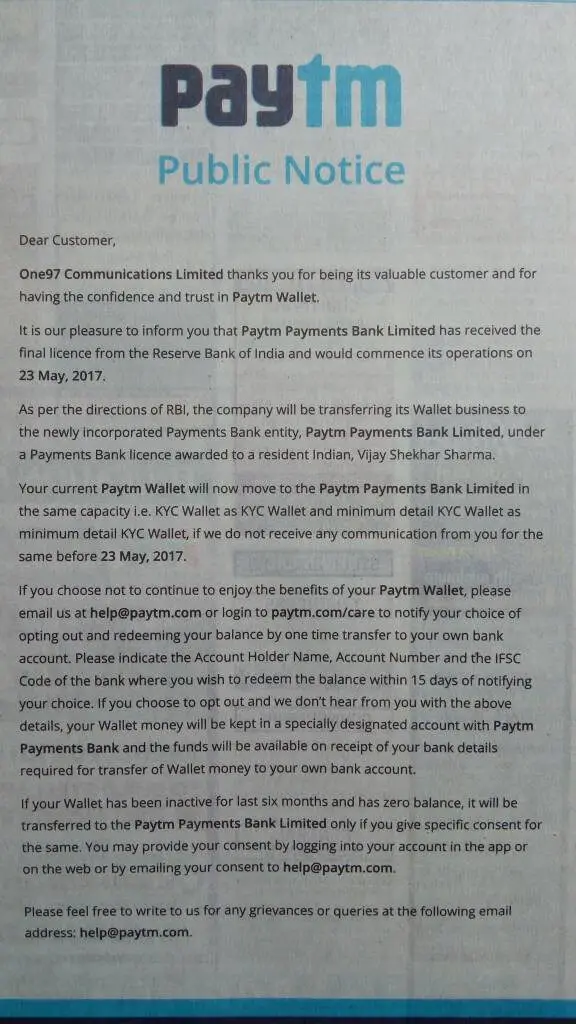 If you don't wish to continue with Paytm Payments Bank, you can do so by following these steps –
If you do not want to continue the Paytm Wallet then you can notify at

[email protected]

or login to paytm.com/care for notifying the choice of opting out and redeeming the balance by one-time transfer to your specific bank account

For transferring, you need to notify the Account Holder Name, Account Number and the IFSC Code of the bank where you wish to redeem the balance within 15 days of notifying

Your wallet money will be kept in a specifically designated account with Paytm Payments Bank and the funds will be available on the receipt of your bank details required for transfer to your own bank account

If your Paytm Wallet is inactive for last six months and has zero balance then the account will be transferred to Paytm Payments Bank Limited only after your specific consent for the same

You can provide your consent by sending a mail to [email protected]
For now, Paytm has not revealed much information about the Payment Bank and it will be revealed at the time of launch. Let's see how the new bank in the market will perform and attracts consumers.