Bharti Airtel is giving out free 1000 GB internet for 1 year to its broadband users. Termed as the "Exclusive Web Offer", it is currently available for Delhi-NCR region only. To get the free data, you need to be subscribed to an Airtel broadband plan starting at Rs. 899. According to purported terms and conditions, the offer is valid only for customers who have enrolled after May 16.
Airtel's website shows that there are four monthly plans that are eligible for the above-mentioned offer. The packages cost Rs. 899, Rs. 1,099, Rs. 1,299, Rs. 1,499 and Rs. 1,799. However, the first plan priced at Rs. 899 will get you just 750 GB of free data while each of the rest offers 1,000 GB. The extra data is going to be valid for as much as a whole year.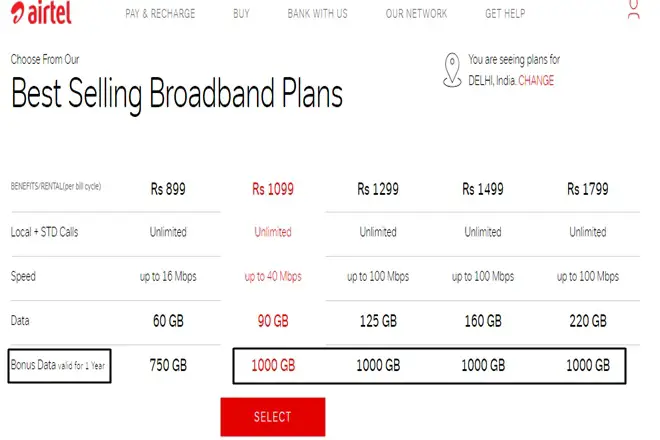 Speaking of the connection speed, it will be same as your subscribed package. The Rs. 899 and Rs. 1,099 plans will offer 16 Mbps and 40 Mbps respectively, while the rest of the three at up to 100 Mbps. Needless to say, you won't be able to combine this deal with any other Airtel offers.In order to claim this offer, you need to visit the Airtel broadband website and tap on "Unlimited Internet Offer".
As the date of the commercial launch of JioFiber approaches, Airtel is frantically releasing new offers in order to lure more and more customers. Just a couple of weeks earlier, the company revised its high-speed broadband tariff. The new plans come with twice as much data at the same old price. Airtel already has its own fiber dedicated network called "V-Fiber" which directly competes with Reliance's JioFiber.
Currently there are more than two million subscribers of Airtel Broadband.