HMD Global has just finished launching the Nokia 6, Nokia 5 and Nokia 3 in India. Priced respectively as Rs. 14,999, Rs. 12,999, and Rs. 9,499, the three new smartphones are not quite the bang for your bucks. Here we will discuss if Nokia's pricing strategy is truly justified of the company is just building upon its brand repute.
Hardware vs Brand Value and Trust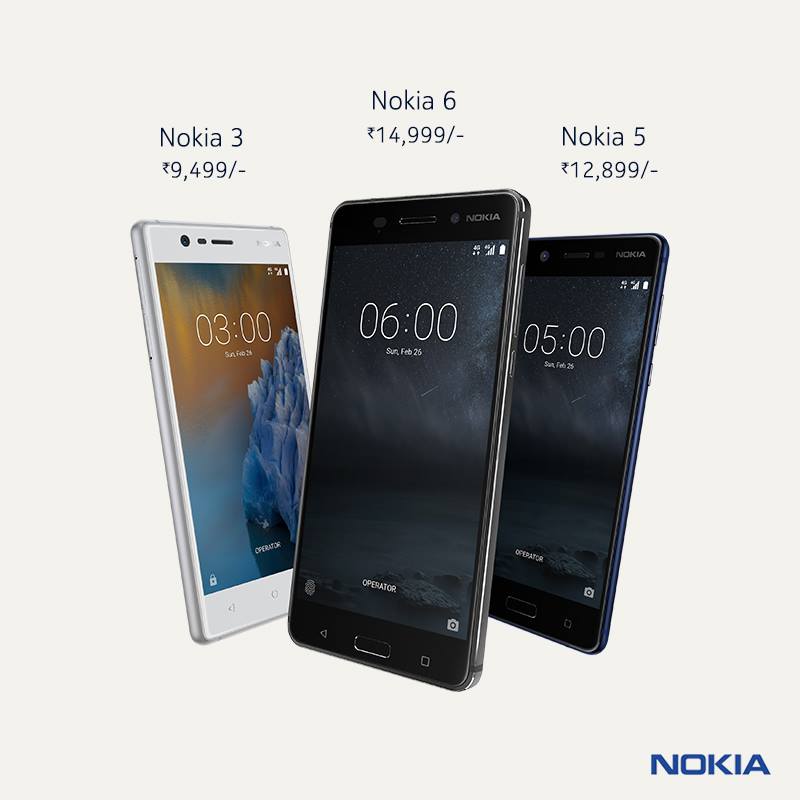 The specs of the new Nokia smartphones may not seem as impressive at first, but that is not the full story here.
The Nokia 6 competes with devices like the Huawei Honor 6X, Xiaomi Redmi Note 4, Motorola Moto G5 Plus, Asus Zenfone 3 Laser, etc. The Nokia 5 rivals the likes of the Motorola Moto G5, Lenovo K6 Power, Xiaomi Redmi 4 and so on with similar internals but a higher price tag.
On paper, most of the competing devices seem to be slightly better than the Nokia phones purely in terms of specs. However, specs alone do not define the overall smartphone experience.
Pure Specs vs Overall Experience
In the Indian smartphone market, there are basically two types of players.
On one side there are companies like Xiaomi and LeEco, who offer fantastic specifications at rock bottom prices. On the other side, there are brands like Motorola and Oppo with a bit expensive devices and not so great specifications.
The first type of manufacturers are a hit among the tech savvy youngsters, who always prefer better value for money over better customer support. The second category of smartphone-makers do not offer the best value for money proposition. Instead, they like to emphasize on a premium customer support and reliability.
For instance, Motorola's handsets are known to offer better performance even with inferior specifications. The main reason is the company's preference to stock Android and dedicated optimizations. The Lenovo-owned company also provides faster updates than Xiaomi or LeEco.
In India, HMD Global's pricing scheme clearly indicates that the company is trying to compete with Motorola rather than the value for money brands. Below are the top reasons why the new generation Nokia smartphones cost a price premium.
Other Important Aspects In A Smartphone
Design and Build Quality
The trio of new Android smartphones from Nokia come with unique design language and exceptional built quality. They are
Fast, Guaranteed Updates
One of the foremost things about the Nokia 6, Nokia 5 and Nokia 3 is the availability of updates.
HMD Global, the company behind the new generation Nokia devices has promised to deliver the latest Android versions as soon as they launch for at least two years. This is one thing which most of other manufacturers do not offer for their mid-range devices.
Stock Android
The Nokia phones also come with pure, stock Android. There are a few benefits of this approach. Firstly, Nokia can push out Android OS updates faster than most other companies.
Secondly, you don't have to worry about the phone starting to lag after a few months. This is most often the case with phones that have a heavy custom skin on top. Stock Android looks really good now and offers decent customization as well, making custom skins a little redundant.
Brand Value and Trust
One of the reasons Nokia was (and still is) a loved brand was due to the trust that it earned from its customers. Whether it's the device quality or the after-sales support, there were hardly any competitors that enjoyed the level of trust that Nokia did.
It's been a few years now since we've seen a new mainstream Nokia-branded smartphone in India, but the company still seems to enjoy a lot of trust and brand value. This is not something that many other companies can boast of.
Customer Service
Another notable fact about Nokia's newest smartphones is the customer service. The company has widespread support centers across India and you will never need to worry if your device malfunctions.
Availability
Speaking of availability, the Nokia 6, Nokia 5 and Nokia 3 will be readily available without any flash sales or pre-registrations. While the Nokia 5 and Nokia 3 are offline exclusives, the Nokia 6 will be available for purchase on Amazon.in. However, later, all the three handsets should be available at all the online and brick and mortar stores across India.
Last, but not the least, HMD Global does not want to downgrade the premium brand value of Nokia. The company wishes to take on companies like Motorola and does not intend to get into a price war with brands like Xiaomi.