RCOM has just announced an exciting plan for its prepaid customers. Priced at just Rs. 193, the new pack will offer 1 GB of high-speed internet per day for a month. This comes just a couple of days after the company launched some affordable combo plans for the postpaid users.
The Rs. 193 plan of Reliance Communications (RCom) is better than most of its competitors like Idea, Airtel, Vodafone, BSNL, etc. It even overshadows Reliance Jio's monthly packages.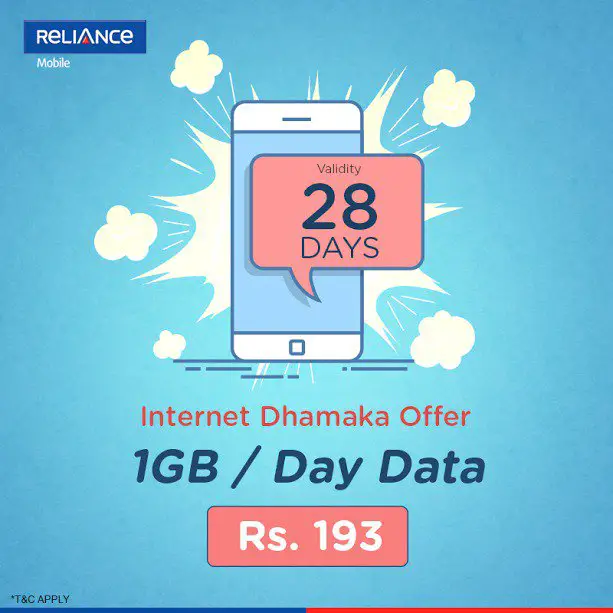 The Internet Dhamaka Offer from RCOM is a standalone internet plan. It does not offer any call or SMS benefits. This seems to be ideal for the dongle users. Speaking of RCom's recently announced postpaid packages, they are combo plans with unlimited calling and texting benefits. They also provide free incoming and outgoing calls on roaming.
The postpaid tariff starts from Rs. 299 and goes up to Rs. 699. However, as an introductory offer, they are available from Rs. 239 to Rs. 499. The deal is applicable only for online orders and the discounts will be valid for a year or 12 consecutive months.
For Rs. 239 you will get unlimited calls, unlimited SMS, and 6 GB monthly data. The Rs. 399 plan shall gift you an additional 9 GB of data, while for Rs. 499 you would get a full 30 GB of the internet. Do note that there won't be any daily download limit in any of the postpaid plans.
To put this into perspective, Reliance Jio offers 1 GB data each day for 84 days along with unlimited calls and SMS for Rs. 309 (additional Rs. 99 for prime membership). Airtel has its Rs. 348 pack with similar benefits for 28 days. Idea too gives 1 GB of daily data and unlimited calling for 70 days at Rs. 396.