Reliance Jio has reached yet another milestone by crossing over 125 million subscribers in a short span of time. Reliance Industries Chairman, Mukesh Ambani made the announcement at the Reliance AGM yesterday.
The Reliance Annual General Meeting was held in Mumbai. The event showcased the launch of JioPhone, Jio Phone TV-Cable, new small prepaid packs and much more. Mukesh Ambani quoted some major records broken by Reliance Jio so far.
 Major Announcements
One major announcement was that Jio now has over 125 million users, out of which 100 million are paid subscribers. The paid subscribers are majorly on the Rs. 309 or above plan. At this pace, Jio has added 7 subscribers per second.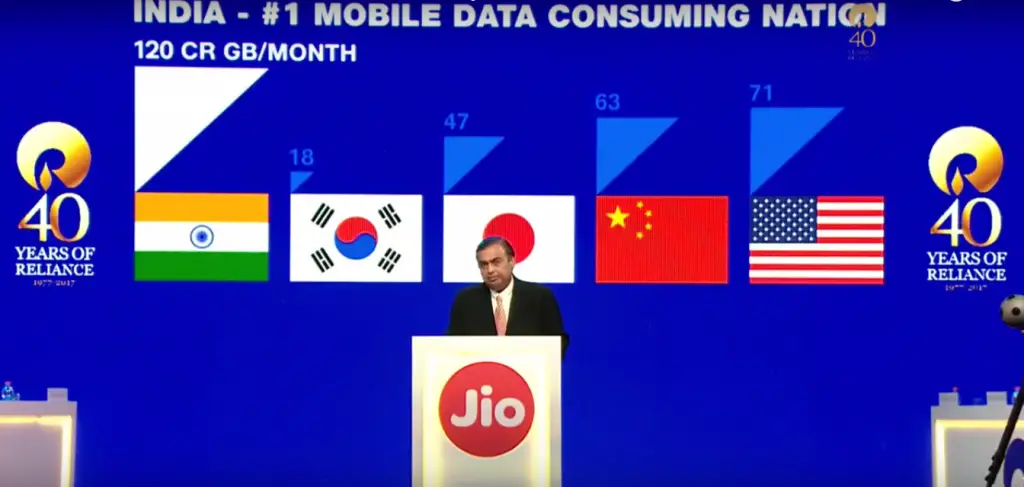 Also, Reliance Jio has made the biggest migration from a free to paid service. Over 100 million people participated in this process to retain their Jio service. Reliance Jio subscribers are making 250 crore minutes of voice calling daily.
Apart from calling, Jio users have streamed over 165 crore hours of video content every month. Also, after the adoption of Reliance Jio, India's Mobile data consumption has gone up from 20 crore GB per month to 120 crore GB per month. This has brought India from 155th position in Data consumption to the 1st position.
In other announcements, Mr. Ambani stated that Jio will cover 99% of the Indian population in the next 12 months. Also, TRAI conducted speed tests have declared Jio as the leader in coverage and network speed.
Products Announced
The Reliance AGM 2017 witnessed the launch of Jio Phone. It is a 4G VoLTE enabled feature phone from Reliance Jio. The device will be available for free, at a fully refundable security deposit of Rs. 1,500.
Other service introduced is the Jio Phone TV-Cable. The device will enable users to mirror their Jio Phone screen and play videos on their TV screens. This device works even with old CRT televisions.
Reliance Jio has witnessed significant growth since its inception. The company's growth is due to its highly competitive prices. Jio has encouraged a heavy competition in the market. This has led to other operators providing services at competitive prices.