Google Maps will now show real-time information about bus arrival times for Kolkata. This service is already available in 16 other Indian cities. The addition of Kolkata comes after Google's partnership with West Bengal Transit Corporation.
Google has partnered with WBTC (West Bengal Transit Corporation) to bring this new feature. The real-time bus arrival timings can be known by simply putting in your pickup and destination location. Maps will show the next bus arriving at the station, along with the real time of arrival, based on traffic.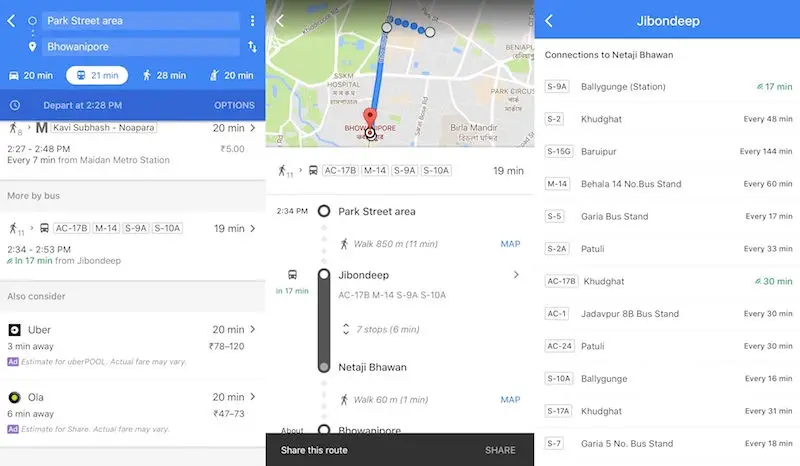 The feature is not limited to Real Time arrival timings. You can also see how much time the trip will take, based on traffic and other factors, calculated in real-time. Also, you can know the estimated real-time arrival timings of a bus when you put in a bus station location on maps. You can simply click on the bus stand, then on the bus number to know the estimated timings of location-enabled buses.
For now, this feature is limited to some key routes only, but expansion plans are in pipeline. With this new feature, the people of Kolkata can more efficiently use public transport to commute.
Recent Updates to Maps
Google Maps is evolving with the users, thanks to Google's widespread Android ecosystem. The navigation service has received some good updates in the recent past, that makes it an even better experience.
'Quick Actions Menu' is one such update. This was a Home screen update for Google Maps users, with special attention to Indian users. This menu features shortcuts like, Get Directions, Map Details and Saved Offline Routes.
Also, Google Maps recently got the 'Share Location' feature that makes commuting safer. You can share your real time location with anyone you want. The people with whom you share it can track your real time location using Maps on any Android or iOS device.
Official statements
Managing Director WBTC, Narayan Swaroop Nigam said,
"We are confident that the practical use of this technology will facilitate better trip planning resulting in greater convenience to commuters."
Minister in-charge Transportation Dept., Govt. of West Bengal, Mr. Subhendu Adhikari said,
"This is yet another attempt to bring smart public transport to Kolkata and to improve the performance of WBTC. We are committed to improve public transport."