Google has added new shortcuts in its mobile search that makes it easier for users to get relevant information quickly and easily. Google Search app for Android now shows shortcuts with a wide range of topics including cricket scores, nearby ATMs, restaurants, weather and more.
The tappable shortcuts appear right below the search bar. These are divided into sections like Nearby, Lifestyle, Tools, Fun, Weather, Travel and My Stuff. Google first rolled out this update in the U.S. back in March this year.
To use these shortcuts, you can tap on the icon and you will see the relevant options in the results. If you want to explore more, click on view all and you will see the whole list of sections. Then, on a given section, just click the more option on the right side and get the full list of features.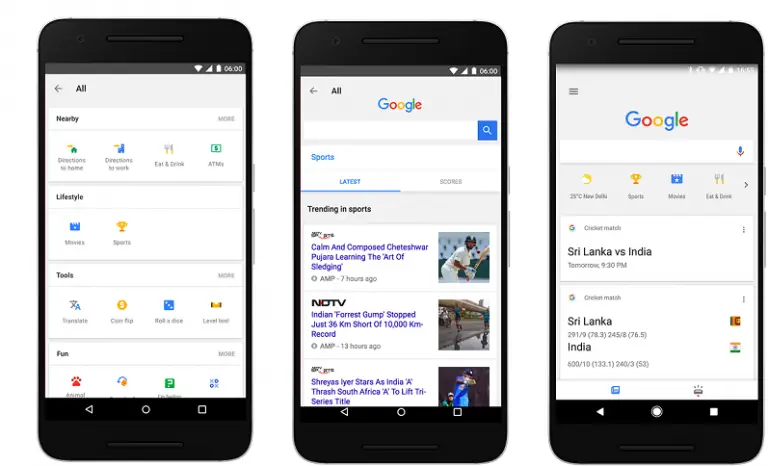 In nearby section, you can now almost access everything from nearby gas stations, pharmacies, convenience stores, supermarkets to restaurants, coffee shops, and bars. In lifestyle section, we can find only sports shortcut as of now. It is the quick access to sports news, cricket scores, key match statistics, also past scores, and the current rankings for ICC teams.
There is also a travel section where you can even discover vacation destinations and book a flight ticket or find a hotel too. The weather shortcut can be used to get a detailed 10-day forecast.
Furthermore, the new feature gives quick access to Google translate, calculator, currency converter, and more. There is also a quick access to fun games like tic-tac-toe, roll a dice, solitaire, fidget spinner and more.
Finally, there is My Stuff section, where you can directly check your emails, flight bookings, trips, reservations, photos and more.
Google had recently released an update in India which helps users discover and attend nearby events in their city. Google now says it will add new shortcuts for big moments and events very soon. The latest update is currently available for Android only and the users have to update their Google app in order to see the new feature.