Paytm has delivered a damaged device instead of an iPhone 7 Plus. A consumer from New Delhi named Prateek Gupta is the victim of this online selling fraud. He ordered an iPhone 7 Plus last week from the online store.
Prateek shared a post on Facebook about the incident. According to him, he ordered an Apple iPhone 7 Plus 32GB in Black Matte color on August 10, 2017, from Paytm for Rs. 60,399. However, when he received the order on Sunday, he got to know that the device was shattered. Not only this, it was not even the device that he had ordered.
"Though on the bill it's written that it is iPhone 7 plus but when I opened the box, I was left in a complete state of shock. The phone was damaged and Neither it was iPhone 7 plus nor the colour is black matte. Also, the screen is broken, sim slot broken which clearly indicates that it is a damaged or used piece" Prateek writes in his Facebook post.
Prateek also shared the billing details and some of the pictures of the damaged device that he received. The invoice he posted, bears the name of Strides Commerce Pvt. Ltd. as the seller, which is located in Bangalore. It is not clear if the seller himself is involved in this incident or it is the fault of the courier company or some warehouse staff is responsible for this sham.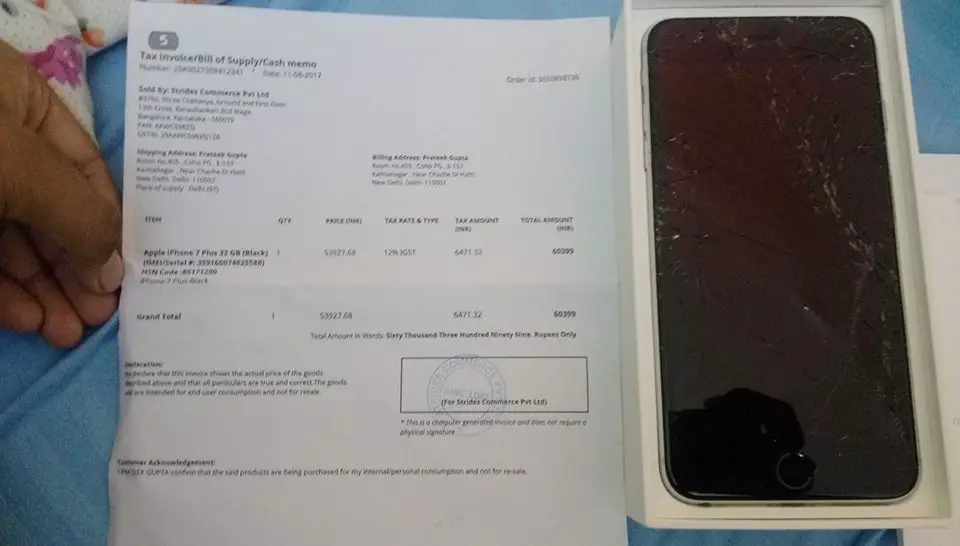 The incident once again raises the reliability issue on these e-commerce websites. Customers, who put their hard-earned money on shopping something that they were yearning for, but, they get only disheartened when such malpractices happen.
"The way these online transactions are turning out to be has completely broken the trust of Indian customers. Moreover, this is not the first time that such carelessness has been shown by a so-called 'reputed' site Paytm. I want complete refund of my money'', Prateek wrote further in his post.
These types of frauds are becoming more prevalent since the new generation relies heavily on online shopping. Shipping damaged, fake or counterfeit items after taking payment has reported earlier many times. Even we have also faced the same instance, however, the company later refunded the amount stating that as a courier fault.