With Reliance Jio subscribers rushing to recharge their numbers, several recharge portals are offering additional cashback on Jio recharges. Consumers can avail the cashback using online recharge websites including Amazon, Paytm, MobiKwik and Flipkart's PhonePe. The offers are valid for recharges above Rs. 300.
Reliance Jio users currently have eight plans to choose from that company offers above Rs 300. The plans include- Rs 309, Rs 349, Rs 399, Rs 509, Rs 999, Rs 1,999, Rs 4,999 and Rs 9,999.
Jio's cashback is a one-time offer on most of the websites. Also, the offers are available for a limited time. Here we are giving the full details of all the cashback offers.
Paytm – Flat Rs. 15 Cashback

Paytm is offering flat Rs. 15 instant cashback on Jio recharges. The offer is valid on recharge with Rs 300 and above. This recharge cashback offer is valid only once per user. Users have to use the promo code PAYTMJIO to avail the cashback. Also, Paytm is offering some exclusive offers on movie tickets, flight tickets, and other services.
Amazon – Flat Rs 99 cashback

Amazon offers flat Rs. 99 cashback on your Jio Recharge via Amazon Pay. The offer is applicable only on recharges of Rs. 309 and above. Further, the offer is valid only on your first prepaid recharge on Amazon and that too when you make payment through Amazon Pay balance. Apart from this, the cashback will be credited to Amazon Pay balance within 7 days of the recharge.
The offer on Amazon Pay is valid from August 14, 2017, to August 19, 2017, only. However, users will continue to get 20 per cent cashback up to Rs. 20 on subsequent Jio recharges on Amazon till November 30. The total cashback that a customer can avail under this offer is Rs. 300.
PhonePe – Flat Rs 75 Cashback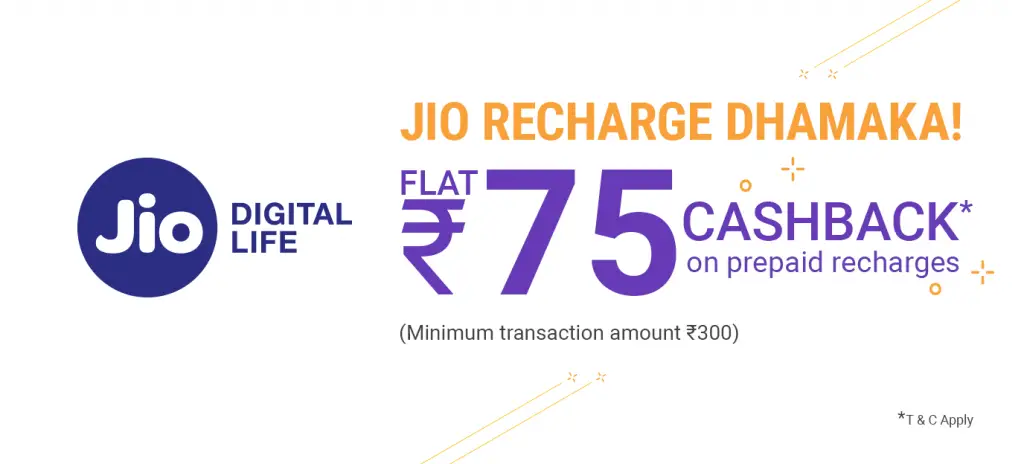 Flipkart's PhonePe wallet is offering flat Rs 75 Cashback on Jio recharge. The offer is valid only on recharges with a minimum amount of Rs. 300 and can be availed only one time per account. It is available from August 14, 2017, to August 21, 2017.
However, customers who have already availed a Rs. 50 cashback on a Jio recharge between July 21, 2017, to August 13, 2017, are not eligible for this cashback offer. Cashback credited to a user cannot be transferred to any linked bank account or to other users.
MobiKwik – Flat Rs 159 SuperCash
MobiKwik, the digital wallet company is offering Rs. 159 SuperCash on Rs. 399 & higher plans. Jio users can use the promo code NEWJIO to get flat Rs. 159 SuperCash on Jio Recharge of Rs. 399 & more for the first time on MobiKwik App or website. Also, the code NEWJIO can be redeemed once per user.
The existing users who already have recharged from MobiKwik can also avail the cashback of Rs. 59. They can use the promo code JIOMBK and get flat Rs. 59 SuperCash.