Global e-commerce giant Amazon has opened the country's largest fulfillment center which spreads across 4,00,000 sq ft in Hyderabad. The new fulfillment center has a storage capacity of 2.1 million cubic feet. Overall, the company's five warehouses in Telangana have a total storage capacity of 3.2 million cubic feet.
Increasing its focus on its Indian operations, Amazon has also launched Local Finds, Prime Day and other features to tap into the diverse Indian market.
The new Amazon fulfillment center is strategically built in the close radar of Rajiv Gandhi International Airport, Shamshabad, Hyderabad. The three-storeyed warehouse contains 51 loading and unloading docks which can accommodate around 1,000 trucks per day. It has 69 KM of fire hydrant piping, around 500 KM of five types of cables, over 15,000 fire sprinklers and a 1.6 KM long conveyor belt for moving packages. It is estimated that around 1000 workers work in the fulfillment center at any given point of time.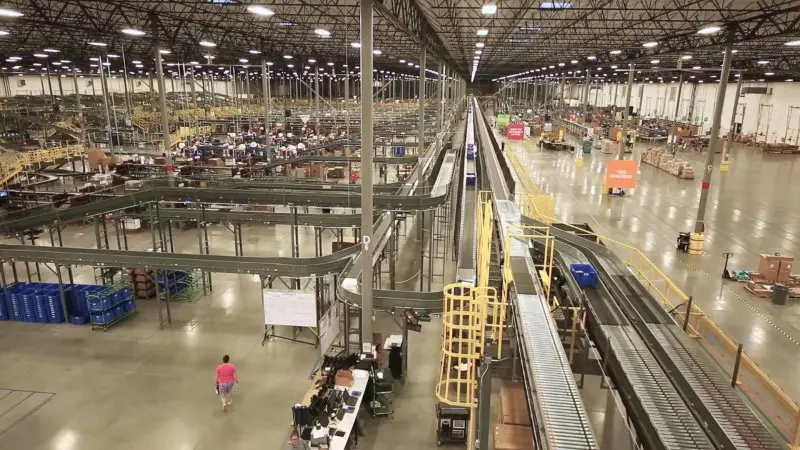 Moreover, the new fulfillment center will help Amazon to handle the festive rush which will start mid-September. People in the states of Telangana and Andhra Pradesh can receive their orders faster if the package origin point is the new fulfillment center in Hyderabad itself.
Speaking to media on the launch of new fulfillment center, Akhil Saxena, vice-president, India Customer Fulfilment, Amazon India, said:
"Our vision is to transform the way India buys and sells. We have been consistently investing in our infrastructure and delivery network, so we can increase our speed of delivery and provide a superior experience to customers and sellers. With the launch of our largest fulfillment center here in Telangana, we believe we will be able to better serve our customers with one-day and two-day delivery. The fulfillment center will enable sellers to use local infrastructure, save capital and help them grow their businesses."
He further added,
"With this fulfillment center we will be able to create employment opportunities for hundreds of people directly and indirectly where services like logistics, transportation, hospitality and ancillary industries like packaging will see a local fillip. A lot of the packaging being used now is being sourced locally."
Amazon is also set to open a new headquarters in the United States and a new development center in Hyderabad, India.