At an event held in Steve Jobs Theater in the US, Apple today took the wraps off its special edition iPhone X, marking another new chapter in Apple's crowning jewel. Featuring an edge-to-edge display, the iPhone X does away with the standard home button found on every iPhone so far. Instead, Apple is embracing gestures and face recognition with the iPhone X's new TrueDepth front camera.
In addition to the iPhone X, Apple also launched the new iPhone 8 and iPhone 8 Plus, along with Apple Watch Series 3 and a new Apple TV. Apple also announced that iOS 11 will start rolling out from September 19th to all eligible devices. Additionally, the Cupertino also revealed that WatchOS 4 will be rolled out to all Apple watches.
iPhone X – a new chapter in the iPhone story
In many ways, the iPhone X marks a new chapter in Apple's iPhone story. For a while now, there hasn't been a radical change in Apple's approach to the iPhone design – it's more or less a slab with the home button and big bezels. In this day and age where bezelless designs are fast becoming the norm, iPhones have started to look and feel a little outdated.
Indeed, realizing this, Apple today launched its own take on the new edge-to-edge display fad. The new iPhone X comes with a design that is eerily similar to that of the Essential Phone. This meant getting rid of the huge bezels and the customary home button. In this process, the iPhone X also lost out on TouchID, but Apple has tried to make up for it with FaceID, a facial recognition feature.
iPhone X specifications
Coming to the core specs of the iPhone X, it comes with a huge 5.8 inch display, featuring a resolution of 2436 x 1125 pixels. It is also the first ever iPhone to use AMOLED technology, which should be exciting news for AMOLED fans.
Powering the iPhone X is a brand new A11 Bionic chipset, featuring a 6-core 64-bit processor, an Apple designed GPU and ISP. Additionally, the iPhone X also comes with Secure Enclave for securely storing your facial recognition data – Apple says that this data never leaves the iPhone X.
Coming to the optics, the iPhone X features a dual camera setup on the back, with two 12MP sensors – the regular sensor features an f/1.8 aperture while the telephoto lens has an f/2.4 aperture. The rear cameras can now record 4K resolution videos at up to 60fps, while 1080p full HD video can be recorded up to a frame rate of 240fps. Both the 12MP cameras feature optical image stabilisation, just like the new Galaxy Note 8. The rear cameras are assisted by quad LED flash.
On the front, the phone features a 7MP camera with Portrait Mode support.
Apple also announced FaceID, a new way to unlock your iPhone. Debuting with the iPhone X, FaceID lets you unlock your iPhone using facial recognition. To make this feature easy to use and secure enough, Apple has used a flood illuminator and secure enclave that stores your facial recognition data. According to Apple, FaceID is more secure than TouchID, with a failure rate of 1,000,000:1, while for fingerprints it is 20 times less at 50,000:1. Whether FaceID is usable enough in real life remains to be seen.
To make up for the loss of TouchID, Apple has also introduced gesture support to wake the phone up and switch between pages and apps.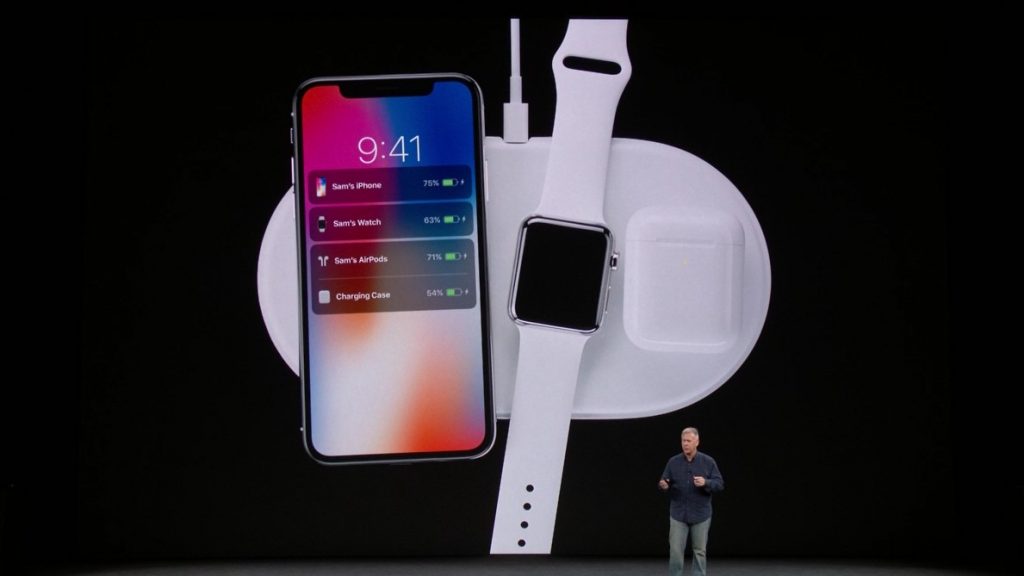 Another important addition in the iPhone X is support for Qi wireless charging protocol. This is the first time that an iPhone has been launched with support for wireless charging, a feature found on many Android phones for years now. Apple also unveiled a new charging pad that can charge the iPhone X, Apple Watch Series 3 and AirPods simultaneously. Apple is calling this feature AirPower.
In terms of design and build, the iPhone X features glass panels on the front and the rear with a stainless steel frame running around for added strength. The dual cameras on the back are bulged out, though. The iPhone X also features stereo speakers for an enhanced audio experience.
iPhone X pricing and availability
Apple has priced the iPhone X starting at Rs. 89,000 in India for the 64GB version. The phone comes in two color options – Space Grey and Silver. It will be available for purchase in India starting from November 3.