Google has introduced the newest members of the Google Home family, the Google Home Mini, and Google Home Max at an event in San Francisco. The smaller Home Mini is meant for making the services of Google Home available to more rooms in a house at an affordable price. While the Home Max is a much larger speaker than the Google Home itself.
The Google Home Mini is priced at $49. It is available for pre-order starting today. Google Home Max is the much more interesting and expensive device. It is said to be 20 times as powerful as Google Home. It costs $399 and will be will go on sale in December, starting with the US initially.
Google Home Mini
Google has launched a smaller version of its Google Home smart speaker today, as the Home Mini. The device, which packs Google's voice-controlled Google Assistant is very much similar to recently launched Amazon's Echo Dot. However, it's not clearly designed to play music.
Basically, Google Home Mini is a smaller, cheaper Google Home designed to make the Google Assistant reachable into more rooms of your home. In such a way it will be better for getting news, schedule updates, listening to podcasts, and sending instructions to other Google-connected products. It will also connect wirelessly to any speaker with built-in Chromecast.
The Mini comes in three colors: Chalk, Charcoal, and Coral. It's an attractive device with a fabric-covered body. It's about four inches in diameter and about one and a half inch tall. According to the company, its sound is quite good going by its size. And it's easily capable of making itself heard in a medium-sized room.
The controls on the Home Mini are also simple. You need to just tap on its top to pause, and tap on the left or right side to adjust the volume. There's a mute switch on the back and four indicator lights under the fabric on top, visible only when they lit up. It charges with a Micro USB, and not with USB Type C.
Google Home Max
Google Home Max is the much more large and capable device. It's a stereo speaker with two 4.5-inch woofers and a couple of tweeters flanking them for much-improved bass performance. It's basically designed to take on other speakers from the likes of Sonos, Bose, and Apple's HomePod.
The company is also touting the Smart Sound feature, which adapts the audio to where the user is in the room, for the best acoustic performance. All of the features are behind a speaker grille covered with acoustically transparent fabric. Interestingly, it is glued on, and can be replaced if you want to. It comes in two colors: Black and White.
Home Max will support Bluetooth, but you will more likely use Google Assistant. Also, there is a 3.5mm audio jack on the back next to a USB Type C port, if you need a wired connection. Moreover, since this is a Google product, it also uses machine learning. The Home Max is designed to automatically adjust itself to produce the optimum sound.
Pricing and Availability
The Google Home Mini has been priced at $49 (roughly Rs. 3,200). It is available for pre-orders from Wednesday itself in Canada, France, Germany, Japan, the UK, and the US. The Home Mini smart speaker will go on sale from October 19. There is no information on its availability in other markets.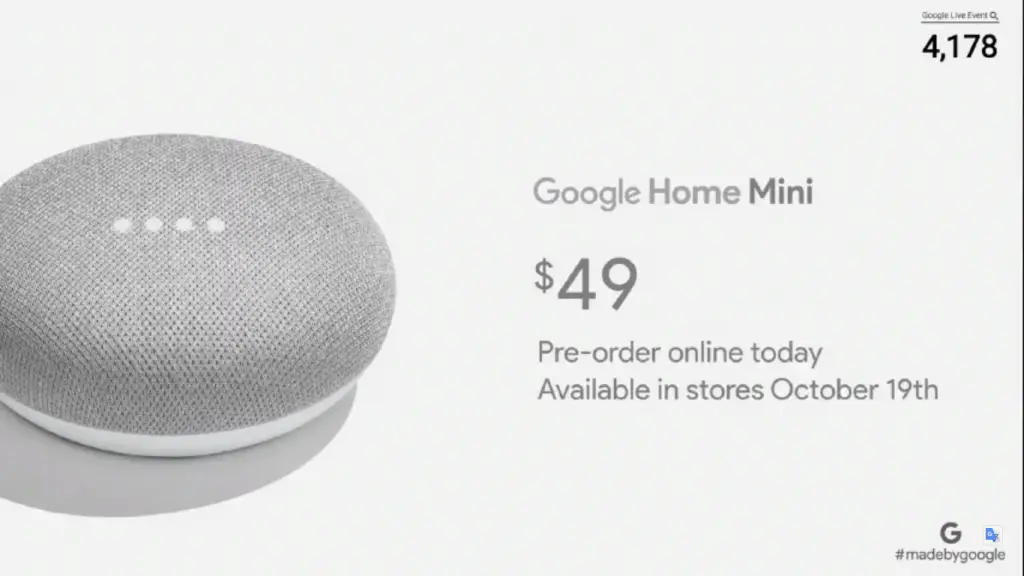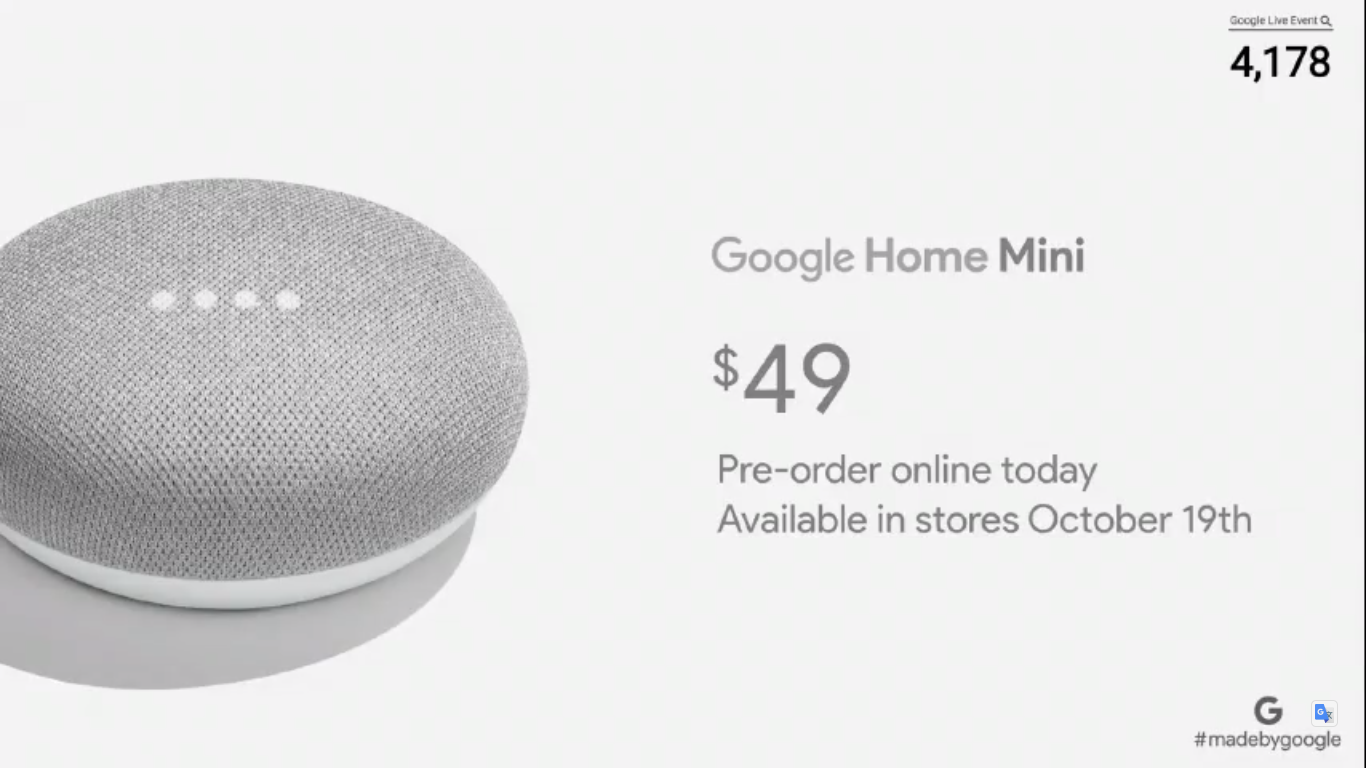 Google Home Max is priced at $399 (roughly Rs. 26,000). It will go on sale not around December, starting with the US before being made available in other regions. It will also come with a 12-month subscription to the ad-free YouTube Red, which includes YouTube Music.
Google also introduced a new feature called Voice Match. With this, the speakers recognize individual voices. It will be rolling out to all the 7 countries in which the Home speakers are available. The company is also working on improved voice recognition. Moreover, the hands free calling feature, which was introduced earlier in the US is coming to the UK later this year.