India's top telecom operator Airtel has rolled out VoLTE (Voice Over LTE) services in Gujarat. The VoLTE services which work over the 4G network will allow Airtel customers in Gujarat to make voice calls over data. Currently, only a few smartphones support Airtel's VoLTE service.
Last month, Airtel launched its VoLTE services in Mumbai earlier last month. After that, the company expanded the coverage to Goa, Maharashtra, Madhya Pradesh and Chhattisgarh as well. Now, customers from these states can call any mobile or landline number using Airtel VoLTE service. Also, there will be no additional data charges for it and calls will be billed as per existing plan.
Airtel VoLTE will be available on popular 4G enabled mobiles with an Airtel 4G SIM. Airtel is actively adding new devices that support its VoLTE services. When compared to the last time, the company has added a few more devices to the supported list. Following are the Airtel VoLTE supported smartphones:
Apple
iPhone SE, iPhone 6, 6 Plus, 6S, 6S Plus, iPhone 7, 7 Plus, iPhone 8, 8 Plus
Samsung
Galaxy A5 2017, Galaxy A7 2017, Galaxy A8, Galaxy A9 Pro, Galaxy J2 2016, Galaxy J2 Pro, Galaxy J5 Prime, Galaxy J7, Galaxy J7 Prime, Galaxy J7 Nxt, Galaxy On 8, Galaxy On Nxt, Galaxy Tab A, Galaxy S2, Galaxy S6, and Galaxy S6 Edge
Xiaomi
Mi Max, Mi 5 and Redmi Note 4
Oppo
F3, F3 Plus, and A71
Gionee
Gionee A1, Gionee X1, Gionee X1S, Gionee A1 Lite, and Gionee S3 Pro
Vivo
Y55L, V5, V5S, and Y66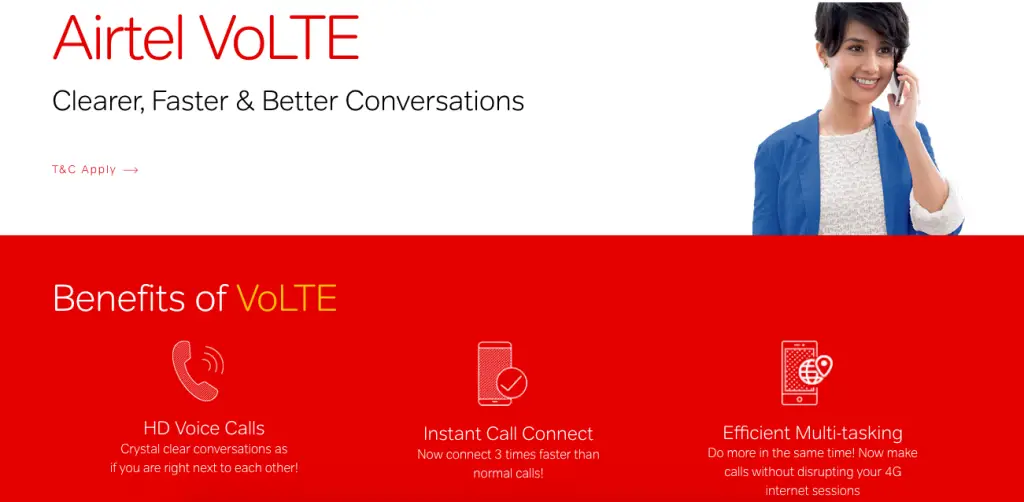 In order to use the VoLTE service, if you are having a dual SIM smartphone, you just have to make sure that the Airtel 4G SIM is inserted in the SIM slot which supports 4G, usually, it is SIM slot 1 in most of the phones.  Users have to select the "4G/3G/2G" as the preferred network mode in the network settings menu.
It is to be mentioned that Reliance Jio also offers the VoLTE services across India. Jio offers the service only on an LTE network. However, Airtel offers VoLTE on 4G LTE. So, whenever there is no 4G coverage, Airtel VoLTE calls will automatically fall back on the 3G/2G network. So, Airtel customers will continue to stay connected all the times.
Murthy Chaganti, Chief Executive Officer – Gujarat, Bharti Airtel said,
"It is our constant endeavor to offer world-class services to our customers with an aim to enhance their mobile experience. In line with this, we are delighted to launch our VoLTE services across the State enabling customers to enjoy superior quality voice calls. In conjunction with our robust 4G network in Gujarat, VoLTE will enable customers to make the most of their mobile devices and experience advanced technologies."