People looking for free Wi-Fi are just everywhere. Most of the times, you do not know if some freeloader is also connected to your Wi-Fi as well. So, do you want to check anytime that who all are connected to your Wi-Fi network?
Do you want to know whether someone is stealing your Wi-Fi and downloading something when your connection is slow? Most of the times you cannot even find out if somebody is spying your communications as well.  So, there is this app called Block Wi-Fi Freeloader to solve all such issue in just a few clicks.
Block Wi-Fi Freeloader is a simple and free app which can block freeloaders from using your Wi-Fi. The app also shows you the list of users who are connected to your Wi-Fi so that you can easily block if some stranger is connected. The Block Wi-Fi freeloader app is available in the Play Store in many languages including English and Hindi. The app is a must-have for some wide range Wi-Fi users from household to IT companies or even a network administrator.
Easy to use with clear UI
The Block Wi-Fi Freeloader app has a clean and simple design that allows users to check if their Wi-Fi and personal data are safe. It has a clear design to show detailed info of each connected device. The app is really very easy to use and within just a few clicks you can list your connected known or stranger devices and also you can block with just a click. It also has a shortcut to turn on/turn off the router as well.
Scan and view who is connected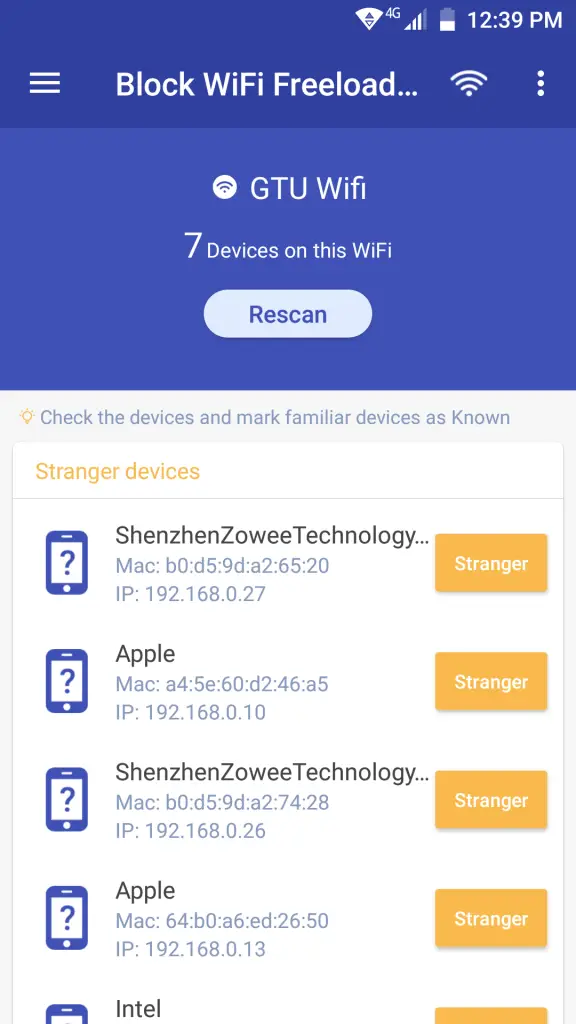 The app is designed to monitor all the connected devices and protect your Wi-Fi security. With a super-fast network scanner, you can scan all devices connected to your Wi-Fi hotspot in seconds and in real-time.
It also allows you to save the list of known devices and block the strangers. The app displays detailed info of connected devices such as IP/MAC Address/Device Name etc. So, you can easily mark the connecting devices as "Known" or "Stranger".
Block Wi-Fi Freeloaders in one click
You can easily identify your devices with all the details available. Now, after identifying other devices who are using your WiFi network without permission, you can block them. Just click on the device you want to block and then on next page there is Block button and clicking it will disconnect and block the user.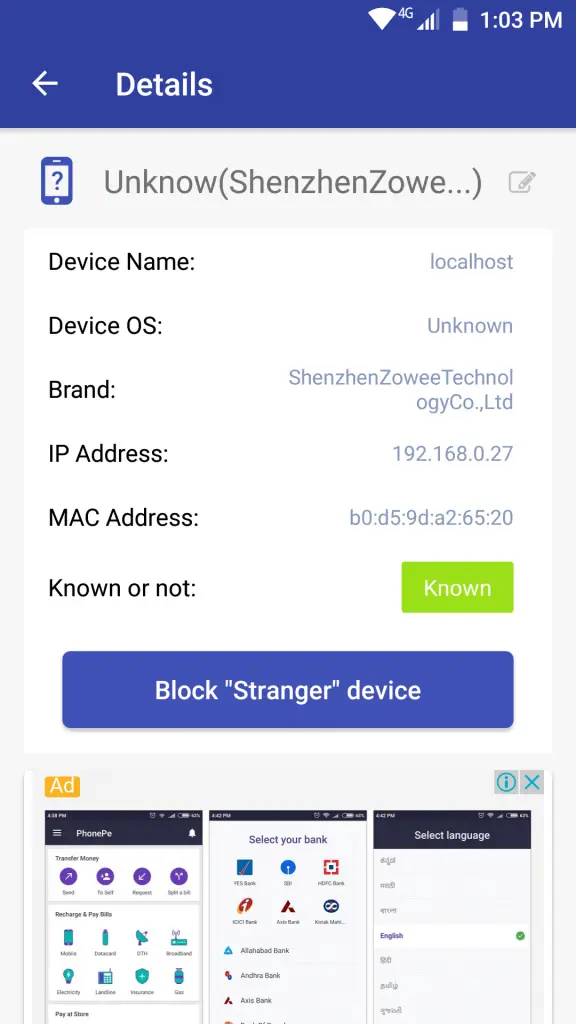 This app can be also used as a kicker to prevent WiFi squatters from leaching you WiFi connection. The app requires compatible Wi-Fi router hardware in order to work. It also reminds you to change the WiFi password immediately when strangers are connected.
The app is just 6MB in size and doesn't require much space after installing. It is compatible with most of the common Wi-Fi routers including TP-Link, Netgear, D-Link and Linksys routers etc.
Download the Block Wi-Fi Freeloader from Play Store for free.