Tata Teleservices, a part of the Indian conglomerate Tata Group, has started sending out alerts and calls to its customers, advising that the telecom operator continues to provide services. This comes amid reports that the telecom operator will be winding down its operations soon after missing performance targets.
Tata Teleservices to shut down soon?
With the entry of Reliance Jio, a new telecom operator backed by another Indian conglomerate Reliance Industries Limited, the Indian telecom industry has seen a lot of upheaval. Incumbent operators Vodafone and Idea have reached an agreement to merge, while another merger attempt by Reliance Communications and Aircel recently failed. It has come to light recently that Reliance Communications will cease its operations from December 1st.
Tata Docomo, a joint-venture between Tata Teleservices and NTT Docomo, has similarly missed performance targets and in an attempt to cut its losses, the Tata Group has reportedly reached an agreement with Airtel to sell its 21-year old telecom arm for free.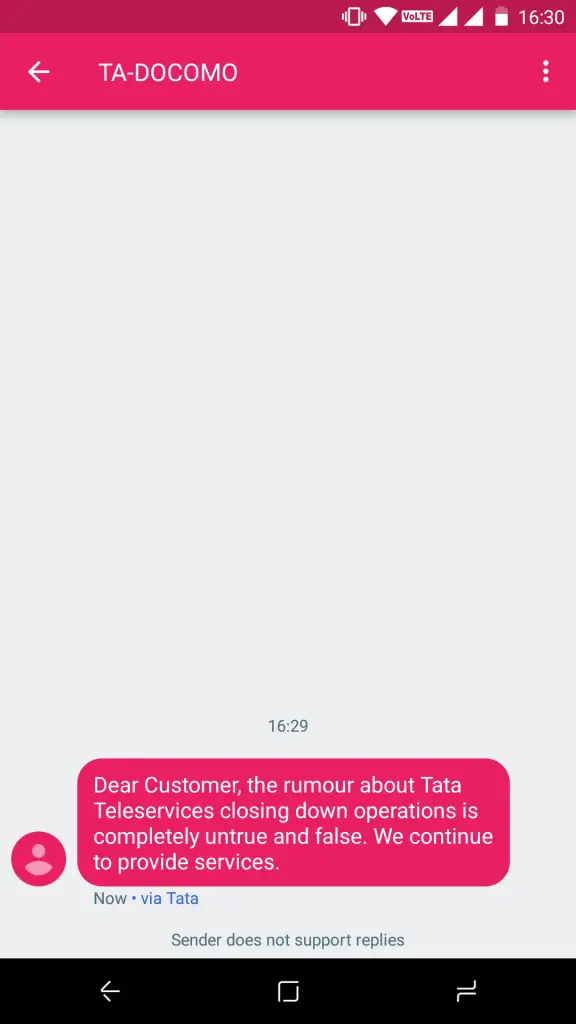 However, rubbishing these reports, Tata Docomo has been reaching out to its customers suggesting that it is going to continue to provide services. The company goes on to say that reports suggesting that it is closing down its operators are "completely untrue and false".
Tata Docomo has sent out SMSs and starting today, the company seems to be calling its customers to inform them about this.
As to what may have caused the company to reach out to its customers is anyone's guess. There haven't been any reports that suggest that Tata Docomo customers have started sending out port out requests in huge numbers due to the reports of shutdown.
However, back in October, there were reports that the leading telco Airtel will be taking over Tata Teleservices but there has been no confirmation in this regard since then.
Have you received any communication from Tata Docomo regarding this? What do you feel about Tata Docomo shutting down? Let us know in the comments below.