In a heated customer retention and expansion battle in the Indian telecom market, Bharti Airtel has announced a new plan offering up to 300GB data. The Airtel Rs. 3,999 recharge comes with 360 days validity and offers unlimited calling and 300GB data for the entire year.
While this plan comes with 360 days validity, Airtel is also offering other combo plans with 180 days and 90 days validity at Rs. 1,999 and Rs. 999 respectively. Here is the complete breakdown of Combo plans from Airtel.
Airtel 300GB data offer details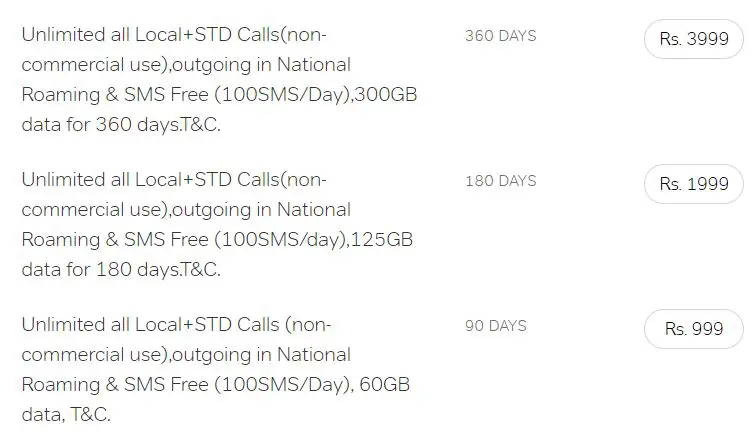 India's largest telco, Airtel has a special offer for combo recharge of Rs. 3,999 with 360 days validity. The Airtel Rs. 3,999 recharge will give you unlimited Local+STD calling, free roaming with 100 free SMS/day along with 300GB data with no daily usage limit.
Another combo offer at Rs. 1,999 provides 180 days validity, unlimited local+STD calls with outgoing in national roaming and 100 SMS/day. This plan comes with 125GB data with no cap on daily usage.
The smallest combo offer here is the Airtel Rs. 999 recharge with 90 days validity. The calling, roaming, and SMS benefits remain the same as the above two plans. With this plan, you get 60GB data with no daily usage limit.
How to get 300GB data on Airtel
These Airtel combo offers come with data rollover benefits, which means if you recharge with the same amount before the expiration of your previous recharge, your remaining data by the end of the previous plan will be carried forward to the next period. Secondly, there is no cap on daily or monthly usage so you can use as much internet as you want on a daily basis.
You can avail the Combo recharge offer via My Airtel app or Airtel.in. To recharge with the app, open the app, tap on Recharge under the 'quick actions' tab and punch in a valid Airtel prepaid number. Then go to Browse Plans > Special Recharge, and scroll to the bottom of the page.