India's largest digital wallet Paytm has just introduced BHIM UPI integration in its app this week. Now, the feature is rolling out for all which will allow users to make payment directly from their bank account using Paytm BHIM UPI. This feature will ease the transaction for merchants as well as consumers.
From now on, users won't need to recharge their Paytm wallet to make any payment or other transaction as your bank account can directly be used now. Moreover, you can also send and receive money without any processing fee. So, you can now do transactions easily. Here is how to make payments or send/receive money using Paytm UPI.
How to use BHIM UPI on Paytm?
First of all, make sure you are using the latest version of Paytm app and if not, update it from the Play Store. Now, tap the BHIM UPI option and it will redirect you to the UPI page. Here, you have to select the bank in which you are having an account and it must be linked to your mobile number which you are using with Paytm.
Tap on your bank's banner and then Paytm will confirm your bank account linked to your mobile number. After the confirmation is done, you will be asked to set a UPI Pin, if you haven't used UPI before and then your UPI address is generated and is linked to bank account. Otherwise, it will directly generate your UPI address which will be [email protected]
Now, when your UPI address is generated, you can make use of the services. Your UPI QR code will also be generated and you can receive money directly in your bank account when someone scans this QR code and sends you any amount.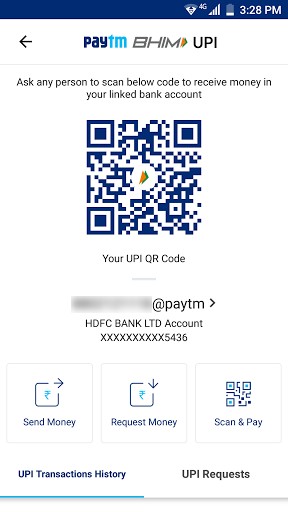 Further, to send someone money you can tap 'Send Money' and then enter their Bank Account or Aadhaar Number or UPI address, amount to transfer and proceed. Then you will need to enter your UPI pin and your amount will be sent to the recipient.
Similarly, for requesting money from someone, you just need to tap 'Request Money' and then enter the UPI address of the person you want to request money from. Enter the amount, and also you can enter time limit for how much the money request will be valid. Now, tap Request Money and your money request will be sent to the person. When that person sends the amount, you will receive it directly to your bank account.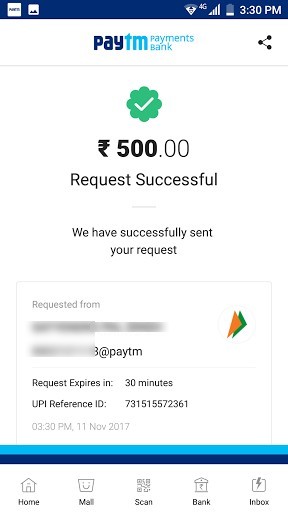 Next, if you want to make payment to someone using Paytm. You don't need to recharge your Paytm wallet. Just tap on Scan & Pay and scan another person's UPI QR code to make payment. You can also do this payment by generating an OTP and showing this to the merchant.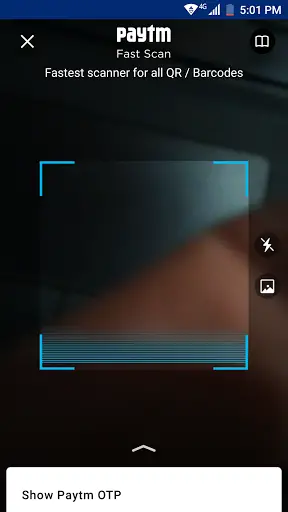 Paytm has joined the digital wallets that already use the UPI method for payments such as Flipkart's PhonePe or Google's recently launched Tez. UPI or Unified Payments Interface is a payments method introduced by the Indian government after last year's demonetization. The UPI feature links your bank account with a UPI app and you can directly make transactions from your account using a PIN.