Chinese smartphone maker Oppo and Indian telco Reliance Jio have again entered into a partnership to offer 100GB free data to Oppo smartphone users. The offer is available across a range of Oppo phones on Reliance Jio.
You can recharge your Oppo F5, F3, F3 Plus and F1 Plus with Rs. 309 or above to avail the extra data. On every monthly recharge, you will get 10GB data per month for 10 recharges. The same offer is valid for 6 recharges or 60GB data for the F1s, A33F, A37F, A37Fw, A57 and A71 users.
Jio Oppo 100GB free data offer details
This is the second time that Reliance Jio and Oppo have entered into a partnership to offer free data. The Oppo phones with a new Jio subscription or with a Jio subscription from October 27 onwards are eligible for the additional data.
Reliance Jio subscribers with an Oppo F3, F3 Plus, or F1 will have to recharge with Rs. 309 or more per month to get 10GB additional data. This additional data will be valid for the next 10 recharges, accumulating to 100GB total data. For Jio users on the F1s, A33F, A37F, A37Fw, A57, or A51, the same offer will be there but the number of recharges has been reduced to 6 recharges i.e. they will get 60GB additional data.
How to redeem Additional Jio Data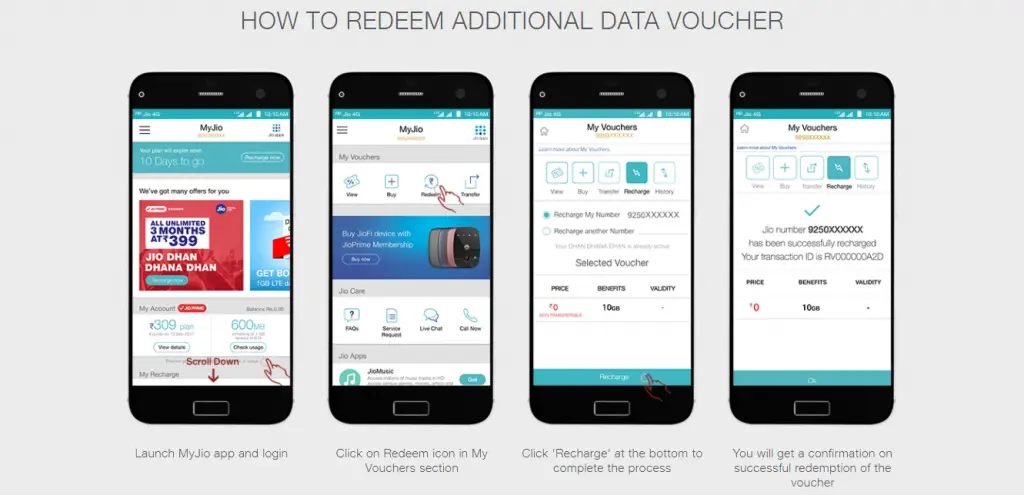 To avail the additional data voucher, you must have a Jio SIM inserted on your Oppo smartphone. First, you need to launch the MyJio app and log in. On the home-page, scroll down to 'My Vouchers' segment and click on the 'Redeem' icon. From here, select the 'Recharge' option and select your voucher with 10GB additional data. It will then show a confirmation screen.
With Reliance Jio, you already get the Jio apps suite and unlimited 4G VoLTE calling. This offer allows Oppo users to avail additional data on their phones. Other smartphone users can also check here to see the special offers available for their handsets.