Motorola phones are known for the good hardware and a near stock Android experience, but there is more to your Moto Phone. Moto phones come preloaded with certain optimizations to enhance your experience.
Here in this post, we will talk about the 'Moto' app on your Motorola smartphone. In this app, you will find certain gestures called 'Moto Actions' which allow you to make the most out of your Motorola smartphone. Here is how to use Moto Actions for an enhanced experience.
The Moto app
Every Motorola phone comes preloaded with the Moto app. In this app, you get the Moto Actions and Display controls. Moto phones replace the Always-On Display with an innovative fade-in fade-out display that shows the necessary information. Moto Actions are gestures by which you can control your phone.
The app comes pre-installed on Moto phones only and unfortunately, you cannot get it for any other phone.
Moto Actions
Starting with Moto Actions, these are smart gestures and actions using which you can control your device. Here are the various Moto Actions and how to make the most of it.
One Button Nav
Need more screen space or annoyed by the on-screen navigation buttons? You can replace them on your Motorola smartphone using One Button Nav Moto Action. This allows you to use your front-mounted fingerprint sensor as a navigation button as well.
Once set-up, you can swipe on the fingerprint sensor to go back or check recent apps. A short click will act as the home button and long click will launch Google Assistant. Also, you can lock and unlock your Motorola phone using the fingerprint sensor so your lock button is minimally used. You can toggle this function in the Moto app > Moto Actions > One button nav.
Chop and Twist Actions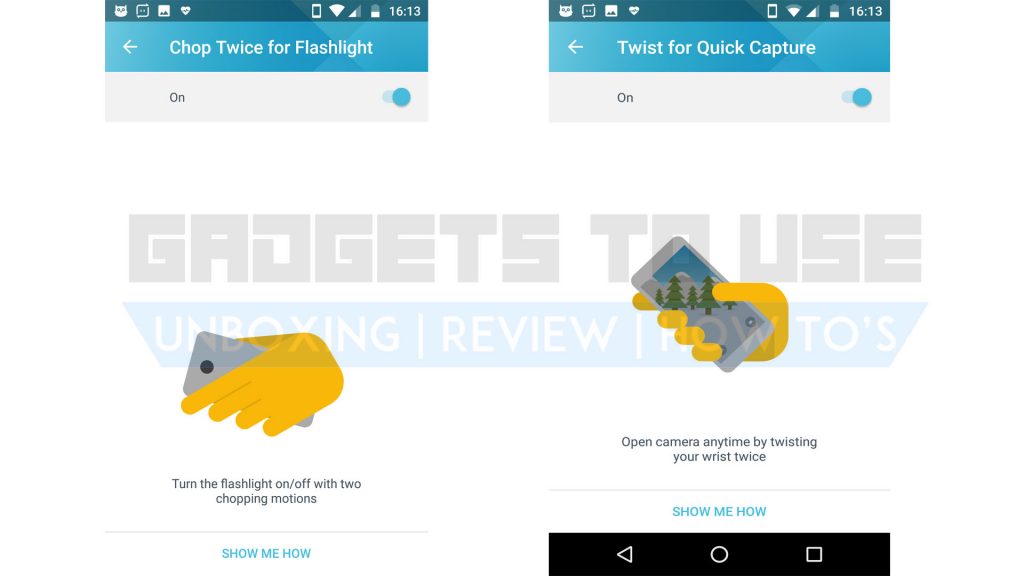 If you quickly need to toggle the flashlight on your phone without any buttons or on-screen commands, this is an efficient way. Using the double chop gesture, you just have to chop your Moto device twice to toggle it on/off. You can toggle this function by gpoing to Moto app > Moto Actions > Chop Twice for Flashlight.
Moto Actions also let you quickly launch the camera by twisting your wrist twice. Once you toggle this feature on, you can not only launch the camera but switch between front and rear camera too. You can toggle this function in the Moto app > Moto Actions > Twist for Quick Capture.
Phone ringing and Do Not Disturb
Using Moto Actions, you can set your Motorola smartphone to silent itself when you lift it to answer a call. The phone will ring while lying on a flat surface and switch to vibrate when you lift the phone. You can enable this from Moto app > Moto Actions > Pick up to stop ringing.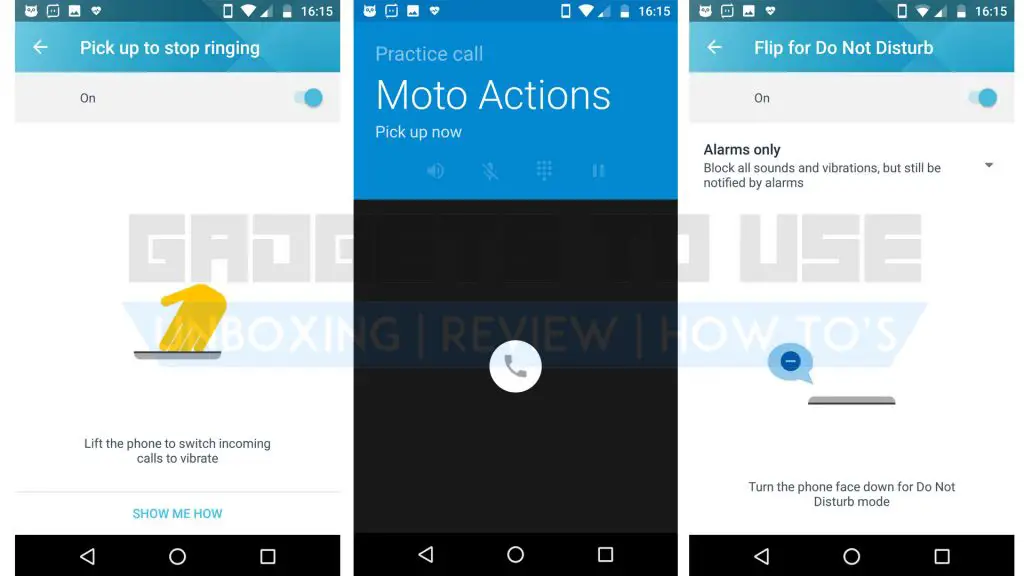 Another Action lets you silence your phone by just placing it screen-down. Since Moto speakers are front-facing, we normally place the phone's display facing towards us. However, if you want to toggle 'Alarms Only' mode and silence all other notifications, just turn on this action and place your phone display-down on a flat surface. You can turn this feature from Moto app > Moto Actions > Flip for Do Not Disturb.
Shrink the Screen
If your phone's screen feels too big, you can toggle the Swipe to Shrink Screen Action to reduce the display size for one-handed usage. You can also decide whether the display is oriented for left hand or right-hand usage. You can toggle this action by going to Moto app > Moto Actions > Swipe to shrink screen.
Display
Motorola phones come with a fade-in fade-out display that replaces an Always-On screen. You can toggle this display on or off from Moto Actions > Display. You can also block certain notifications from filling up the screen space. Also, you can check the details of a notification without unlocking your Motorola smartphone.