Facebook has launched Messenger Kids app for children under 13 years of age. The children will now be able to chat with their friends using messenger kids which will be approved by their parents. The messenger app is aimed at kids under 13, who can't create their own Facebook accounts, allowing them to safely stay in touch with their friends and family.
The Messenger Kids is currently rolling out for iOS devices in the U.S. and Facebook will soon release it for Android devices as well.  It is to be noted here that this app will not allow children create or run their Facebook profile, but only parents will download the app on their child's phone or tablet, and create a profile for them.
Messenger Kids comes with full control for parents, allowing them to protect their children's privacy. The service won't let children add their own friends or delete messages and only parents can do that. Moreover, as mentioned, Kids don't get a separate Facebook or Messenger account, rather, it will be an extension of their parent's account.
How Messenger Kids works
Facebook lets parents download the Messenger Kids app on their child's phone or tablet, and create a profile for them. It is to be noted as per federal law, kids under 13 cannot create any profile on the internet without their parent's permission. So, it will only be a messenger profile of kids linked to their parents' account. Only parents can approve friends and family with whom they can text and video chat from the app.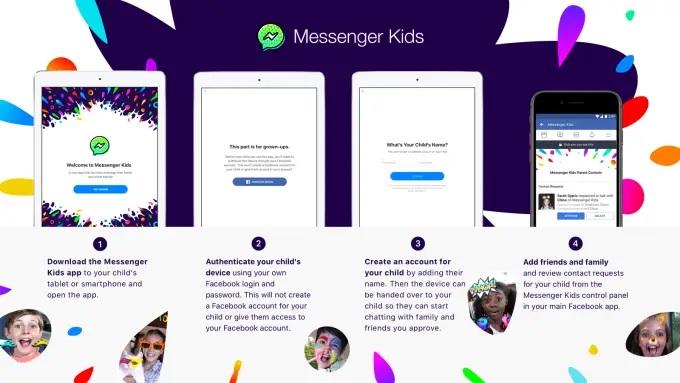 Messenger Kids will have features that kids like the most which could be images, emojis and the face filters etc. For kids who are just learning how to be in touch with parents and relatives digitally, these playful sticker and masks are good ways to express themselves.
Further, federal law also prohibits Internet companies from collecting personal information of kids and imposes restrictions on advertising to them. This is why, Facebook Messenger Kids won't show ads or collect data for marketing, though it will collect some necessary data to run the service. Facebook also said it won't automatically move users to the regular Messenger or Facebook when they get old enough to use it.
Messenger Kids app is available on App Store in the US and will soon be released in India as well.