Fresh reports state the JioPhone, an effectively free feature phone from Reliance Jio is now being manufactured in India. Previously, the JioPhone was being manufactured in a Chinese facility which reportedly failed to deliver the target devices.
According to a report by LiveMint, the Reliance JioPhone is now being manufactured by a Chennai-based vendor. This decision has come after the Chinese facility failed to meet the manufacturing requirement of 6 million units. While Reliance Jio has adopted the feature phone approach for their effectively free device, it may result in cost-cutting to manufacture the device.
JioPhone, now made in India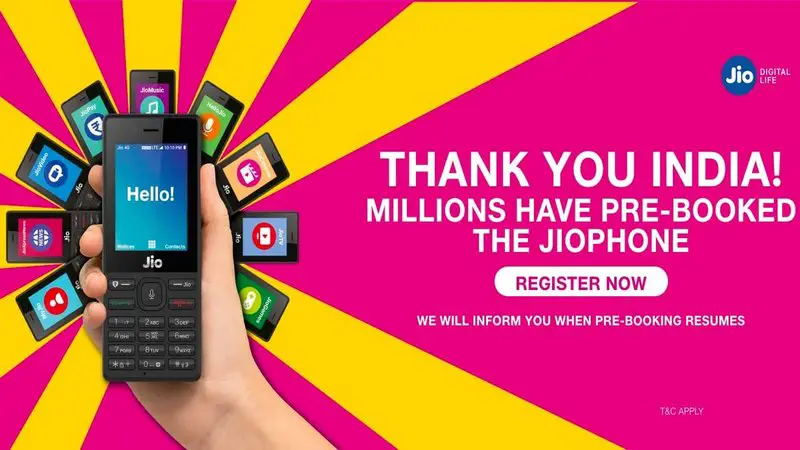 According to the report, two people directly involved in the matter stated,
"In the second phase, we have received expressions of interest for 10 million devices and have already started manufacturing in Chennai."
We also have solid evidence to believe this as the JioPhone is lagging behind the delivery dates.
Further solidifying the statements, they added,
"The manufacturing capacity in China is 300,000-400,000 devices per day maximum. The fulfilment team responsible to get the devices manufactured has not been able to deliver. The target to achieve sales of 200 million phones by December 2018 seems unlikely."
For the uninitiated, the JioPhone is a 4G VoLTE enabled feature phone from Reliance Jio featuring a 2.4-inch QVGA display with alphanumeric keypad and 4-way navigation buttons. It comes with a 2MP rear camera and a 0.3MP front-facing camera.
The device is powered by a Spreadtrum dual-core processor coupled with 512MB RAM and 4GB Internal memory. There is also microSD card slot that allows you up to 128GB storage. The phone runs KaiOS and comes with Jio apps suite.
Launched earlier this year, the JioPhone is priced at Rs. 1500 but effectively free of cost. You have to pay Rs. 500 at the time of booking and Rs. 1,000 upon receiving the device. The amount will be refunded to you after 3 years upon returning the device.