Whenever your phone needs repairing or any other service related to the accessories, you should always go to the authorized service centers. If you own a Xiaomi phone and it needs repairing, you must know that where is the authorized Mi service center near you.
Xiaomi India has its authorized service centers across the country. One can easily find out the nearest Xiaomi service center in their city and the company also provides the facility of online appointments in some cities. Xiaomi provides all kind of after sales support in India which includes repairing and accessories replacement.
Here, we will tell you how to find your nearest Xiaomi authorized service center, how to check your device's service status and also how to book an online appointment to get your Xiaomi phone repaired.
How to find the nearest Xiaomi service center
Finding an authorized Xiaomi service center in your locality is no big deal now. All you need to do is to just follow the below mentioned steps and you will be able to find your nearest Xiaomi service center. You can find the address and contact information of a Xiaomi service center near you.
To begin, open the Xiaomi official India website, which is mi.com/in. Now, on the top banner click on Support and a drop down menu will appear. Here, click on Service Center and a new page will open.

You will see a list of service centers across India. On the left side, there is a search bar with 'select a state' option. Click here and from the drop-down menu, select your state.

Just after you select your state, a list of service centers in the state you select will appear. Now, you will need to find your city, which is also very simple. Just press "Ctrl+F" and type your city's name in the search box. All the service centers in your city or locality will be highlighted.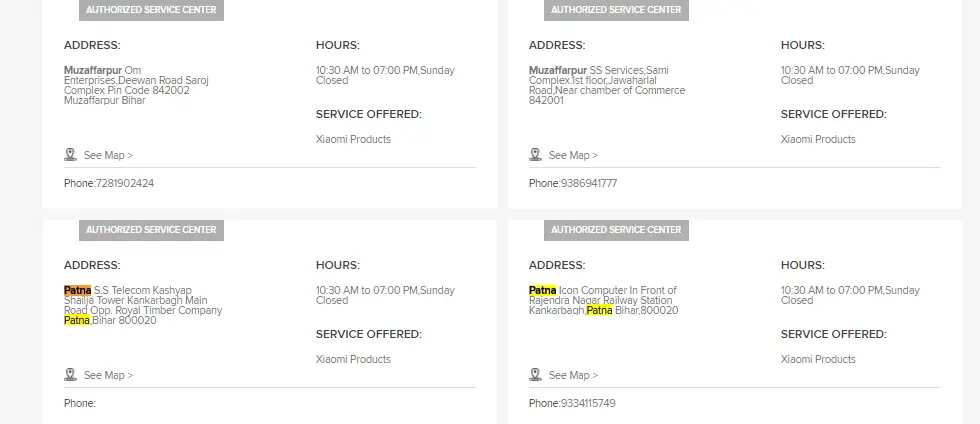 You can find the full address along with map information and contact number of that respective service center here.
How to book Online Appointment
You can also book a service appointment online as well. However, this service is available for selected cities only. If you are living in any of the below mentioned cities, you can book an appointment for your Mi phone's servicing or even check how many people are waiting over there at the service center.
The service is available in following cities: Ahmedabad, Bangalore, Bhopal, Bhubaneswar, Chandigarh, Chennai, Cochin, Delhi, Faridabad, Hyderabad, Indore, Jaipur, Kolkata, Lucknow, Ludhiana, Meerut, Mumbai, Nagpur, Navi Mumbai, Delhi-NCR, Patna, Pune, Ranchi, Sonipat, Surat, Thane and Vaishali. The online appointment service is supposed to be available in more cities soon.
Just visit the official website and click 'Book Service Appointment'. After that select your city and it will show the list of service centers in your city that take online appointments. Now, enter the details as mentioned in the following screenshot and click submit to book a token number without even visiting the service center.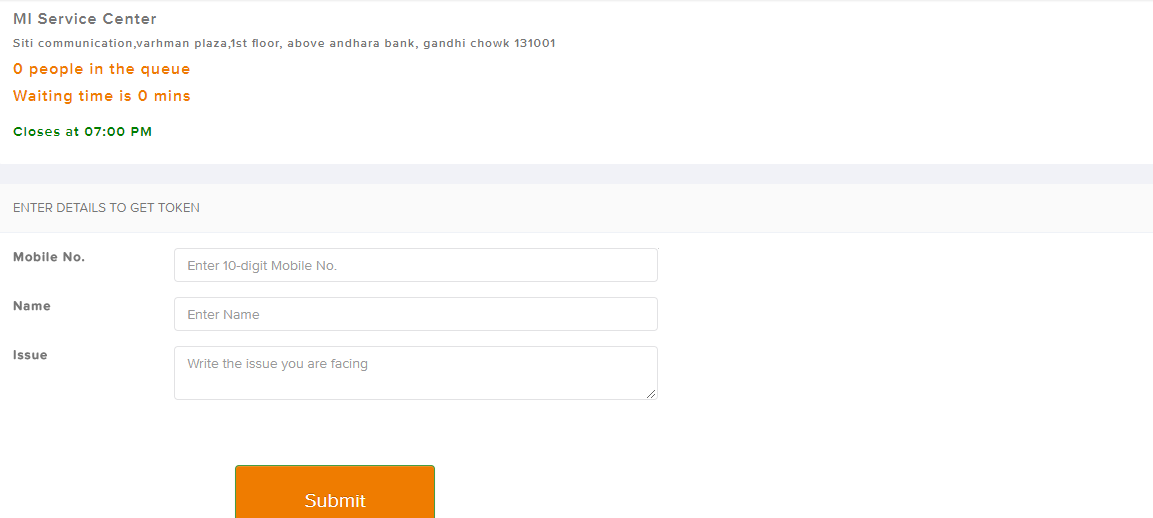 Check status online
You can also check your device's servicing/repairing status online. For this, you need to visit the service center page on the company's official website. Now, click on 'Service order status' and the following page will open.

Fill your details, like your contact number or another receipt number which they have provided you with your device, and click send OTP. After entering the OTP, click submit. It will show you how much time it will take for your device to get fixed.
Xiaomi India Contact Information
There are various mediums available for communicating with Xiaomi India's customer care. You can directly chat with them by visiting mi.com/in/service/online. Apart from that, you can contact them on the toll-free number or send them an email on the following addresses:
Toll-Free Number: 1800 103 686
Email Id: [email protected].
Xiaomi Service Center Timings
Xiaomi service centers are open from 10:30 AM to 7:00 PM and work six days a week (Monday – Saturday). It is to be noted that Xiaomi service centers are closed on Sundays. The online chat and service timings are from 9 AM to 9 PM.