As China-based chinese smartphone maker Xiaomi competes for the top spot, the company is introducing a premium approach to their home-brewed MIUI. Xiaomi devices come with MIUI skin on Android OS and the manufacturer is now offering a Super VIP Monthly Subscription.
In the Chinese MIUI ROM, there have been complaints about the company showing excessive advertisements in the system services. While the company continues to keep the free MIUI available, there is also a Super VIP Monthly Subscription for an ad-free experience.
Xiaomi Super VIP Monthly Subscription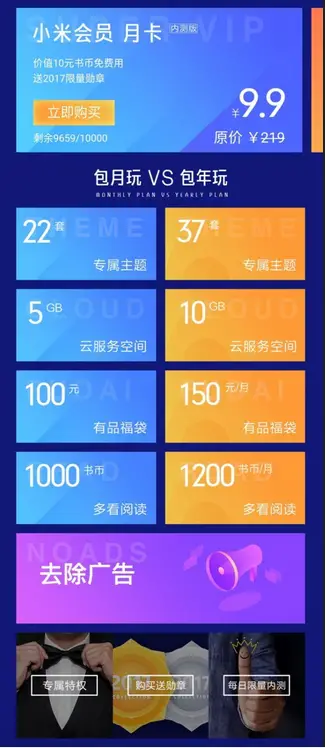 As the name suggests, the subscription is for premium users and gives access to certain other VIP features on the MIUI. To start with, this Super VIP Monthly Subscription is priced at Yuan 9.9 (approx. Rs 97) per month or Yuan 88 (approx. Rs. 860) per year in China.
The package offers advertisement-free MIUI experience, which means you will not see the advertisements in system UI that are present in the standard MIUI. If you go for the monthly subscription, then you also get access to 5GB cloud storage, 1,000 e-books per month, and 22 exclusive themes.
On the other hand, if you choose to go for the annual package, then you will get 10GB free cloud storage, 1,200 books per month, and 37 exclusive themes. While there is no word about the Indian availability of the MIUI Super VIP Monthly Subscription, the China program is out now.
Since it is a VIP program, Xiaomi is only accepting 10,000 monthly users to the MIUI Super VIP Monthly Subscription. Also, the beta program is open only till December 31 this year and Xiaomi will entertain only 1,000 VIP users per day till the program ends. Also, the company has implemented this scheme device-wise.
This means if you own more than one Xiaomi devices running MIUI with the same account, you will have to purchase the premium access separately.