Reliance Jio has announced its Happy New Year 2018 plans. The new plans are available for the Jio users now and moreover, Jio has also revised two earlier plans. Jio's Rs. 509 pack and Rs. 799 pack now offer 3GB and 5GB data daily respectively.
Earlier, last week Reliance Jio revised all its packs by offering either Rs. 50 discount in some packs or offering more data benefits. Reliance Jio's monthly packs which were earlier starting at Rs. 199, now starts at Rs. 149. Jio also revised data benefits in some packs offering 1.5GB data per day from 1GB daily earlier. Also, Rs. 509 and Rs. 799 packs are revised with more data. These packs are available starting today.
Reliance Jio Rs. 509 and Rs. 799 pack details
The Rs. 509 Reliance Jio pack with now offers 3GB data per day and a total of 84GB data compared to 2GB data per day earlier. However, the pack offered 49 days validity previously and now it offers only 28 days validity. Similarly, the Rs. 799 plan that offered 3GB data per day now offers 5GB data per day and a total of 140GB data. This also comes with the same 28 days validity.
Reliance Jio Happy New Year 2018 offers
To recall, Reliance Jio has revised its plans with offering more data benefits at less cost. For example, Rs. 199 pack now costs Rs. 149, Rs. 399 pack now costs Rs. 349, Rs. 459 plan now costs Rs. 399 and Rs. 499 pack now costs Rs. 499. All these packs offer 1GB data per day.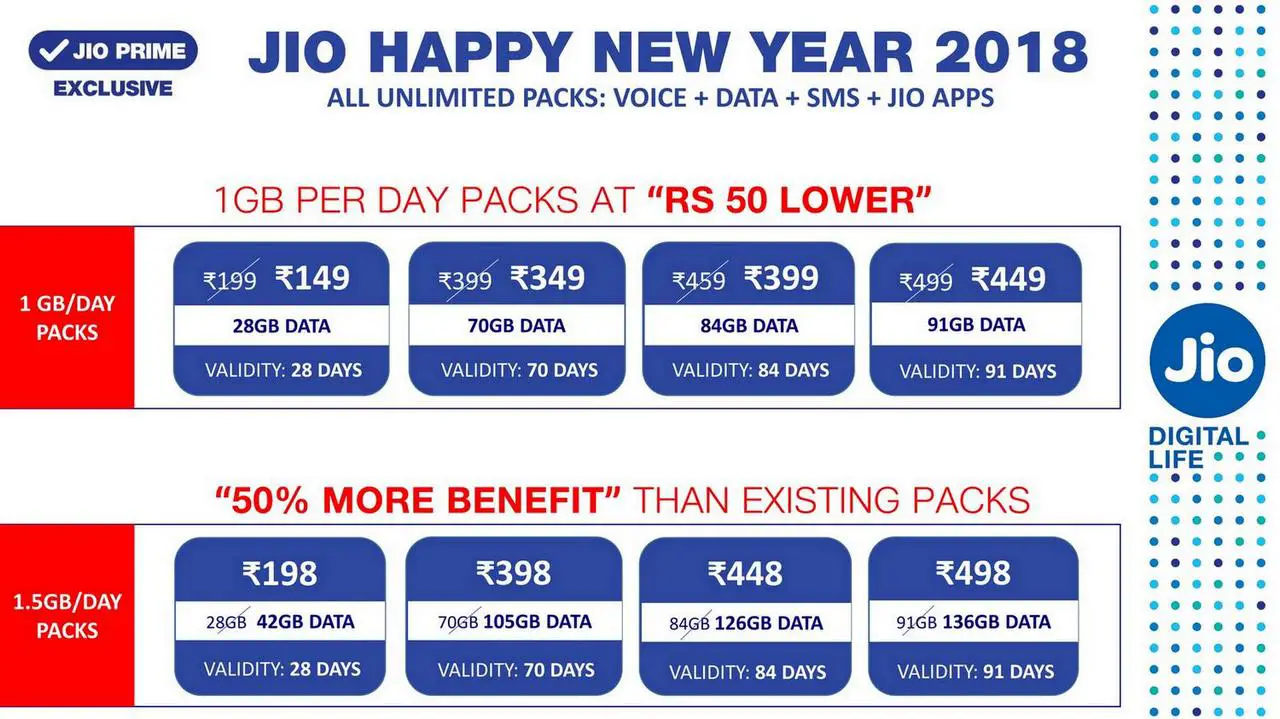 Moreover, the Rs. 198, Rs. 448 and Rs. 498 packs now offer 42GB, 105GB, 126GB and 136GB data with 28 days, 70 days, 84 days and 91 days validity respectively. These packs are offering 1.5GB data per day.
Reliance Jio is the first and only telecom operator to offer up to 5GB data per day targeted at heavy data users. Other operators like Airtel and Idea Cellular also recently revised their plans to offer more data benefits.