Airtel has announced that it's postpaid and V-Fiber broadband customers will get free 1-year subscription of Amazon Prime service on downloading the Airtel TV app. The Amazon Prime subscription includes unlimited access to Amazon Prime Videos and early & exclusive deals at no additional cost.
Airtel is offering these services to its Postpaid customers with the Infinity plan of Rs. 499 or above and its V-Fiber Broadband customers with Rs. 1099 plans or above. Amazon Prime Video gives them access to over 11 million Prime-eligible products, early delivery and exclusive deals, special discounts and more. The offer for one year of Amazon Prime can be activated through the Airtel TV app.
How to claim the offer
To claim the offer, you need to download the Airtel TV app from the App Store or Google Play Store. Now, open the Airtel TV app and login with your Airtel number. After that, click on the special Airtel – Amazon digital card which is available only to eligible Airtel customers.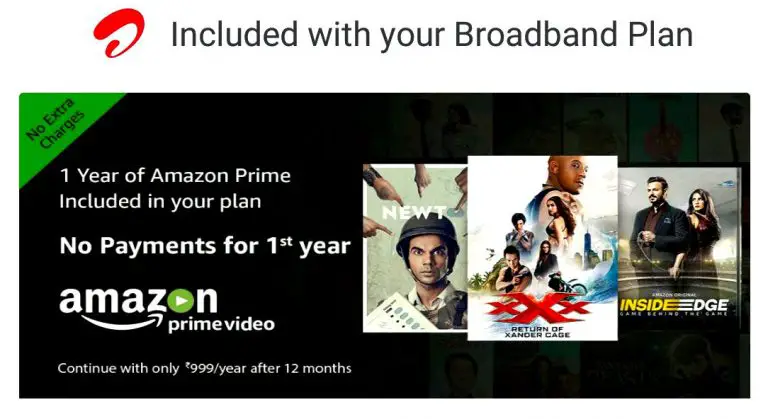 After tapping on the banner, a dialogue box will appear with details of the Prime service. Tap on Activate Now and you will be required to key in your Amazon account credentials. Once the credentials are verified, the free 365-day Amazon Prime subscription will start and you will be informed of the same via SMS and email.
It is to be noted that this offer is only for those Amazon users who do not have a Prime membership. If you are already a subscriber then you will have to wait for the ongoing subscription to end to avail the offer. Also, for Airtel, the free Prime subscription will be provided as long as the customer continues on the current Infinity plan or upgrades to a plan of higher value.
Commenting on the partnership, Akshay Sahi, Director, and Head of Amazon Prime India said,
"We are thrilled to come together with Airtel to make Amazon Prime benefits directly available to more customers. This move enables seamless access to Amazon Prime for Airtel Postpaid customers, providing a world of new video streaming content and more. We think subscribers will love the many benefits of Prime, including the latest binge-worthy Amazon Prime Video content, unlimited free fast delivery on millions of items, exclusive deals on top products, and more."