Apple has rolled out the iOS 11.3.2 beta update for the developers. The latest beta update brings a new 'Battery Health' feature to the iPhones. This new feature will provide more detail about the battery health, the maximum capacity of your iPhone's battery and if it is able to operate at peak capacity.
With iOS 11.3 beta 2, Apple has enabled the battery health feature after the recent issues related to older iPhone batteries. With the update, iPhone users will now see the maximum capacity of the battery and its health in the battery settings now. Also, there are peak performance capacity and performance management options as well.
Performance management
The performance management feature is required when your iPhone experiences shutdowns. When the iPhone battery condition offers normal peak performance, you will see the message "Your battery is currently supporting normal peak performance."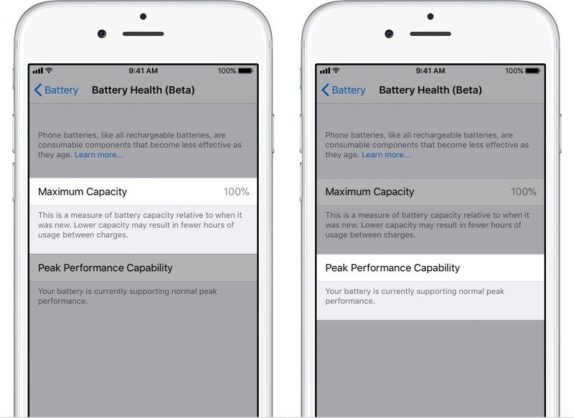 However, if your iPhone experiences unexpected shutdowns, it will display "This iPhone has experienced an unexpected shutdown because the battery was unable to deliver the necessary peak power. Performance management has been applied to help prevent this from happening again."
If you want you can also disable the performance management. It is to be noted that you can't enable this if once disabled. However, it will be automatically applied again if the iPhone shutdowns unexpectedly.
Battery Health
Apple will also let you know if your iPhone's battery health is degrading. If your battery needs replacement, it will display the message "Your battery's health is significantly degraded. An Apple Authorized Service Provider can replace the battery to restore full performance and capacity. More about service options."
This latest battery health feature will benefit iPhone 6, 6 Plus, 6s, 6s Plus, iPhone SE, iPhone 7, and iPhone 7 Plus users. As the latest models including the iPhone X, 8 and 8 Plus have been launched with improved hardware and software, they are less affected by Performance Management.
Apple has faced a lot of criticism for throttling the performance on iPhones with older batteries. The company had explained that it wanted to save the iPhones from unexpected shutdowns, but still didn't solve the issue.
Apple later announced that in the future iOS update, it will add a toggle that will enable or disable the power management and show more details about the battery. Now, the update is available in beta version as of now and it will soon be rolled out to all users.