The Apple iPhone X comes with a decent 2,716mAh battery but still, some iPhone users find it is not enough for a full day of use. Some users are even experiencing battery drain on their iPhone X. If you are experiencing the battery drain issue then see how you can fix that issue and if not, check out how you can extend your iPhone X's battery life.
Check Which App is Draining the Battery
Sometimes the battery drain can be fixed by just removing some unnecessary applications which are running in the background. To check the battery usage according to the running apps, go to Settings > Battery. Here, you will be able to check which app is using how much battery and you can also check the usage in last 24 hours or last 6 days to get the average battery usage.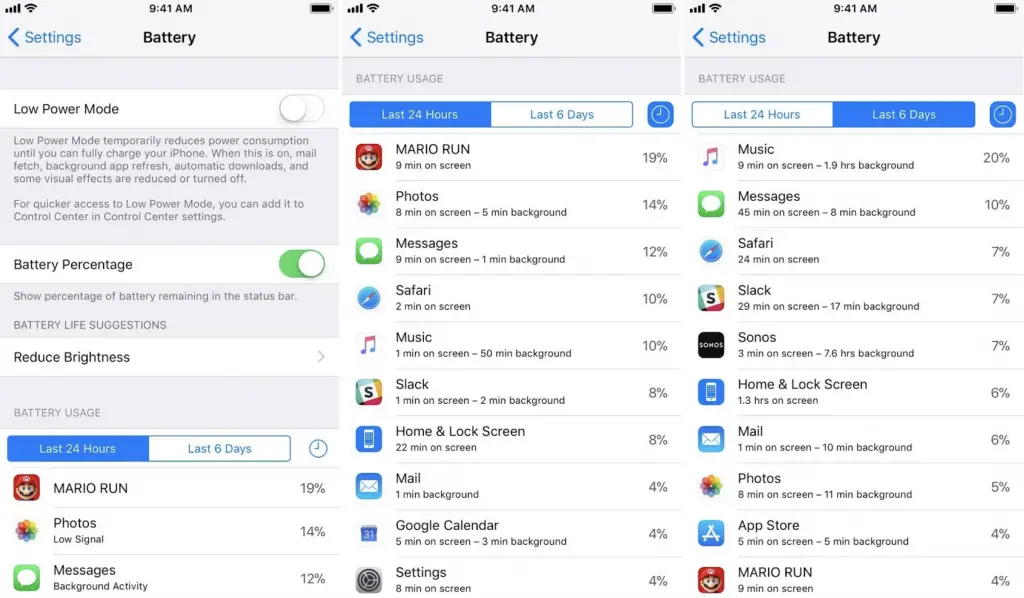 If you find any app which is using more battery than it should then you can remove that app and check if the battery drain persists. To be on the safe side, always keep an eye on this battery page and remove all the unnecessary apps from your iPhone.
How to Save Battery in iPhone X
Solution 1: Low Power Mode
So, whenever you are in a situation when your phone has about 50% battery and you have to stretch that battery for a whole day, then, using Low Power Mode is the best option. Enabling the Low Battery Mode will turn off some background services and features like Siri, UI animations, background app refresh and lower the screen brightness.
To enable the Low Power Mode, go to Settings > Battery and enable the Low Power Mode. This option limits the smartphone's performance and increases the battery life. You can also schedule to turn on the Low Power Mode according to the battery percentage.
Solution 2: Avoid Dynamic Wallpaper
The Apple iPhone X comes with some gorgeous Dynamic wallpapers to choose from but using these wallpapers consumes more battery than usual. So, make sure to use a still wallpaper to conserve battery. You can take advantage of the OLED panel of iPhone X and use a dark background which will use less battery than usual.
Solution 3: Turn off Location
Almost every app now requires location services access to provide you a better app experience. Some apps even keep the location on even if you are not using them, it makes the device to use the GPS every time and drains the battery. You should keep the location services turned off until you are using the particular app. To turn it off, go to Settings > Privacy > Location Services and use the toggle to turn it off.
Solution 4: Use iOS Dark Mode
Apple's devices uses a light background for almost every page of the user interface, whether it is the Settings page or any other system app. This consumes more battery, Apple iPhone X comes with a more useful Dark Mode which is not actually a mode in the iOS but a trick to use dark UI on all of the system apps.
To enable dark mode, go to Settings > General > Accessibility > Display Accommodations > enable Smart Invert. This will change all the light colored background into a dark one.
Solution 5: Use Passcode instead of FaceID
The Apple iPhone X comes with Face ID feature, which is the primary security option. But the Face ID feature uses a bunch of sensors to work and keeps all those sensors running all the time including an IR sensor which consumes battery. So, it is better to switch to passcode security option instead of Face ID to save some battery.