#GTUMWC2018: HMD Global led smartphone maker Nokia has made their first major announcement for the MWC 2018. The company has unveiled a refreshed avatar of the iconic 8110 named the Nokia 8110 4G.
At a global retail price of 79 Euros, the device will go on sale in May. The device will support 4G and is capable of syncing all your contacts, calendar, mail, as well as social media like Facebook. Here is everything about the Nokia 8110 4G.
 Nokia 8110 Specifications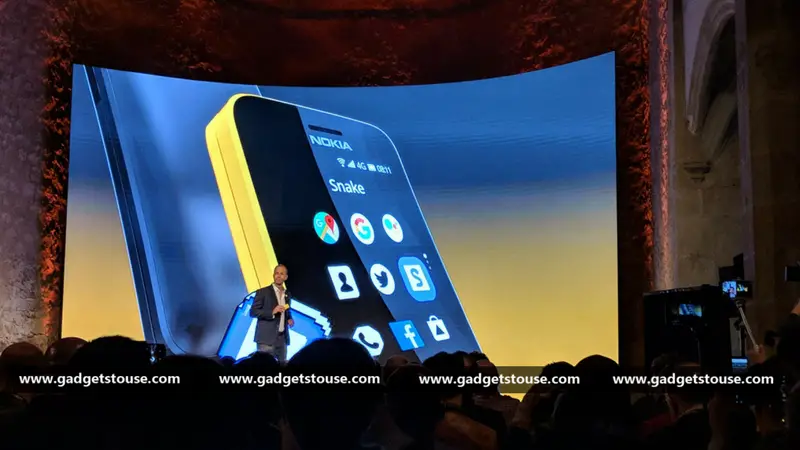 The Nokia 8110 is an iconic Nokia phone from the old feature phone days. In an attempt to resurrect the company's past glory, HMD-Global had earlier unveiled the Nokia 3310 that supports 3G and now it has introduced the Nokia 8110 4G.
Recalling the device, it comes in a banana-like curved design with a slider covering the keypad. There is a single camera along with flash and the speaker grilled at the back of the phone. it is launched in a banana yellow colour which goes well with the bold 'banana-like' looks of the phone. It also comes in a Black color option.
The phone comes with a 2.4-inch QVGA curved display with a 2MP rear camera. The device is running a Qualcomm Snapdragon 205 processor backed by 512MB RAM and 4GB internal storage. The Nokia 8110 4G is running Smart Feature OS that lets you run apps like Facebook on the device.
You get a 1,500mAh battery powering this phone, which is a significant update over the older model's 400 mAh. In terms of connectivity, you get Bluetooth, WiFi, FM, Micro USB, and a 3.5mm earphone jack. With 4G capabilities, the phone comes in two colours i.e. Black and the bold Banana Yellow colour.
The device is preloaded with the New Snake Game as well as Facebook. This means you get the games from old days along with social media capabilities of the modern times. The device also lets you make a WiFi Hotspot from it. Apart from these added features, the relaunched Nokia 8110 4G retains the looks and style from its iconic ancestor.
Nokia 8110 4G Pricing and Availability
The Nokia 8110 4G is priced at a global retail price of 79 Euros which translates to roughly Rs. 6,200. The device will go on sale  starting in the month of May. The Indian availability of the phone is not known yet.