Huawei has released a Macbook competitor at the MWC 2018 recently. The Huawei Matebook X Pro, which looks a bit similar to it but with lots of new things which you haven't seen on an ultrabook before. Let's look deeper at the Matebook X Pro and see what unusual is going around on this laptop. We will also share answers to some questions which are going in your mind, let's dive in.
As part of our ongoing #GTUMWC2018 coverage, we are striving hard to bring you the best MWC 2018 announcements as and when they happen. Check out the links above to take a look at all launches at this year's Mobile World Congress.
Huawei Matebook X Pro Full Specifications
Key Specs

Huawei Matebook X Pro

Display

13.9 inches, 3000 x 2000, 260 PPI, Touchscreen

CPU

8th Gen Intel Core i7-8550U processor

8th Gen Intel Core i5-8250U processor

GPU

NVIDIA GeForce MX150, 2 GB GDDR5

RAM

8 GB / 16 GB

Storage

56 GB / 512 GB SSD

Camera

1 MP

Ports

USB-C x 2, USB-A x 1, 3.5 mm aux

Battery

57.4 Wh
Huawei Matebook X Pro Physical Overview
Huawei Matebook X Pro comes with a premium look with diamond cut edges and a sandblast finish all over. The laptop is super thin and ultra lightweight, it weighs only 1.3kg and is only 14.6mm thin. The laptop comes in two colors – Space Grey and Mystic Silver but the Mystic silver edition comes in highest configuration.
The laptop has a 13.9 inches touchscreen OLED panel which comes with a Gorilla Glass protection and 3K resolution. Another thing which is noticeable is the super thin bezels around the display, it comes with 91% screen to body ratio which is the highest till now in laptops. It comes with two USB Type-C ports and one USB Type A port for connectivity, the laptops charges through the Type-C port.
Huawei Matebook X Pro Key Features
Display with thin bezels
The display on this laptop is the best which you can find on any other ultrabook. The display is 14 inches and the bezels are only 4mm thin which provides 91% screen to body ratio. The display is OLED and it comes with 3K resolution (3000 X 2000) and 3:2 aspect ratio which makes the display squarer than wider.
Retractable Webcam
The hidden webcam on the Matebook X Pro is the only feature makes this laptop different than all other laptops out there. There is a spring loaded key placed between the F6 and F7 button which retracts the camera from the keyboard part. This feature helps to hide the webcam if you want for security purposes.
Huawei Matebook X Pro FAQ
Question: How is the display on this laptop?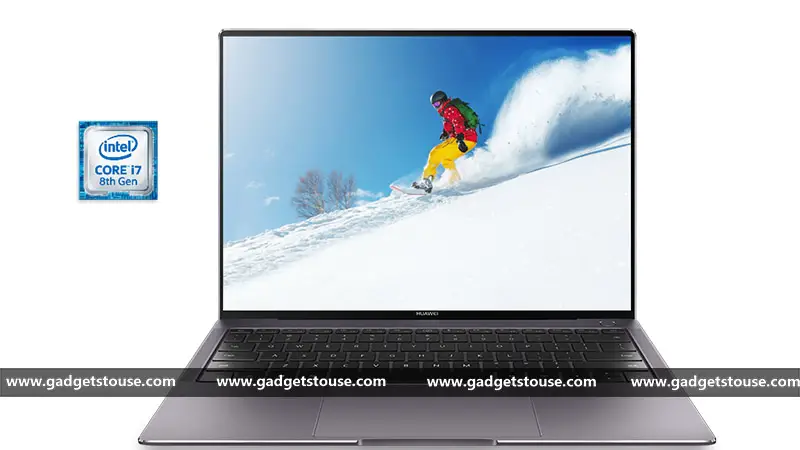 Answer: The display on the Huawei Matebook X Pro is a 13.9 inches LED panel which comes with 4mm thin bezels for full display experience. The screen is touchscreen and protected by the Gorilla Glass protection. The Huawei made the bezels so thin that they won't have the place for the webcam.
Question: Where is the webcam on Huawei Matebook X Pro?
Answer: The webcam is placed inside a springloaded button placed between the F6 and the F7 key. To reveal the webcam, you have to press the button and the camera will pop out from below. Although the camera has a very low point of view.
Question: How is the battery performance on Huawei Matebook X Pro?
Answer: It comes with a 57.4 Wh battery which can provide an all day long usage as claimed by the company.
Huawei Matebook X Pro – Things We Like
Amazing display
Big battery
Huawei Matebook X Pro – Things We Dislike
Camera has a low point of sight
Conclusion
The Huawei MateBook X Pro is a premium ultrabook that offers a rich overall experience. The display is one of the best that we've seen so far on an ultrabook, and the overall design and build is very good too. The minimal bezels further add to the looks. All of this coupled with the specs on offer make the MateBook X Pro a very good option for those looking for a high quality and well constructed ultrabook running on Windows.