Chinese smartphone maker Nubia has launched multiple products at the #MWC2018, but what caught the attention of the #GTUMWC2018 coverage are the Nubia Gaming phone prototypes on display. While these are not functioning models, they're not far from reality.
The Nubia Gaming phone prototypes come with different structures and framing. The concept of Android gaming phones is gainingtraction since the launch of the Razer Phone and then Xiaomi subsidiary Black Shark stepping in the game. Now, Nubia seems to be levelling things up with its new concepts.
About the Nubia Gaming smartphones Prototypes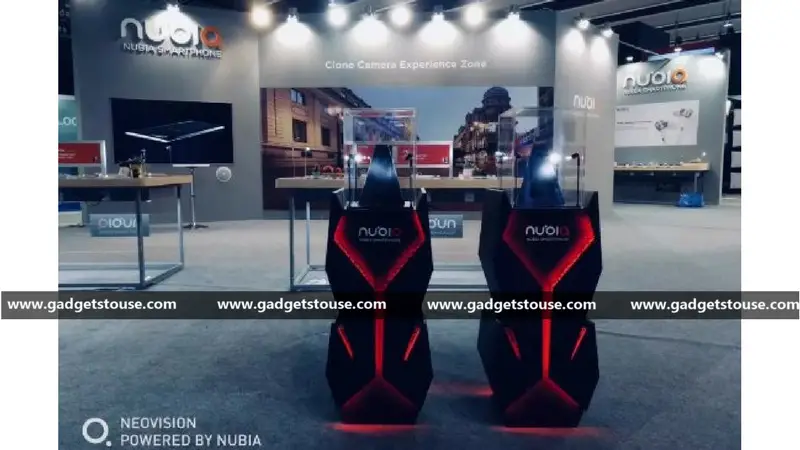 For the uninitiated, Nubia is a Chinese smartphone maker and already has presence in in India. The company has revealed new concept models of their gaming smartphone that they plan to release in the near future. While the designs did not reveal the display, the company has already made their mind about the specifications.
Some of the concepts of the Nubia gaming smartphone show Red coloured LED stripes running along the sides while one features a bright blue LED running vertically along the back. With serious gaming enhancements like rubberised corners, the phone seems like a good option for gamers.
Nubia says that the final device will come with a Snapdragon 845 processor coupled with 128GB internal storage. While the concept showed single as well as Dual cameras at the back of the phone, we may get to see both designs as variants of the same phone. Talking about the display, we may get to see an 18:9 aspect ratio panel on the final device. While the screen size is not decided yet, Nubia could go with a 5.99-inch screen or maybe a bigger one since it is a gaming phone.
The prototype models showcase an aggressive design and style and project the look of a miniaturised gaming laptop. However, we expect that some of the parts like the LED lights will be toned down or missing from the production version as they may take a toll on the battery life.