Another MWC event has been held with a lot of new phones ranging from premium flagships to affordable Android Go phones. As suggested by its name, Mobile World Congress is all about phones, however, there were some gadgets that caught our attention.
As part of our ongoing #GTUMWC2018 coverage, we have worked hard to bring you the best MWC 2018 announcements. To pick top phones and gizmos from the show was really hard, but we've managed to create this list of the top 5 best gadgets at MWC 2018.
Top 5 Gadgets at MWC 2018
Huawei Matebook X Pro
The Huawei Matebook X Pro, which looks a bit similar to Apple's MacBook was center of attraction on the first day. Huawei launched its Matebook X Pro which comes with a premium look sporting diamond cut edges and a sandblast finish all over and it is super thin and ultra-lightweight.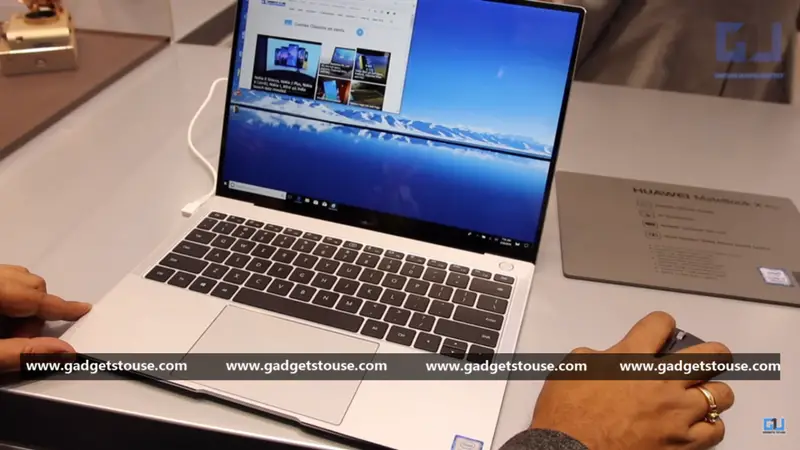 The Matebook X Pro has a 13.9 inches touchscreen OLED panel with Gorilla Glass protection and 3K resolution. Another highlight of the laptop is the super thin bezels around the display that are only 4mm thin which provides 91% screen to body ratio.
The interesting feature of the Matebook X Pro is its hidden webcam which makes this laptop different from all other laptops out there. There is a spring-loaded key placed between the F6 and F7 buttons which retract the camera from the keyboard part.
ZTE Axon M
ZTE had already launched the world's first foldable smartphone Axon M in the US back in October last year. The ZTE Axon M is the first phone with dual 1080p displays and can be used in 4 different modes. It includes a Dual mode which allows you to use two different apps on both screens. Another mode is an extended mode which allows to stream video on a full 6.75-inch full HD display.
The third mode is Mirror mode which allows users to mirror the same content on both the screens when folded with both screens in different directions. The last one is a traditional mode which allows users to use the device as a conventional smartphone.
Gemini PDA Linux+ Android Phone
British company Planet Computers showcased its device called Gemini at MWC 2018. The smartphone runs Android operating system and has a QWERTY keyboard as well. The company has announced the new Gemini PDA will feature the Sailfish OS, developed by Finnish company Jolla.
One of the most popular gadgets, Gemini resembles popular PDA devices design from the 1990s. Users can use the 5.9-inch display, and the keyboard can also be used. The project between the two companies makes the Gemini, a dual-boot Android/Linux smartphone.
Ulefone T2 Pro
Ulefone showcased multiple new devices at MWC 2018 including the T2 Pro. T2 Pro features an iPhone X like all-screen display with a notch. The phone comes with a 6.7-inch display with an aspect ratio of 19:9 and resolution of 2260×1080. T2 Pro also sports a 21MP/13MP dual rear camera and a 16MP selfie camera.
The phone is powered by the new and powerful MediaTek Helio P70 processor coupled with 8GB of and 128GB of internal storage. The T2 Pro packs 5.000mAh battery and runs Android 8.1 Oreo. The phone has a glass body and likely to support wireless charging.
Energizer 16000 mAh phone
Energizer, the battery making company has showcased the prototype of its smartphone dubbed as the Energizer Power Max P16K Pro at MWC 2018. The highlight if the phone is, it comes with a massive 16000 mAh battery.
Apart from its massive battery, the phone also has some other highlight features. Energizer's latest smartphone includes quad camera setup, and a bit unusual looks with the 18:9 display. The smartphone runs Android Oreo and Helio P23 processor.
Which of these gadgets do you like the most? Tell us in comments!