India's youngest telecom operator Reliance Jio has today announced the Jio Postpaid service in the country. The first plan under the new Jio Postpaid service is priced at Rs. 199 and comes with 25GB of high-speed 4G data per month and some other benefits. Just like the standard Jio plans, it comes with free voice calls, unlimited SMS messages, and free subscriptions to Jio Apps as well. The company also offers ISD calls benefits with the Jio Postpaid plan.
As per Reliance Jio, international calling will be available to all subscribers of the Jio 199 postpaid plan without the need for activation or any security deposit. The company is also offering easy one-click activation of international roaming for all takers of this plan. Jio says the new postpaid plan will be available for subscription starting May 15.
Reliance Jio's Rs. 199 Postpaid plan
Reliance Jio has announced its first postpaid plan at Rs. 199 per month. This postpaid plan will come with unlimited voice calls, free SMSes free for the billing cycle, and 25 GB 4G data, among other benefits.
As mentioned, this plan will be pre-activated for international calls. Jio postpaid subscribers will be able to activate international roaming with one click and both these international calling and roaming services will be offered without any additional monthly charges or security deposit.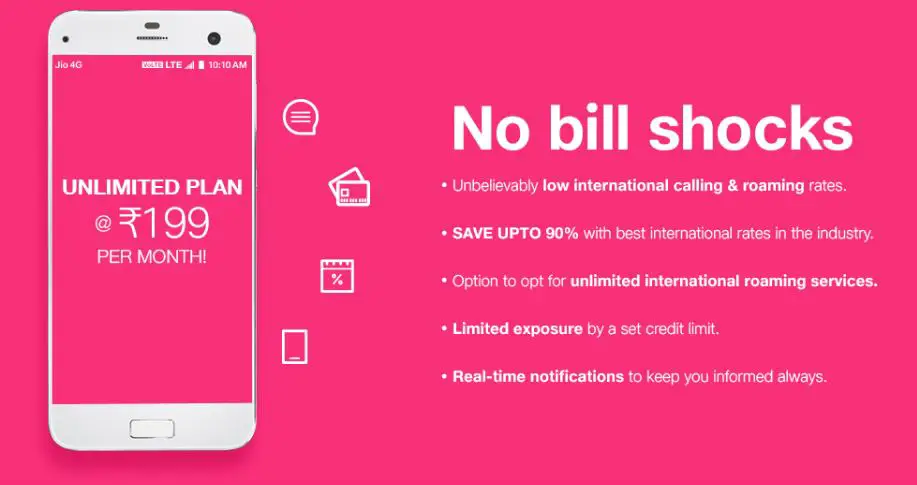 Jio International roaming packs and rates
The company has also announced international roaming rates starting at "Rs. 2 – 2 – 2 for Voice – Data – SMS". It means users will be able to make calls from Rs. 2 per minute, use data from Rs. 2 per MB and send SMS at Rs. 2 on international roaming. The Rs. 2 per unit service is offered for roaming in 33 countries including the US, the UAE, and Canada. While in 42 other countries including Australia, Kuwait it will charge Rs. 10 per unit.
The company has introduced three new international roaming packs- Rs. 575, Rs. 2,875 and Rs. 5,751 with a validity of one day, seven days and 30 days respectively. Among other benefits, the Rs. 575 and Rs. 2,875 packs will offer 250 MB of data per day, while the Rs. 5751 pack will offer 5 GB data, unlimited local voice calls, and SMS.
Commenting on the new Jio Postpaid, Reliance Jio said in a statement,
"Jio Postpaid brings a differentiated connected living experience to postpaid users and will once again challenge the industry status quo by offering the lowest tariffs in India and abroad to the postpaid users, who end up paying disproportionately higher as compared to the prepaid segment."