Android P Beta is already being tested by lots of people on the eligible smartphones including us. We have tested the Android P Beta on the Google Pixel 2 XL. Google tried its level best to make the experience better on the Android P but in making those things better, Google just broke some features which were simpler before in the previous version. Here we are going to talk about the good things and some bad things about the Android P Beta.
Android P Beta – Good features
These are the good things which we like in the Android P Beta that will make things a lot simpler and better on future smartphones.
Adaptive Battery
Android smartphones have been criticised for bad battery performance since the beginning of it and manufacturers have tried adding a big battery (16000 mAh on Energizer Power Max) to the smartphone. But if the software is not optimized then the battery won't last long so Google has come up with a feature which restricts the battery usage of useless activities and provides more juice for what you are doing right now.
The Adaptive Battery is an intelligent feature which detects which apps need how much battery power and optimize the performance according to it. This feature detects which apps you use less often and closes those apps and kills the background activities related to that app so it won't take much battery.
Swipe up on Home button
As Android smartphones started to lose bezels around the display, more manufacturers shifted their user interface from the navigation bar to swipe gestures. This trend came from Apple's iPhone X gestures where Apple used gesture navigation on their iPhone as they removed bezels from the display. Google has included those features into the Android OS so the manufacturers don't have to use third-party apps to do that.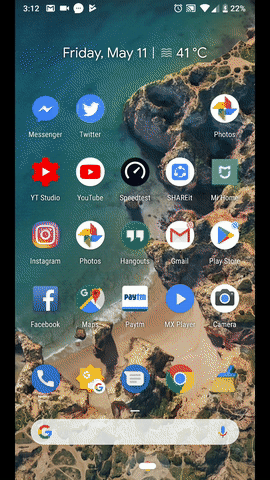 Google has made these gestures a lot different from what we saw on the iPhone X. Google has changed the pattern, here swipe up from bottom takes you to the recent app page, not to the home screen. Switching apps has become a lot simpler than before, you can now switch quickly to multiple apps using only gestures.
New Animations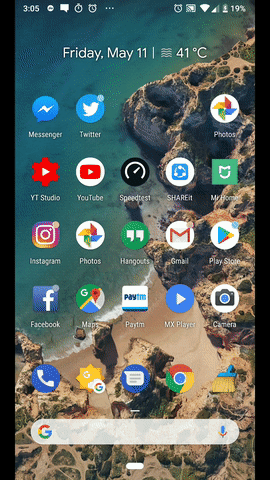 Well, this is an interesting part, although, the animations don't add much to the operating system, it looks cool for sure. The animations are also much smoother than before, it feels almost like the animations have a better frame rate. Google hasn't changed the animations since Android 5.0 lollipop. Check out these awesome animations which Google has added to the Android P Beta.
Android P Beta – Bad features
Two swipe to go to app drawer
The most broken things according to me are that when you have gesture animations enabled on your phone in Android P Beta, you have to swipe up two times to get into the app drawer. The first swipe from the bottom shows the recent apps page, it doesn't matter from which page you swiped up.
You have to swipe up two times even if you are on the home screen, it shows the recent apps page on the first swipe. According to me, Google has to remove the need to swipe twice to go into the app drawer when on the home screen.
Triggering split screen functionality
This is again a broken functionality in the Android P Beta, the split screen feature was introduced in Android 7.0 Nougat and since then the method to bring apps into split view hasn't changed. Google has changed it in Android P Beta. In previous versions, holding down the recent apps button shifts the current app in the top half part.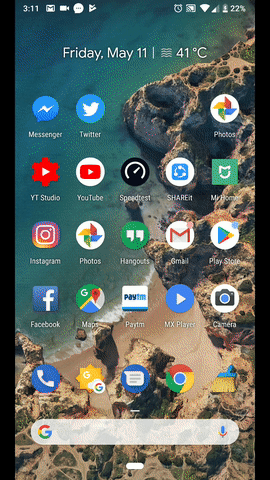 The previous method was simpler and can be triggered using one hand only but in Android P Beta there is no way you can do that with one hand especially on Google Pixel 2 XL. Go here to know more about the split screen feature and how to use it on Android P Beta.
Clear all task button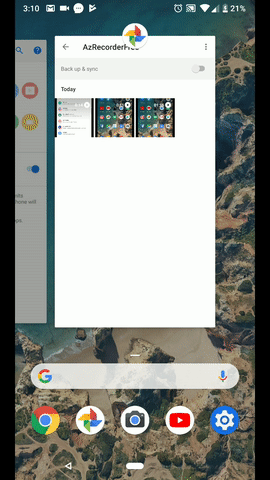 This is a small thing but we wanted to highlight it here that Google removed the clear all task button. There is no button to clear all tasks from the background and you have to clear them one by one, this is the same problem in the iOS where there is no clear all button.
Conclusion
Google has added a lot of features apart from what has been listed here. Even if there are small flaws in the new Android version, the Android P Beta is perfect as it is and almost better in most ways than previous versions. The Android P is still in beta version so we have to wait till Google release the final build of Android P.