If you are an Instagram user, you must have seen a new button next to the direct messages icon. It's IGTV, Instagram's answer to YouTube. The IGTV is a separate app by Instagram and is intended for watching longer videos.
What is IGTV?
The new IGTV app is basically Instagram and what makes it different from the Instagram is that there's no feed, no pictures and no stories and has only videos. Also, there is no limitation on video length, unlike Instagram where videos are limited to one minute. IGTV videos can be up to an hour long.
The IGTV is designed to take on other rivals like YouTube but it focuses on vertical videos, which the company says are built for how you actually use your phone. So, with the IGTV, Instagrammers has a new platform to watch as well as upload long videos.
So, how to watch videos from your favourite creators or how to upload videos on IGTV? Well, here is a small guide to IGTV, hope it will help new users out there.
How to get IGTV?
There are two ways to get IGTV. The first is from Instagram itself, and a button will appear when people on your feed have posted some new video and you can switch to IGTV directly from the button. It is visible next to the direct messages icon on the top right corner of the home screen.
However, as mentioned above that IGTV is a separate app, so you can download it from Play Store as well as App Store. The app automatically connects to the Instagram account which you are already logged in to on your device. There is also an option to log in with a different account.
How to watch videos on IGTV?
After downloading the app, when you open it up it will connect to your Instagram account. After that, you will be able to watch IGTV videos from people you follow which will automatically start playing in full screen.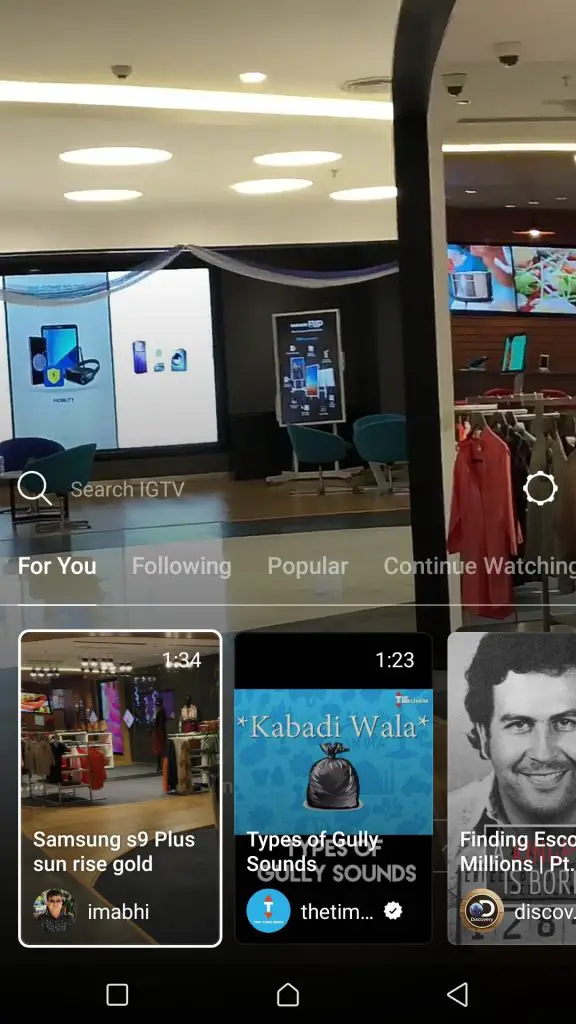 On the bottom, you can also scroll through various categories such as the "For You" screen, which takes information from Instagram to show what you might want to watch on IGTV.
Then there is "following" category to see the latest posts that have been shared by people you follow. There is also a "popular" category for all of the videos people are watching on IGTV, or "continue watching" to finish off videos you didn't get to watch till the end.
How do I make IGTV videos?
It is to be noted that, unlike Instagram, IGTV does not has any feature for making the video in the app itself. Instead, you'll have to record it somewhere else like the phone's built-in camera app, and then upload it.
To get started, open up the IGTV app and click on your profile picture which should appear on the home screen next to search option. It will ask you to create a channel, and then take you through a number of steps and give you some tips as well.
After creating the channel, it will take you to the home screen again. Now, there will be two ways to upload video- upload videos option or a + button. After clicking any of it, it will ask you to select the video from your gallery. After selecting, IGTV asks you to give the video a title, a description as well as an option to share the video on Facebook.
Once it's all done, you will be back to your home. Now, whenever you want to share or upload some video, you can click your profile picture again and press the plus button to upload it. Here you can also see stats of your channel as well.
Tips to make better IGTV videos
As mentioned, IGTV doesn't let you shoot videos from the app itself, instead, you will need to use your phone's camera, or maybe a DSLR to shoot the videos. Here, we are telling some things to keep in mind while shooting IGTV videos:
Shoot in portrait orientation
This is a very obvious thing as IGTV offers only vertical videos. So, make sure your camera is in portrait orientation when shooting for IGTV.
Adjust the frame
Next, ensure that the subject is centred in the frame and also leave margins around the subject. It will leave space for zooming and cropping if needed. Leaving margins also ensures that you will not go out of frame.
Check the background
A neat background with good lighting makes a quality video. So, make sure there aren't any distractions in the background.
Editing
Once you're done with the shooting, you should move to the editing. No matter which app or software you use, just make sure you edit the videos before uploading for better results.
IGTV supports up to 60 minutes long videos, however, everyone cannot upload 60 minutes long videos. Only a verified account or someone having a very huge following can upload longer videos. For all other users, IGTV only allows up to 10 minutes long videos.