Are you looking for how to schedule posts on Instagram? Well, it's one of the most common questions amongst the social media marketers we've come across. Most of them are confused about how to reach their audience with minimum efforts, using automation.
Therefore, in this guide, let's have a look at methods on how to schedule posts on Instagram.
How to Schedule Posts on Instagram
Having a business account on Instagram offers a slew of advanced features and it is also a pre-requisite to schedule posts on Instagram. If you don't have one, you can easily convert your personal account into a business profile using the steps mentioned below.
Convert your profile into a business account:
Open Instagram, tap the hamburger menu, and navigate to the Settings.
Click on Account to open your account settings.
Now, tap the Switch to Business profile button.
Press continue and select a category for your business profile.
Once you're done filling in personal information, it'll ask you to connect to a Facebook page (make sure that you're an admin on your Facebook Page; otherwise, it won't appear on the list).
Next, ensure that your Instagram account is set to public. Now, re-check your contact information and tap Done. 
Schedule Posts on Instagram using Android
1] Download and install the Hootsuite app from the Google Play Store. And sign up using your e-mail or either of Facebook, Twitter, and Google accounts.
2] The app will now ask you to add social networks. Simply tap Connect Instagram and login into your Instagram account.
3] Now, click on Authenticate with Facebook to enable direct Instagram publishing of images and videos through Hootsuite.
5] In the app home screen, press the Compose button and select your Instagram account by clicking on Post to.
6] Tap the Gallery icon at the bottom left corner and select images for the post. Notably, the Hootsuite app offers options to crop, change aspect ratio, tilt, and rotate the image.
7] Once you're done with the creation of the post, tap Next. Here, you can decide whether to publish it now or to schedule it for a custom date and time.
You can use the Auto Schedule option to post automatically at the best time curated by the app.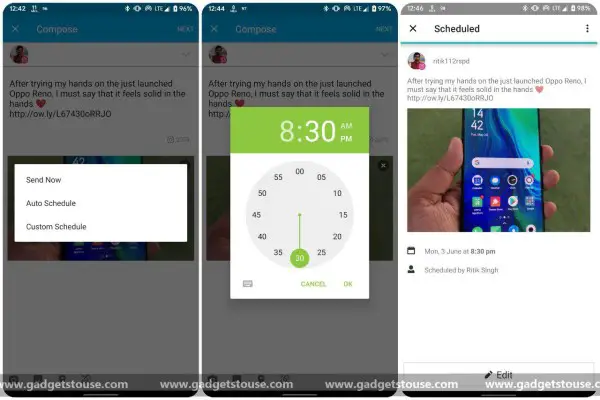 8] To schedule the post, tap the Custom Schedule button, and select a date and time for the post. Tap Ok. That's it; your post is now scheduled.
9] To view scheduled posts, open the sidebar and navigate to the Planner section. Now tap Show Scheduled to edit your post, change its scheduled time or to delete it altogether.
Schedule posts on Instagram using Desktop
Besides the mobile app, you can also schedule posts on Instagram through your desktop using the following steps:
Step 1: Visit https://hootsuite.com/ and login into your account. Now, click on New Post and select your Instagram account.
Step 2: Next, add an image from your gallery and write up the caption, accompanied by hashtags and emojis as per your wish.
You can also import images from Adobe Stock, Google Drive, Dropbox, etc.
Step 3: After you've successfully crafted the post, set a date and time, just like you did in the app, and you're good to go.
You can view, as well as edit all the scheduled posts in the Planner section. Moreover, you can opt for a premium plan to see analytics for your account.
Benefits of scheduling posts on Instagram
Well, scheduling posts is one of the best ways to grow your Instagram profile. It not only saves a huge chunk of time but takes your productivity to a whole new level. Consequently, making it easier for you to catch up with your followers.
As you might have already heard, consistency plays a crucial role in the Instagram strategy. And it won't be wrong in saying that an Instagram scheduler can help you achieve that consistency.
Hence, using automation, you can schedule posts for a particular time of the day, when your audience engages the most. This will grant you a higher engagement rate, ultimately being favored by Instagram in being discovered by a new audience.
Wrapping Up
So this was all about how to schedule posts on Instagram. Now you don't need to worry about anything, be it your busy schedule, limited internet connectivity, casual naps, or your phone's dying battery. Just schedule your posts beforehand, and you're good to go.
Nonetheless, if Hootsuite doesn't suit you, you can opt for other schedulers like Buffer, Later, Tailwind, Postcron, etc. That said, if you have any doubts or concerns, do not hesitate to leave a comment in the comment box below.
Also, read 6 best Instagram tips and tricks for an improved experience.