In addition to being a popular social media site, Facebook has also emerged as one of the largest video platforms across the globe. Following the same, millions of videos are being uploaded and watched by billions of people every day. That said, what if you want to download Facebook videos on your Android, iPhone, or PC?
As you'd acknowledge, Facebook only offers to save the video offline for mobile devices. And there's no option to download the video file directly on your device. Therefore, we are here with a simple guide on how to download Facebook videos on Android, iPhone, Windows easily.
How to Download Facebook Videos
Download Facebook Videos on Windows
Downloading Facebook videos on PC is quite simple and straightforward. However, do note that the video you plan to download must be public and not private or limited to friends.
Having said that, follow the steps mentioned below to download Facebook videos on Windows PC.
1] Open Facebook. Look for the video you want to download (either scroll through the news feed or go to the page/person's profile who posted the video to find it).
2] Now, right click on the video you want to download. Tap on Show Video URL and copy it (make sure the video is public).
3] Visit https://fbdown.net. Here, paste the Facebook video URL you want to download. You can either press CTRL + V OR right click and select paste in the drop-down menu.
4] Press the Download button. The website will spend a few seconds processing your request.
5] On the next page, click Download video in Normal Quality or Download video in HD Quality button, as per your preference. That's it; the video will now be downloaded to your PC.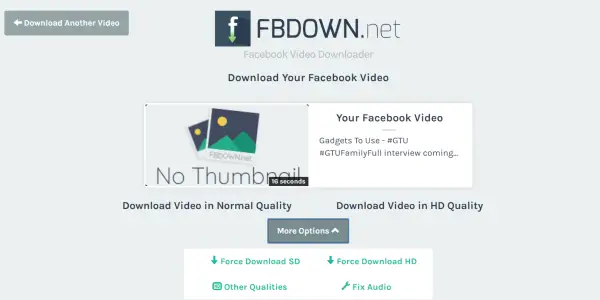 Note: After tapping the download button, if the video opens in your browser in a new window, right click and select "Save link as" to save it on your PC.
Alternatively, you can also download the Chrome extension on your PC. Once installed, it will automatically detect videos on the webpage you're currently surfing. After that, you'll be offered options to download videos directly through the icon in the top right corner of the browser. Interestingly, it also works with other sites in addition to Facebook.
Download Facebook Videos on Android
Indeed, the best method to download Facebook videos on Android is to use websites like fbdown.net, as mentioned above. However, this doesn't offer a seamless experience, and many may find it annoying on the phone.
In this case, you can follow the steps mentioned below to download Facebook videos on Android.
1] Download and install the Facebook Video Downloader app from the Google Play Store. Open the app and allow it necessary permissions.
2] Now, click Browse Facebook button. You'll be redirected to the official Facebook Site.
3] Login using your Facebook ID and password and navigate to the video you want to download.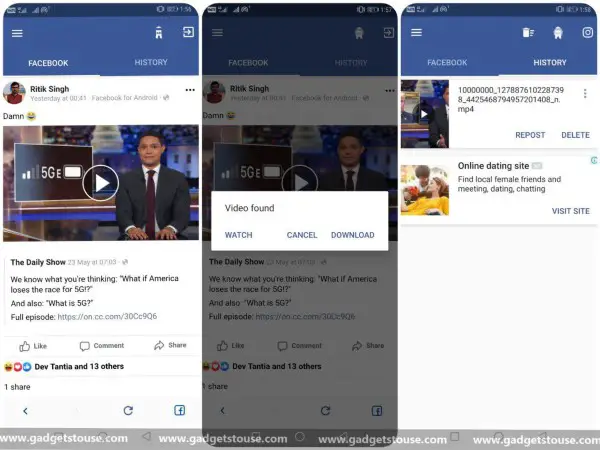 4] Tap on the play button to see a pop-up saying "Video found" alongside watch and download buttons. Simply click on Download, and the video will be saved on your phone. Furthermore, you can post the downloaded video directly to your profile using the Repost button.
Download Facebook Videos on iPhone
Notably, some may find it very difficult to download facebook videos on the iPhone as it's not as feasible as Android or Windows. Nonetheless, we've managed to curate a working method that'll help you do the same on any iOS device, be it an iPhone or iPad.
1] Download and install DManager from App Store.
2] Open the Facebook app and go to the required video. Tap on the Share button in the bottom right corner, then hit Copy Link to grab the video link.
3] Now, open DManager and navigate to fbdownload.io. Once the website loads, paste the copied video link in the search bar, then press the Download button.
4] After the site is finished processing the video, you'll get download links for the available video resolutions. Tap and hold on one of the download links and a pop-up menu will appear having an option to Download. Pressing it will start downloading the Facebook video.
5] After the video finishes downloading, swipe right on it and choose Action. Now click Open In and select Save Video from the share tab. That's it; the video will now be saved to your iPhone's Camera Roll.
Wrapping Up
So this was all about how to download Facebook videos on Android, iPhone, and Windows. Let us know what's your preferred method to download videos from Facebook. Also, if you have any doubt, do not hesitate to leave a comment in the comment box below.
Also, read How to download images from Instagram on your smartphone.