Google has posted the first official teaser of its Pixel 4 flagship. The smartphone is months away from the official launch which usually happens in October. However, the company posted the first image of the back side of the phone that shows a square camera. It reveals several other things such as lack of the rear-mounted fingerprint scanner.
Google Pixel 4 Teaser Details
The first official image the Pixel 4 that Google has posted on Twitter looks quite similar to the leaked renders that surfaced earlier. The company tweeted, "Well, since there seems to be some interest, here you go! Wait 'til you see what it can do."
Well, since there seems to be some interest, here you go! Wait 'til you see what it can do. #Pixel4 pic.twitter.com/RnpTNZXEI1

— Made By Google (@madebygoogle) June 12, 2019
New Design at Rear
Google has been using a consistent design across its Pixel devices starting from the first generation. However, this seems to be changed now and Google might be leaving that design behind with the Pixel 4 series.
Though the teaser image doesn't make it clear whether the back will be matte or glossy but one thing is for sure that there's clearly only one texture here. The company's logo looks at the same place.
Triple Cameras
The official Pixel 4 image shows a square camera bump at the back. It houses two main sensors and an LED flash. There is a third sensor as well at the top of the two sensor setup that could be a new sensor used for wide-angle shots or 3D depth effects.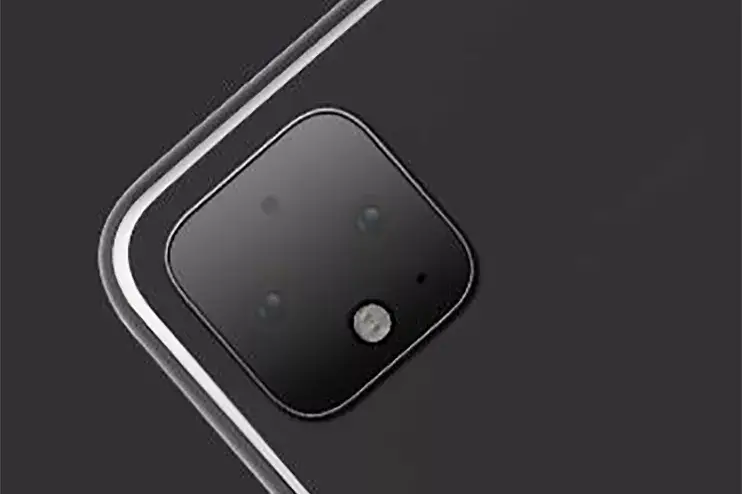 It is to be noted that the Pixel 4 will be the first phone in the Pixel series to come with more than one camera sensor. All the previous Pixels had a single camera at the back.
Further, the image also shows a small dot near the flash module and it is likely to be a microphone.
No Rear Fingerprint Sensor
Another thing that can be noticed from the teaser is the absence of a rear fingerprint sensor. So we expect Google may go with an in-display fingerprint scanner or a 3D face unlock option just like iPhone.
Contrast Power Button
The image also shows a white power button at the side of the device. Google has been offering the power button in a contrasting color on all the models of its phones except for the black one. So, this also seems to change now.
If we talk about other specs, we expect Snapdragon 855 SoC, 6GB RAM, and Android Q.
We will know more details about Pixel 4 in the coming months. Meanwhile, what do you guys think of this new camera design? Tell us in comments and stay tuned for more updates!