As you'd agree, it's quite challenging to tell whether someone is casually ignoring you or has purposefully blocked you on WhatsApp. While other instant messaging apps like Messenger warn you using terms like "You can no longer contact this user," there's no such provision in WhatsApp.
This, when combined with ambiguous privacy features of the platform, makes it quite difficult to judge whether you're really blocked, being ignored or the user is on vacation with a couple of privacy features saving his tea.
Therefore, we are here with a simple guide on how to know if someone has blocked you on WhatsApp.
Know If Someone Has Blocked You on WhatsApp
If you suspect that someone has blocked you, the best way to confirm is to call and question the person directly. However, it can be quite uncomfortable and embarrassing for some. But then again, WhatsApp has certain restrictions which make it hard to know what's actually the case.
Nevertheless, despite tough privacy prospects, you can quickly know if someone has blocked you on WhatsApp by watching for specific tips and indicators for the same, mentioned below.
1] Check the Contact's Last seen, Profile Pic & About Me
This is indeed the easiest way to know if you're blocked on WhatsApp. Check if you're able to see the contact's last seen, profile pic and about me section. If not, then there are chances that the user has blocked you on WhatsApp.
However, note that it's not an exact confirmation and there are chances that the contact has removed the profile pic, and hidden his last seen. There's also a possibility that he/ she has deleted your number and thus the details which are limited to contacts by default are not visible to you.
Hence, if you can't see their last seen and About section, move onto the next step.
2] Watch out for ticks
WhatsApp's second ticks are one of the ways to find out whether someone has blocked you on WhatsApp. Start off by sending a message to the contact and watch out for the ticks.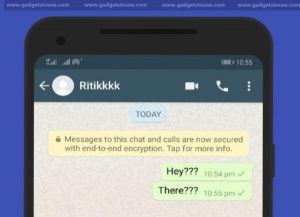 A single grey tick means the message has been sent, while the double grey and double blue ticks show "delivered" and "read," respectively. If the sent message doesn't get delivered, the chances are that the user has either blocked you or is offline.
However, if the second checkmark doesn't appear even after a long period of time besides other signs, you're likely blocked.
Note: Many people use third-party WhatsApp mods to hide second ticks. They can even hide online status, so watch out for them.
3] Attempt a Call
One of the reliable ways to know if someone has blocked you on WhatsApp is to try calling them. Notably, the call will never go through if the person you called has blocked you. In fact, the "Calling" status will never change to "Ringing" in this case.
Having said that, if you've followed all the steps so far, then its almost confirm that you're purposefully blocked. Nonetheless, we still have a final test to re-assure the conclusion.
4] Start a Group Chat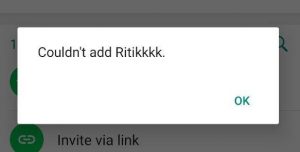 To start with, open WhatsApp and create a new group. Now, search for the contact you think has blocked you and try to add the contact to the newly-created group. If you are welcomed by a message saying "you are not authorized to add this person" or "couldn't add <name>," then surely you have been blocked by him/her.
Tip: Check WhatsApp last seen if hidden or blocked
There are times when you want to track the online activity of a user who has blocked you or hidden last seen. In this case, you can download apps like SeeLine, WhatzTrack, Sotla or WhatsLog from Google Play Store and get a detailed analysis of their online timings, alongside notifications each time the contact comes online or goes offline.
Wrapping Up
So this was all about how to know if someone has blocked you on WhatsApp. Do let us know if you have anything to add in. Also, in case of any doubts or queries, do not hesitate to leave a comment in the comment box below.
Also, read How to Record WhatsApp Calls on Android and iOS.