Due to Android's immense flexibility, phone manufacturers can easily customize it in order to provide a unique experience with special features to its users. Likewise, if you buy phones from brands like Xiaomi, Samsung, Huawei, or Realme, you'll get Android molded into different skins such as OneUI, EMUI, ColorOS, and more.
On the other hand, Google-Pixel, Motorola, and certain other companies offer the stock version of Android, i.e., the way it was originally designed by Google. Now, while custom skins do offer extra features, it's the simplicity, fluidity, and no-bloatware experience of stock Android that connects with the audience.
That being said, how to get stock Android experience on any phone? Well, there's always a common method that involves flashing an AOSP-based ROM or rooting and tinkering around with the apps. However, these methods are quite tedious and may not be available for each and every device out there.
Therefore, we are here with certain workarounds using which you can get the look and feel of stock Android on any of your Android smartphones running a custom skin. Read on.
Get Stock Android Experience on any phone
1] Install a Stock Android Launcher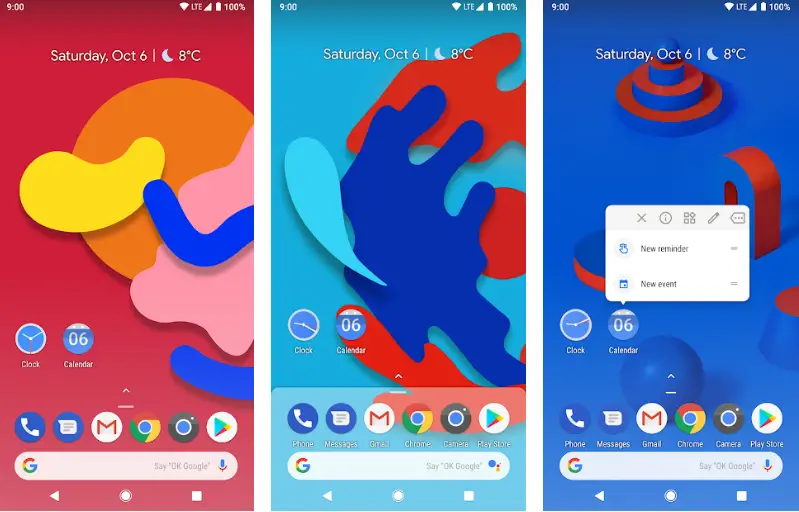 Certainly, the launcher is something you interact the most with on your smartphone. Hence, the first thing you need to do is download and install a stock-Android based launcher from the Google Play Store.
Now, there are a lot of launchers available in the market, out of which, Google Now Launcher and CPL (Customized Pixel Launcher) are what we suggest getting for the stock-like experience. Both the launchers provide a Pixel-like home screen interface and app drawer, with the latter offering a bunch of extra features.
Anyways, if you want more customization while still maintaining vanilla experience, you can try apps like Nova Launcher and Action Launcher Pixel Edition. Besides, you can install the Google Feed plugin for respective launchers to get the Pixel-like personalized feed of news articles, nearby recommendations, and other content based on your search history and device use, right on your home screen.
Download: Google Launcher | CPL | Nova Launcher | Action Launcher: Pixel Edition
2] Switch to a material-based theme
If your phone is running on EMUI, MIUI, ColorOS, etc., the chances are that you might already have a built-in theming engine on your phone using which you can download themes from your manufacturer's store and install on your device.
These themes are generally employed throughout the interface, including system apps, notification panel, navigation bar icons, app icons, and more. Amongst the available themes, Material themes are the ones made for stock Android lovers. Hence, you can install a suitable one from the store to get a close to stock Android vibe all over your phone.
For instance, Huawei and Honor users can install Dark Material Design 2, MaterialUi, and G Pix themes from Play Store and load them using the device's themes app. Whereas, Xiaomi users can try themes like Android One, Android Origin, Oxygen 999, and AOSP Extended (we aren't talking about AOSP Extended ROM here).
3] Use Icon Packs
Now that you're done with a stock-based launcher and material theme, it's time to try some icon packs that can further help disguise your phone's inner crocodile. So, head to the Google Play Store, search for "stock icon packs" or "pixel icons," and install the ones of your choice.
The ones we liked the most include Pixel Icons, MoonShine, and Revolution icon packs. Besides, you can also try Splendid Icon Pack for a minimal yet different look altogether. Note that installing custom icon packs requires a third-party launcher like Nova and Apex as most phones don't allow tinkering around with icon modification through the native home app.
Download: Pixel Icons | MoonShine | Revolution | Splendid
4] Install Google Contacts and Messaging apps

The next step involves replacing the phone's native Contacts and Messaging apps with Google Contacts and Google Messages.
The Google Contacts app offers a material design with Google sync, contacts backup, and Caller ID feature. The Google Messages app, on the other hand, allows you to send pictures, videos, audio, emoji, and more. Besides, it also offers the ability to block numbers and send & read messages directly on your computer.
Once installed, grant all the necessary permissions and set them as default phone and messaging apps in your Android settings. That's it; you now have two of the most simple yet essential apps from stock Android.
Download: Google Contacts | Google Messages
5] Install Google Keyboard
While most of the phones rely on Google keyboard, some manufacturers go too heavy on customization by using proprietary keyboards or third-party apps like SwiftKey. But there's no point in having something else when Google's GBoard has more than enough to offer, right?
Well, you can still install Google Keyboard on your device from Google Play Store. After installation, just set it as default keyboard app in Language & Input settings, and you're good to go. Similarly, you can install other Google apps like Google Drive, Gmail, Google Play Music, Keep, and more right from the store.
Download: Google Keyboard (Gboard)
6] Uninstalling/ disabling extra apps
Now that you've installed Google's replacement for apps provided by your manufacturer, you can disable/ uninstall all other additional applications from your phone's settings. The system apps and bloatware which can't be disabled from settings can be removed using ADB commands.
Needless to say, you can also hide all other useless apps from your app drawer in your launcher settings. Most third-party launchers such as Nova offer the feature to hide apps you don't want to see on your apps screen.
Wrapping Up
So these were some of the methods using which you can make your phone look and feel like one with stock Android. However, to have a real stock experience, you either need to install a custom ROM or get a new phone that runs on stock out of the box. Anyways, which feature of vanilla Android do you like the most? Let us know in the comments below. Also, feel free to reach us in case of any doubts or queries.
Also, read How to Uninstall Bloatware from Realme Smartphones without Root.