Well, you can get an e-challan notice for a number of things, including overspeeding, jumping a red light, parking wrongly, and more. And it's quite common these days since certain roads are now equipped with cameras to detect traffic rules violation.
Generally, you need to pay the challan within 60 days from the date of issue of the notice. However, failure to do so may forward the challan to the court, inviting an additional fine, license suspension, or even imprisonment.
So, in case you've lately violated traffic rules, be it knowingly or unknowingly, you may get an SMS on your mobile phone with an e-challan notice which may also arrive in a physical format at your registered address. Thanks to digitization, the challan can be paid directly from your home, either through the government's website or using Paytm for specific states.
So, how to check and pay e-challan online? Read on to know more.
Pay e-challan through Ministry of Road Transport and Highways website
1] Navigate to the Ministry of Road Transport and Highways site by visiting https://echallan.parivahan.gov.in/index/ on your smartphone or computer.
2] Now, tap on the "Check Challan Status" option given in the blue header on top.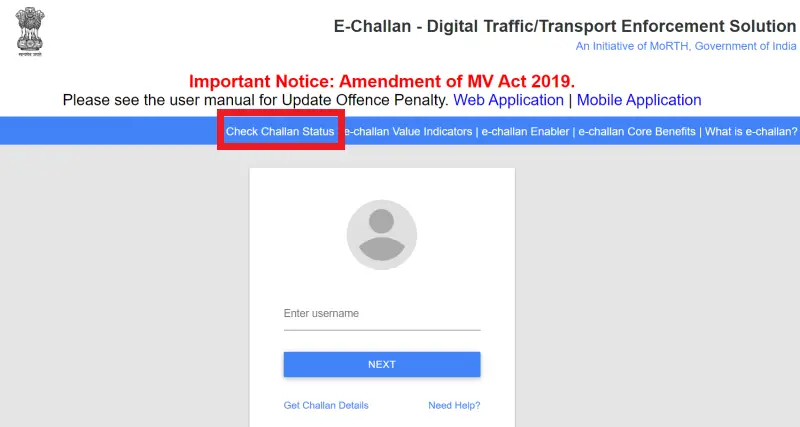 3] Check the box beside Challan Number, Vehicle Number, or DL based on what you have at your fingertips at the moment.
4] If you don't have challan number or simply want to see if there are any challans for your vehicle, check "Vehicle Number" and enter the same in the provided field. Now, fill the captcha information and hit the "Get Detail" button.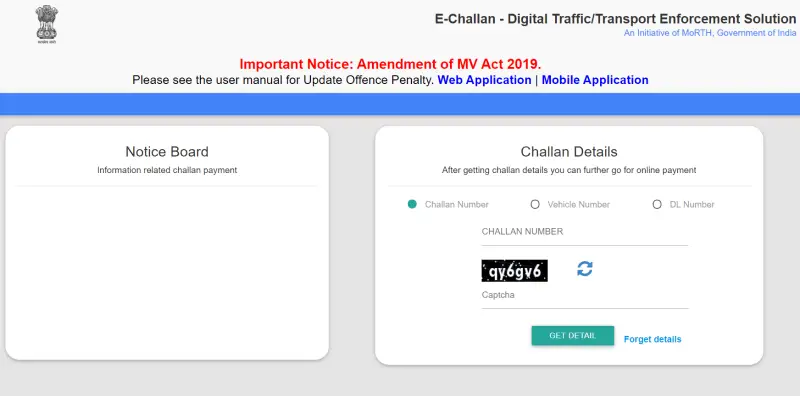 5] In case if a valid e-challan is found for your vehicle or DL, the website will prompt you to proceed with payment.
6] Now, click "Pay Now" and use your credit/ debit card or Internet banking to pay an e-challan. Note that you may be redirected to your state's website for challan payment.
Once the e-challan payment is successful, you will receive a 'Payment Successful' message along with the transaction ID. Make sure to take a note of the same for future reference.
Pay traffic e-challan via Paytm app/ site
Recently, Paytm added the option to pay e-challan for certain states and cities across India. This includes Andhra Pradesh, Chennai, Faridabad, Maharashtra, and Telangana. To make an e-challan payment through Paytm, follow the steps below:
1] To start with, open your browser, head to Paytm.com, and log in with your credentials. Else if you have the Paytm app (Android/ iOS) installed on your phone, open it.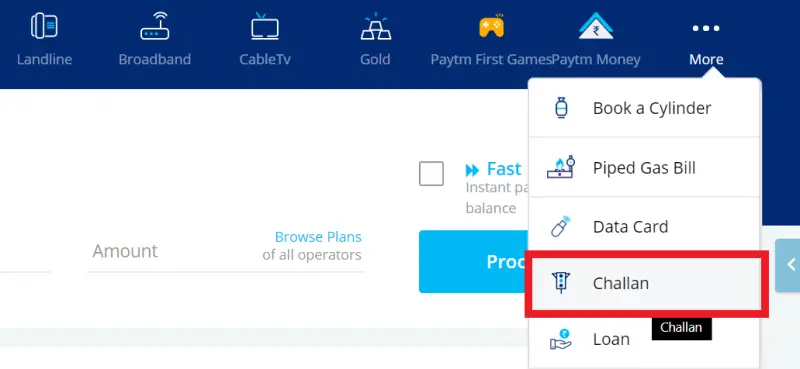 2] From the options available in the top blue bar, select "More" (three dots present on the top right corner) and tap on Challan. If on the app, tap on the "More" option given alongside all recharge and bill payment services. Thereafter, scroll down to the "City Services" tab and select Challan.
3] You'll be now prompted to choose your authority. You can select from Andhra Pradesh e-challan, Chennai, Faridabad Traffic Police, Maharashtra Traffic Police, and Telangana e-challan based on your location. Note that Paytm e-challan feature is not available for other regions.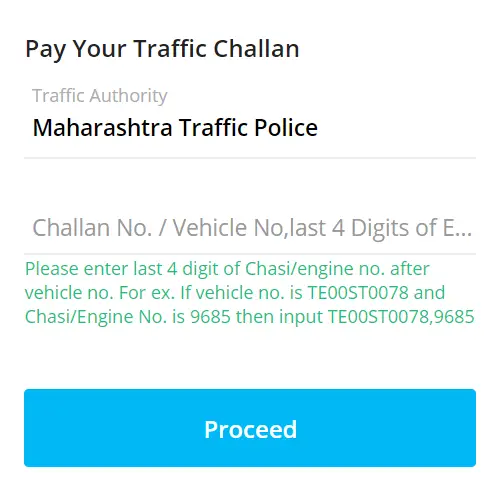 4] Now, you'll be asked to enter your vehicle registration number, followed by the last four digits of your Chassis or Engine number. For instance, if your vehicle number is TE00ST0012 and Chassis /Engine No. ends with 3998, then type TE00ST0012,3998. Yes, you need to put a comma between both the numbers.
5] Click on Proceed. If you've violated traffic rules and it finds a valid e-challan, you can pay the same using your Paytm Wallet, UPI, or Payments Bank account.
For the Other States
If the online challan payment facility isn't available for your region on the MRTH website or Paytm, you can manually search for the proprietary services offered by your state authority.
Some of them include Madhya Pradesh, Uttar Pradesh, Maharashtra, Rajasthan, West Bengal, Bihar, and Tamilnadu. You can visit the respective links for the states to pay your e-challan online.
What if I don't pay Challan?
In case if you fail to pay the generated e-challan on time, i.e., before the 60-day grace period, a police constable will visit the registered address given on the vehicle RC to collect challan. The traffic police department might also send a 7-day notice for the same.
However, if the e-challan still remains unpaid, then the guilty person will be summoned to the court and will be asked to clarify to the judge on breaking the law. If the person refuses to attend the court and pay e-challan, the court has the right to suspend his/her driving license.
Note: You may not be notified of challan through SMS if the mobile number is not updated with the RTO.
So, if you don't have the mobile number registered on the vehicle RC, make sure to update it with the RTO at the earliest possible either by visiting your local department or online through this link (services might vary between states). In the meanwhile, you can check your pending challans through the method mentioned above.
Wrapping Up
So this was a simple guide on how you can check and pay your e-challans online, either through the MRTH website or through the Paytm app or site. Anyways, make sure to follow traffic rules for others as well as your safety. Also, feel free to reach us in case of any doubts or queries.