Google may often suggest you add frequently used devices to the trusted device list. And once you agree, you won't be required to enter a 2-Step Verification code or use your Security Key every time you sign in to your Google Account on that device.
However, if you've accidentally checked "Don't ask again on this computer" during the last login or want to revoke seamless access on an existing device, here's a simple guide on how to remove trusted devices from Google account.
Remove trusted devices from Google Account
On Android
1] Open your device's System Settings and head to the "Google" option. Here, select the account in question and tap Manage your Google account.
2] In the following dashboard, swipe left to navigate to the "Security" tab.
4] Click on 2-Step Verification under the "Signing in to Google" option.
5] Enter your password if prompted. After that, scroll down and tap Revoke all under "Devices you trust" header.
On Computer or Any Other Device-
1] Open your browser and navigate to https://myaccount.google.com/. Log in using your Google account credentials.
2] On the next page, select "Security" from the available options in the left sidebar.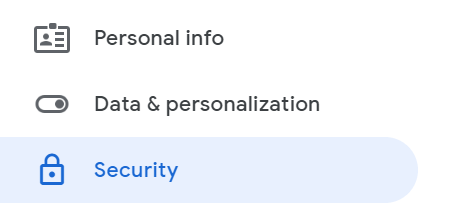 4] Click on 2-Step Verification under "Signing in to Google" and enter your password if asked.
5] Under "Devices you trust," click on Revoke all and confirm the prompt.

That's it. Google will now remove all the trusted devices you saved in the past on your account. Note that you'll be required to re-authorize all the computers again on which you don't want to be prompted for two-step verification. That said, make sure that your phone number registered with the account is active and up to date for future logins.
Tips to keep your Google account secure
Lock your phone's screen with a unique and strong PIN or password.
Keep your account recovery details including mobile number and email address up to date.
Perform regular security checks using Google's Security Checkup to get personalized security recommendations for your Google Account.
Never share your phone with other people, even if it's a matter of a few minutes. If you have to, make sure to pin the screen (using Screen Pinning feature) if the other person wants to use a particular app, or enable guest mode before handing over your phone.
Before selling your old phone, make sure to log out of all accounts and perform a factory data reset. This ensures the security of your account as well as your data.
Wrapping Up
So this was all about how you can remove trusted devices from your Google account. By the way, are you using two-step verification for your account? Let us know in the comments below. And feel free to reach us in case of any doubts or queries.
Also, read How to Delete Google Assistant History on Android