Social media can be addictive and the companies, including smartphone makers, have been adding tools to help people find life and social media balance. App makers are adding features to manage how you use their apps. Now, Facebook has added a new 'Quiet Mode' to the app, that allows users to control how much time they spend on the social network. The feature is available for iPhone users as of now and will arrive for Android in May.
Facebook Quiet Mode
You can schedule Quiet Mode according to time for which you do not want to use the app. If you open Facebook while in Quiet Mode, you'll see the timer and it will remind that you have set this time to limit your Facebook usage. You can choose to disable or bypass the feature for 15 minutes though.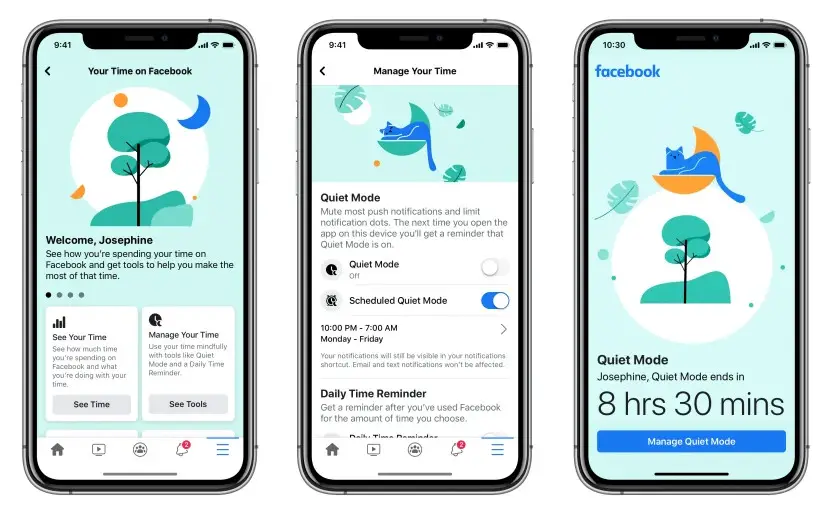 The app will now offer more detailed statistics such as usage of the app for two-week periods with the breakdown of time spent during day and night separately. Facebook has also added shortcuts to notification settings and News Feed preferences, so you can utilize most of your time on FB by controlling the type of posts in your News Feed and updates you receive.
This Quiet Mode is built on 'Your Time,' tool that Facebook had launched back in 2018. Please note that Quiet Mode for Facebook is a phased rollout and it is currently not available for every iOS user.
Commenting on the feature, Facebook said,
"As we all adjust to new routines and staying home, setting boundaries for how you spend your time online can be helpful. Whether it's to help you focus on your family and friends, sleep without distraction or manage how you spend your time at home, we have tools that can help you find the right balance for how you use Facebook."