Lately, many users have been complaining of unauthorized transactions done through their bank account on Google purchases, such as Google Octro and Google Proxima Beta frauds. Many people have lost huge amounts of cash and are now looking for ways to get their money back. In this article, we'll tell you how to get a refund from Google Play Store for fraud transactions, as well as tips to prevent them in the future.
Get Refund from Google Play Store for Fraud Transactions: Everything you need to know!
For starters, most unauthorized Google charges are related to in-app purchases made through your credit or debit cards on Google Play Store. One can figure out the same through the merchant name mentioned in the transaction details.
In the case of sudden transactions by Google Proxima Beta, the "Proxima Beta" is a Singapore-based company associated with Tencent Mobile that runs games like PUBG. So, there are chances that your account might've been used to make in-app purchases in one of the apps by that company. Or it might be due to your involuntary approval to recurring payments.
In most cases, a small amount of Rs. 1 is deducted in the name of "Google * Services" to authenticate the card. The same is refunded back within seconds. However, soon after, several subsequent transactions are made, taking away huge amounts of money from the user's account.
How did the Transaction occur without OTP?
Now, many of you might be wondering how did the transaction occur without an OTP in the first place. Well, apart from credit cards, most debit cards support recurring payments, except for Rupay. That's the reason why services like Netflix and Spotify can auto-debit the subscription fee without any OTP from your Visa or Master Card.
The same is also applicable for cards enabled for international transactions. Payment can be made with just your card number, expiry details, and CVV- no need for OTP here. Rupay cards that support global usage, too, don't require OTP while making such payments.
Steps to Get Refund from Google Play Store for Unauthorised Charges
In such a situation, you need to stay calm and follow the given procedure to get your money back. But before we begin, you need to block your debit and credit cards immediately. It can be done instantly through your bank's application. Else, you can call your customer care; many banks offer dedicated numbers for card blocking. If you have another bank account, transfer the remaining funds from the affected account, if possible.
1. Report Unauthorised Charges on Google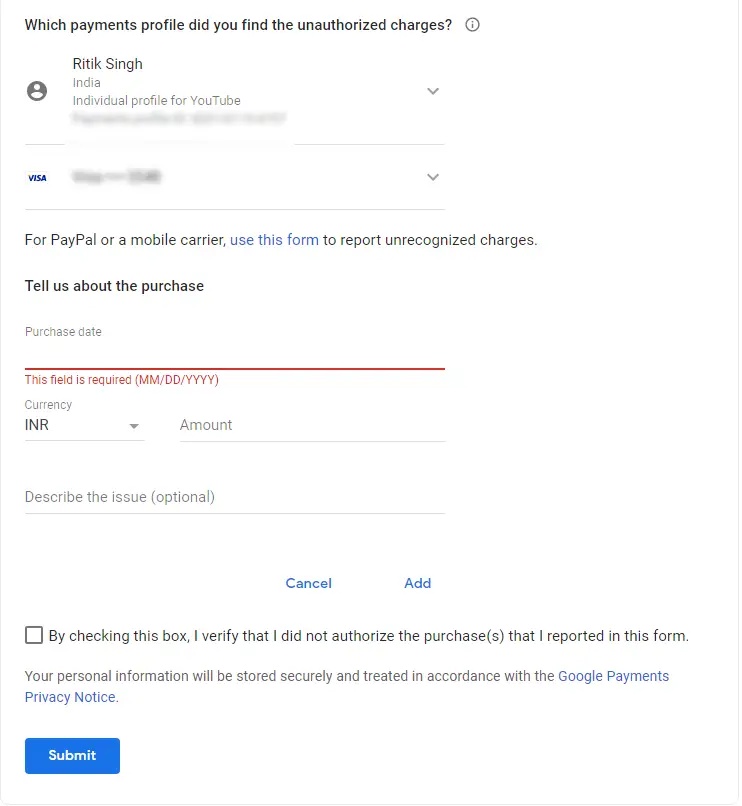 The first step involves reporting the fraud to the vendor, which, in this case, is Google. Google offers a dedicated form to report unrecognized charges for transactions that you either don't recognize in your Google account or start with "GOOGLE *" in your billing or bank statement.
Visit the link and specify the payment method and details, including the purchase date, amount, and description. You can add multiple transactions to the report (if any). Once you're done, re-check the entered information and submit it.
2. File a Police Complaint or Report to CyberCell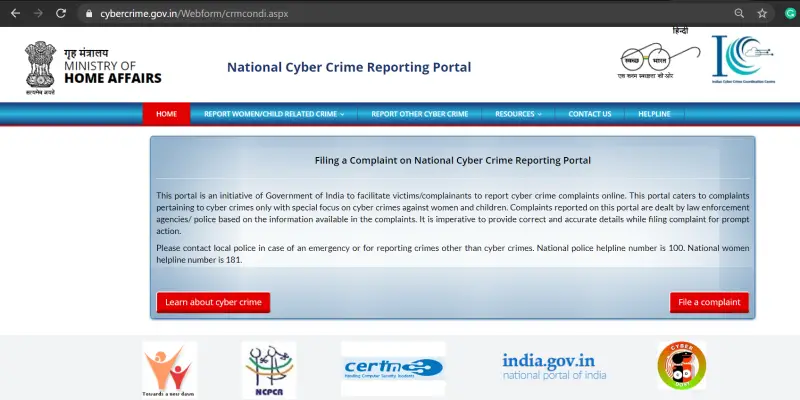 The very next thing you need to do is file a complaint at your nearest police station. Alternatively, you can either go to the nearest Cyber Police Station or submit an online complaint about the fraudulent transaction on the CyberCell website.
Make sure to have the following documents while filing a complaint at Police Station:
Your Account Statement of the last six months with the concerned bank.
A copy of ID Proof and Address Proof mentioned in Bank records.
A copy of SMSs received related to transactions in question.
Don't forget to take a copy of your FIR once the complaint has been lodged.
3. File a Complaint with your Bank (within 3 Days)
Now, head to your bank's branch and report them about the unauthorized charges. Usually, they will blame you, citing that you've authorized Google for the transaction. However, it's the bank's responsibility to prove that the customer is liable for allowing unauthorized electronic banking transactions.
Present all the documents mentioned above alongside the FIR copy or Complaint receipt. The bank staff will assist you further in filing a complaint. Usually, they'll provide you with a Customer Dispute Form (CDF) that needs to be filled and submitted along with the required documents.
Furthermore, they might ask you for an incident letter (specifying complete detail) addressed to the bank, a police intimation letter of the incident, and a passport/ a signed declaration for transactions outside India.
Don't forget to take the acknowledgment from the bank for the filed complaint. You can also inform the bank via phone or E-mail. For customers who delay the report by more than three days, the bank may impose certain restrictions based on the policies.
Tips to Prevent Unauthorised Charges in the Future
You can follow specific steps to safeguard your account against online money frauds in the future, given below.
Always download applications from Google Play Store. Do not use cracks or modded apps.
Do not enter your card details on unknown websites. If you want to make any such purchases, use a disposable virtual card (if available) or keep a separate digital bank account with limited funds.
Apply for a new card. Ensure that international usage is disabled- enable it only when required.
Unlink your payment methods from Google Play Store and all other in-app purchases.
Never reveal your card details to anyone. Treat the CVV like your PIN.
Secure your phone with a PIN or password and hide SMS contents on the lock screen.
Don't use net banking on public computers, and do not enter any personal information on public WiFi networks.
Install trustworthy anti-virus software on your computer and update it regularly.
Wrapping Up
This was all about getting a refund from the Google Play Store in case of fraud transactions. Now, while you have a good chance of getting your money back, note that the recovery may take time. Hence, you need to stay patient and wait for any updates from your bank. At the same time, keep checking your account for any reversals.
Also, read- This is How You Can Stop Xiaomi From Collecting Your Browsing Data.