Most modern televisions these days allow you to cast content from your smartphone or tablet to enjoy movies and videos on a bigger display. If you have a compatible television, then you can follow the guide below to cast videos from your phone to TV.
Also, read- How to Turn Your TV into a Smart TV
Cast Videos from Your Phone to TV
Generally, all smart televisions are equipped with casting feature. And you'll be happy to know that Android supports it since version 5.0 Lollipop, meaning that even some of the oldest Android phones from 2014 would do the job. If you don't have a smart TV, you will need a casting device such as Google Chromecast, Samsung AllShare Cast, or Amazon Firestick.
Steps to Cast Videos from Phone to TV
1] Turn on your TV and ensure that both your television and smartphone are connected to the same WiFi network.
2] Now, open the screen mirroring option on your TV. Different manufacturers name it differently (Screen Cast, Screen Share, Wireless Display, Miracast, etc.), so keep a note of that.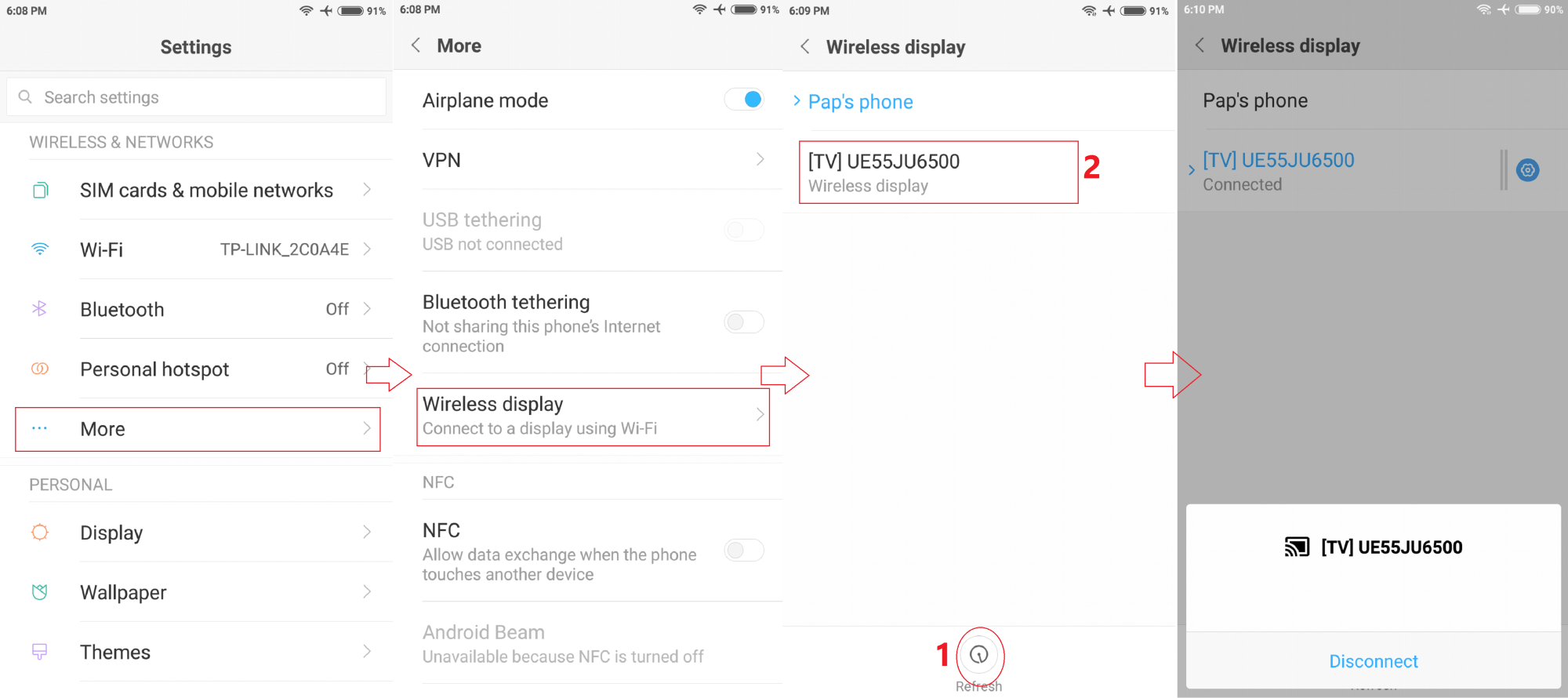 3] Next, turn on the Screen Mirroring option in your phone settings. Some phones even offer a quick cast shortcut in the notification pane. If you don't find one, download third-party apps that facilitate screen mirroring.
4] Wait for your TV to appear in the list of available devices on your phone. Once it shows up, tap to connect the two devices. You might be required to accept the connection request on your television.
That's it. You can now play videos and movies on your phone, and they'll be mirrored to your TV's display. Alternatively, you can directly use the cast button while watching videos on streaming apps like YouTube and Netflix, provided that the corresponding app is installed on your smart TV.
If your phone isn't optimized for casting or your TV doesn't support it yet, then you can use an HDMI adapter or cable to connect your phone to the TV and mirror what's on your screen. Either of micro-USB to HDMI or USB-C to HDMI adapters would work based on the type of port your phone has. That said, ensure that the television has a working HDMI port.
As noted, the other way would be using casting-enabled adapters like Chromecast that plug directly into the TV's HDMI port and assist seamless screen casting.
Wrapping Up
This was a quick guide on how to cast videos from your phone to TV. So, did the method work fine for your device? Do let us know in the comments below. Also, feel free to reach out in case of any doubts or queries.