Using the green screen, you can replace the entire video background, add special effects, make things go invisible, and show a location you can't travel to. Now, while these effects are best suited for powerful laptops and computers, it's still possible to get passable results on your mobile phone. So, if you're looking to use Chroma key effect on the go, here are the best green screen apps to use on Android and iOS.
Best Green Screen Video Effect Apps for Android & iOS
1. Kinemaster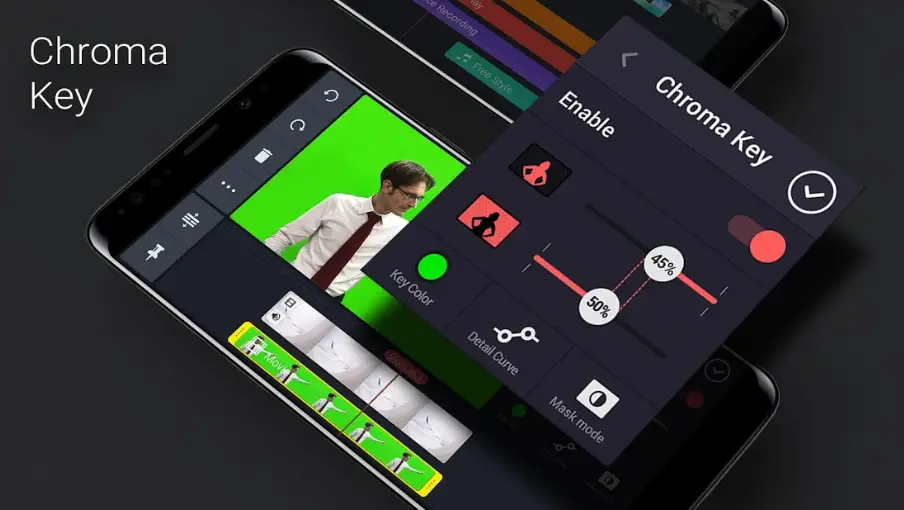 Kinemaster is a full-fledged video editor, available for both Android and iPhone. It gets powerful editing options, including multi-layer editing, the ability to trim, add music, voice-overs, transitions, and whatnot.
Amongst all features, Kinemaster also gets a built-in Chrome Key option. All you need to do is load the background video, add the other media as a layer, and select Chroma Key.
You can then specify the key color and adjust the level of transparency & background stiffness until the object seems flush with the background. Note that Kinemaster applies watermark in the free version- you need to buy Pro version to remove the same.
Price: Free (with watermark), Pro (starts at $4.99)
2. PowerDirector
PowerDirector is a universal video editor that allows multi-layer editing with audio tracks, texts, effects, video speed, and more. Following the same, you also get the Chroma Key feature, which can be used to change the video background.
Similar to Kinemaster, you can select between blue, green, and other colors. The transparency and background opacity can be changed with a slider to achieve desired results. Furthermore, you can create striking double exposure effects from video overlays and blending-modes.
In its free version, PowerDirector caps the video quality at 720p. Also, the rendered clips are watermarked. To remove it, you'll have to opt for the premium version.
Price: Free (with watermark); Pro (starts at $4.99)
3. Chromavid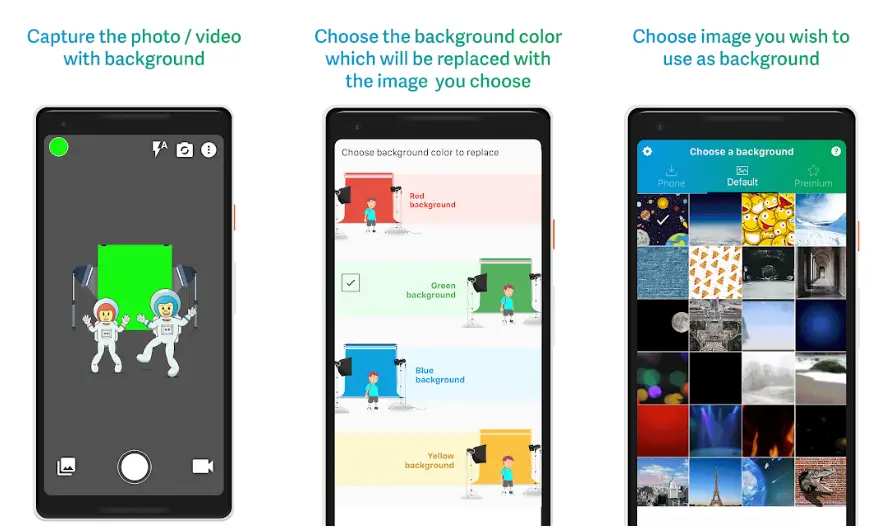 Chromavid is a simple to use green-screen app that lets you shoot good quality videos and photos using chroma key effects in real-time.
To start with, choose the Chroma color, which could be a blue, green, yellow, or red-colored wall or curtain. Then, select the background image. The background color will be replaced with the picture of your choice, and you can now begin recording.
You can also use preloaded backgrounds and stock images. For now, you need to subscribe to Chromavid Pro to access the premium pack, remove the watermark, and enable unlimited recording.
Price: Free (with watermark); Pro ($2.99 a year)
4. iMovie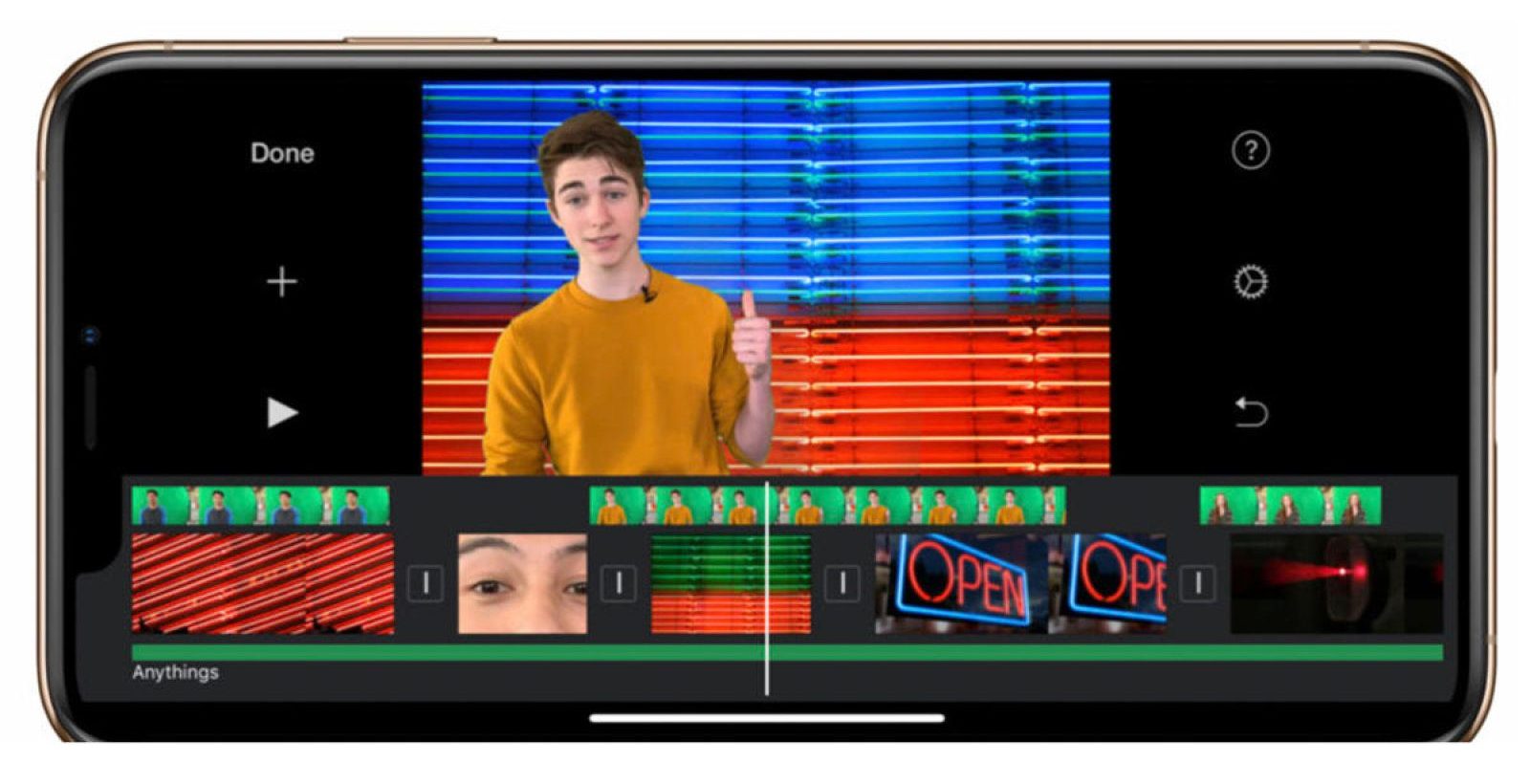 iMovie gets a built-in green-screen effect to change the background of your video. Using it, you can superimpose a video clip over a background video clip, photo, or other images.
You just need to record your object in front of a green or blue screen. Post which, you can add the clip above background in the iMovie timeline, tap 'More' and select Green/Blue Screen. You can further change the amount of green or blue removed from the clip using adjuster.
iMovie is available for iPhone, iPad, iPod Touch, and Mac.
Price: Free
5. Green Screen by Do Ink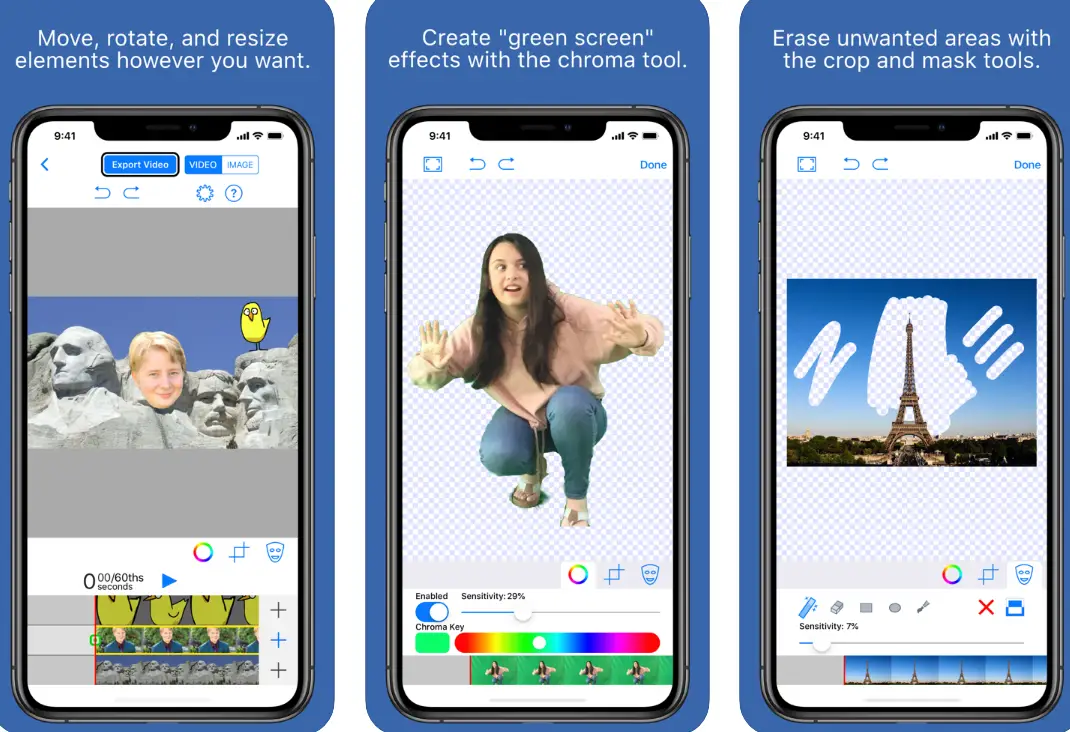 Green Screen by Do Ink is another app designed for iOS where you can either import prerecorded videos and photos or use the live video camera.
Simply download the app from App Store, import your background video, and then add the green screen footage. If there are shadows, erase them using the mask tool. Preview your video and save it if satisfied with the result- sounds easy, right?
Price: $4.99, INR 399 in India
Wrapping Up
So these were top five green screen video effects apps for Android as well as iOS. Out of all, my favorite is Kinemaster for the editing features it offers. Anyway, what's your choice? Do let me know in the comments below. Feel free to reach out for any doubts or queries.
Also, read- Remove Unwanted Objects From Photos on Android and iPhone