Google Search offers tons of features, including quick calculations, weather info, timer, and whatnot. Following the same, the giant recently added a new feature that lets you track all movies and shows you want to watch. Follow the guide below to make your own Movies & TV shows watchlist in Google Search.
Create Movies & TV Shows Watchlist in Google Search
You can create your movies and TV shows watchlist directly through Google Search, be it on mobile or desktop. The same will be tied to your Google account, meaning you can access it anywhere on the go.
1] Search for the movie or TV show you would like to watch on Google.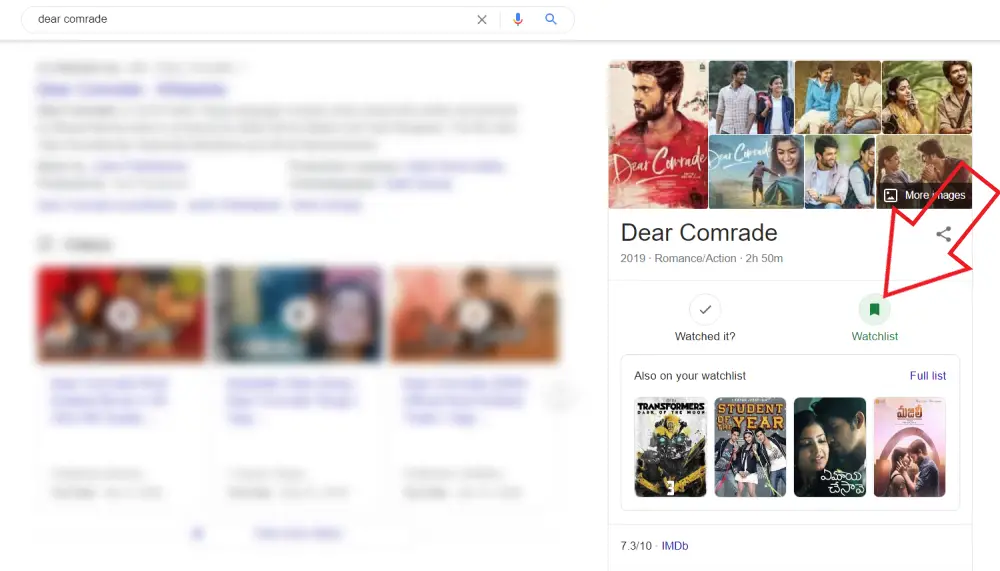 2] Tap the bookmark icon in the preview window to add it to your watchlist.
3] To access your Watchlist, search "My watchlist" on Google. You'll be shown all the movies and shows you've added so far to your account.

You can select a movie and tap the bookmark icon again to remove it from the list. Else, you can tap "Watched" if it's something you've already seen.
Access Watchlist in Google App
Your watchlist can also be accessed from within the Google app on your phone. Just open the app and head to the 'Collections' tab- here, you can view and edit your movie collection.
What to Watch?
Are you still looking for suggestions? Well, Google has a dedicated 'What to Watch' tab that suggests content based on top search results. It also lets you sort content based on genre and platform.
All you need to do is search "What to watch" on Google. If "web & app activities" are enabled for your Google account, you'll see recommendations based on your activities. Otherwise, it'll be suggested based on top searches and new releases.
Wrapping Up
So this was all about how you can create your own movie and TV shows watchlist on Google. Anyway, what are your thoughts on it? Will you be using it to track the content you want to watch? Let us know in the comments below.
Also, read- 5 Netflix Hacks For Best Streaming Experience: Save Money & Time