The information in your Google account is used across all Google services. Hence, you would want to make sure that everything stays correct and up to date. In this article, let's see how you can change your name, phone number, and other information in your Google account.
Change your Name, Phone Number & Other Info in Google Account
On Android
1] On your phone, head to Settings.
2] Scroll down, select Google, and tap Manage your Account.
3] On the following page, swipe left to access the Personal Info tab.
4] To change your Google account name-
Tap your name under the "Profile" section. Make the required changes to your first and last name and tap Save. You can change your name as many times as you want.
5] To change your phone number-
Tap the "Phone" option under the "Contact Info" section. Here, you can add or remove the numbers attached to your account as per your liking.
6] You can further change other Google account information, including your profile picture, birthday, gender, as well as your recovery email.
On Web
1] Open the browser and head to Google My Account page. Choose Personal Info from the sidebar at left.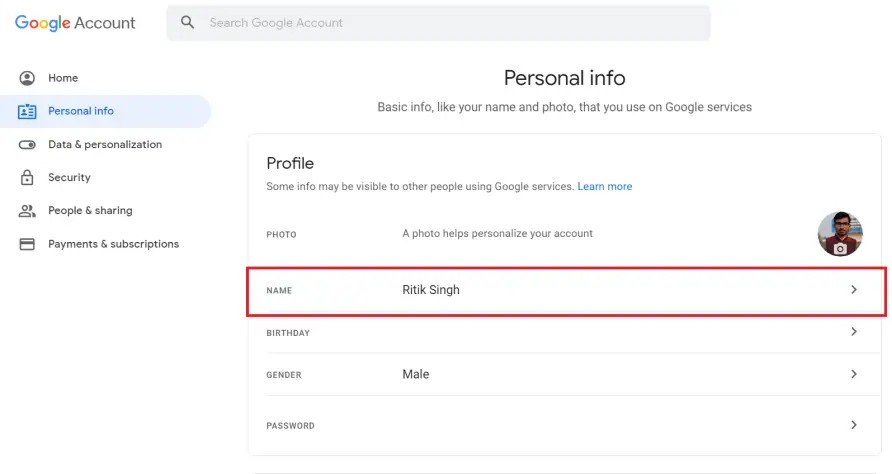 2] To change your name, tap on the Name, make required changes, and click Save.
3] Then, go back and tap the Phone Number option. Add or remove your mobile number as needed.

Similarly, you can make changes to other information such as your profile picture, date of birth, and gender.
For obvious reasons, your Google account email cannot be modified. Any changes you make will be updated across all Google services, including YouTube, Drive, Gmail, Photos, etc.
Wrapping Up
We hope that you're now able to change your name, phone number, and other information on your Google account. As noted, you can do it either on your phone or through the web. Let us know if you still have any doubts or queries.
Also, read- How to Manage Your Passwords in Google Chrome